Celebrating The First Day Of Hari Raya: Covid-19 Edition
Credit: Mukhriz Hazim/Malay Mail
As the holy month of Ramadan comes to an end, Muslims all around the world are poised to celebrate Eid al-Fitr – Hari Raya Aidilfitri or Hari Raya Puasa as it's more commonly known here.
Marking the end of a month of fasting and rigorous self-control, Raya is a joyous occasion and remains one of the biggest celebrations in the Islamic calendar.
Loosely translated to the festival of Breaking Fast, Aidilfitri sees millions of Muslims from across the globe coming together for a day of communion and festivities which only comes once a year.
Although each corner of the globe would have their own unique customs and traditions in celebrating this blissful occasion, with the advent of the Covid-19 pandemic, the 'new normal' Aidilfitri would be sort of revolutionary in a sense.
We thought to take a moment to quickly reflect on how Raya is usually celebrated, how things might be different this year, and how Malaysians across the country can still enjoy this festive holiday season.
The start of Syawal
It is a widely accepted notion in Islam that a new day would begin at sundown. This is why Raya celebration tends to start even before the actual holiday even begins.
Traditionally, Hari Raya would begin with the first sighting of the crescent moon, signifying the end of Ramadan and the start of Syawal – the 10th month of the Islamic lunar calendar.
During the good old days, families would crowd together in front of the TV, eagerly awaiting the appearance of the fable Pakcik Songkok or the Keeper of the Rulers' Seal, to declare the official date for Aidilfitri.
With Malaysians now relatively confined at home due to the nationwide Movement Control Order (MCO), maybe it's time to bring back this tradition and have the whole family geared up for a night of indoor Aidilfitri goodness camped out in front of the telly.
Takbir Raya in the air
The coming of Raya is typically accompanied by the soulful sounds of the takbeer or takbir, where Muslims chant the name of God as a show of faithful gratitude and to give thanks for the blessings that they have been given throughout the month of Ramadan.
Reciting the takbir is also considered to be a declaration of one's success in tying down one's demons and lustful desires during the whole fasting month.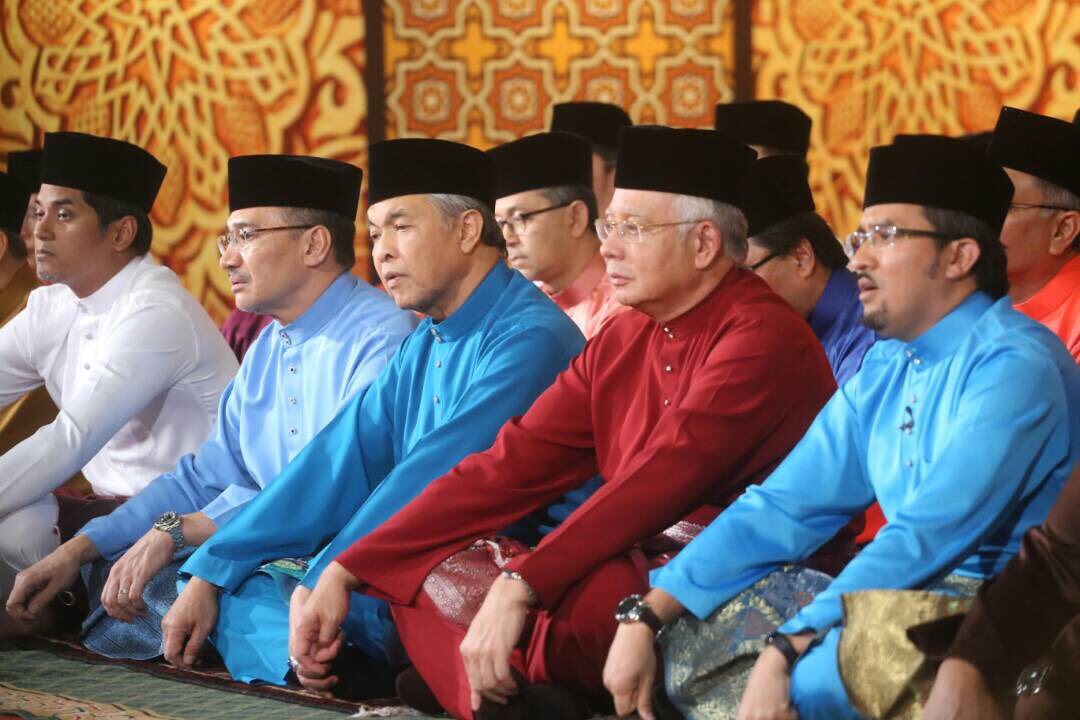 Each Aidilfitri, the takbir Raya can be heard echoing through the night, from sundown till the following morning, as Muslims gather for the days Raya festivities.
However, with only a number of masjids and suraus across the nation allowed to open and host religious activities on minimal attendance, Malaysian Muslims would just have to make do with reciting the takbir in the confines of their own homes.
But fret not my friends, with the advances in our modern world, one can still relish in the fervid melodies of the takbir through our consumption of media.
For instance, the Masjid Negara official Facebook account has been hosting live tarawih sessions all month long for your viewing pleasure. We're more than sure that mosques and Islamic channels would be airing the takbir all night long in earnest celebration of Syawal.
Hari Raya prayer
During the first day of Aidilfitri, Muslims would congregate to the mosques for prayer and listen in to a short khutbah (religious sermon).
Generally, the Eid Prayers would only be attended by men, however women are welcomed and encouraged to join in.
This is also the time where you would get the first look at your family, friends, neighbors (and even arch-nemesis), strutting out their glamorous looks for Aidilfitri.
Though it might be a bit disappointing that the majority of us won't be able to join in this year's congregational prayers, Muslims are reminded that performing Eid Prayers is considered sunnat or mustahabb, meaning that although performing it is encouraged, it is not at all compulsory like the normal daily prayers.
In fact, Malaysia's Islamic clerics have been encouraging the people to perform their own solo or congregational Aidilfirti prayer at home and cherish the small, quiet, and private moments we're given with our loved ones.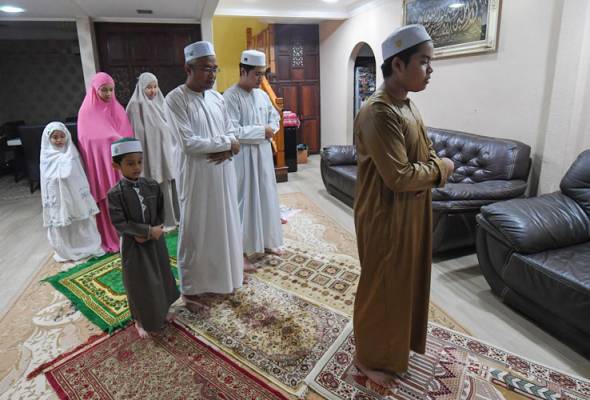 And simply enough, you can just look up a guide on how to perform your own Eid prayers by yourselves online, for those of you who might not be too familiar with the details of how this once-a-year activity is done.
Paying Zakat Fitrah
Zakat is the act of giving charity or alms to the poor and is considered to be one of the main pillars of the Islamic faith.
The act of paying Zakat Al-Fitr or Zakat Fitrah is mandatory to all Muslims (man or woman) if they can afford to do so.
It is encouraged for Muslims to pay their zakat before the end of the morning Eid Prayers, as the principle behind the collection is to be used and distributed to the needy in order to aid them during the festive period of Aidilfitri.
With the MCO in place, there have been a few changes in this year's collection of alms.
Guidelines have been introduced to maintain hygiene and social distancing to allow Malaysian Muslims to pay their zakat at designated mosques and zakat collection centers across the country.
Similarly, you can also opt to zakat via the internet through online transactions.
Selangor for instance has its own online EZakatPay system available for online zakat payments besides having a list of all the designated zakat collection places open throughout the state. So do check with your own state's religious departments to see where and how you can pay your alms this year.
Visiting deceased loved ones
The morning of Aidilfitri is also a somber and reflective moment for some, and we'd imagine it to be more so this year as Malaysians are prohibited from going to the cemetary to visit their deceased loved ones.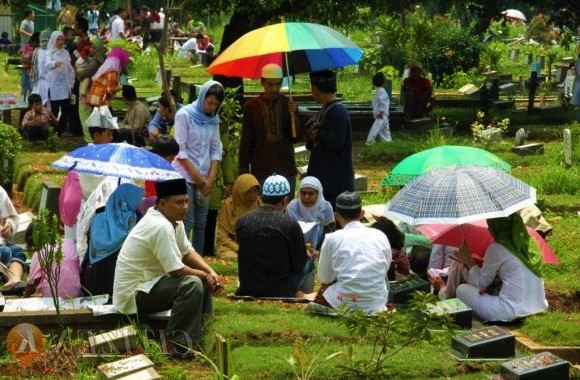 Normally, families and friends would gather around gravesites of their fallen relatives and friends, clad in their festive baju raya attires, to pray and even taking time to clean and spruce up their loved ones' final resting places in the spirit of Hari Raya.
With cemeteries being strictly closed to visitors this year, Malaysian would have to make do with paying their respects from a distance.
Family time
Whether you're having a small gathering at home or a huge family assembly at kampung, Raya time is usually best spent surrounded by those you love (or mildly annoy you).
The first hours of Aidilfitri are generally spent cherishing those around you and taking the opportunity to strengthen the bonds between one another and (at least, try to) enjoying each other's company.
But with the balik kampung ban on interstate travel, this year's Aidilfiti atmosphere would definitely be different, especially for those who are living far apart from their loved ones.
But don't let a little distance get you down. Take out those phones, laptops, computers, or even walkie talkies if you got 'em, and connect with all the people you love (or hate) for an interactive, digital Hari Raya experience.
Besides, since most at-risk individuals to suffer from Covid-19 are children and the elderly, having a little distance between everyone this year isn't such a bad thing if it means keeping your loved ones safe and healthy.
Asking for forgiveness
As the common Raya greeting goes "Selamat Hari Raya, Maaf Zahir Batin", which basically translates to, 'Happy Aidilfitri' and 'I seek forgiveness from you'.
A big part of the Hari Raya celebration is the act of giving thanks and seeking forgiveness from those around you.
Aidilfitri is THAT time of the year (for most also the ONLY time) to ask for forgiveness and to pardon those who have done you wrong.
It is the time known for moving forward in life, to wipe the slate clean and start anew.
And as we live in a world where tiny, invisible microbes can take a life away at any moment, it's important now more than ever to, as they say, live and let live – showing compassion and love in the truest sense of the human spirit.
Just be sure to avoid skin-to-skin contact and try not to salam anyone this year. Remember it's not rude if you're keeping everyone's health and safety in check with a little social distancing.
Duit raya
We're all familiar with the saying "it's better to give is better than to receive", well it is a common belief in Islam that the MORE you GIVE, the MORE you shall RECIEVE.
Though the history behind the practice of giving Duit Raya is shrouded in mystery (check out our article, HERE, for a quick history lesson on the origins of Duit Raya) the act of giving out packets of money as a customary gift has become synonymous with the festivities of Aidilfitri.
It is generally considered to be an offering given from the elder members of society (regardless of your relations or ties) to the younger ones of the generation, with the notion of teaching them valuable lessons in effort, compassion and the faithful practice of charity.
With the pandemic going around this year, its best to avoid huddling at the bank to get your fresh stacks of singles.
Maintain hygiene and social distancing by opting to go cashless with gifting the ones you cherish their own packets of e-Duit Raya using the many online banking services or e-Wallet applications out there.
Though it might not be as aesthetically pleasing as receiving a physical envelope full of cash that we're used to, any money is good money in our book!
Eat all the food!
Well this part comes to no surprise as Hari Raya is of course the time to indulge in delightful dishes!
Muslims are also forbidden to fast during the first day of Aidilfitri, so Raya is the perfect time to relish in delectable traditional local delicacies, some of which you can only get during the Raya season.
But we know what you might be thinking, "where am I going to find my lemang and dodol with the MCO?".
Well, here at TRP we implore our readers to scope out the many intrepid local entrepreneurs who've taken their businesses online and promoting their mouth-watering meals on social media and other online shopping and food delivery services that can have your ketupats and rendangs sent straight to your doorstep.
Raiding open houses
It is a common custom here in Malaysia to invite guests over to celebrate the holiday seasons together.
A Hari Raya Open House is usually the perfect occasion to spend quality time with friends, family, neighbors, and even strangers. All in the festive spirit of Aidilfitri.
Malaysians would usually move from house to house and from pekan to kampung visiting as many homes as they can, while filling out their tummies (and pockets) along the way.
This year there might not be that much of a Raya parade as Malaysians have been advised to celebrate their Raya in true minimalist moderation with a set of strict rules and guidelines in place to ensure everyone remains safe from Covid-19 while enjoying each other's company.
Just be sure not to party too hard or you might get an unexpected visit from the police and Malaysian Armed Forces (ATM) who've been tasked to make sure you abide by the Hari Raya 'policy'.
Bang and sparkle in the night
Though fireworks are technically illegal here in Malaysia, it can't be denied that no festive season would be the same without the sparkle, sounds, and dazzle of fireworks filling the night sky.
Both children and adults share this common love for all things that go boom (even when the fear of losing an eye or a finger would loom in the back of everyone's minds).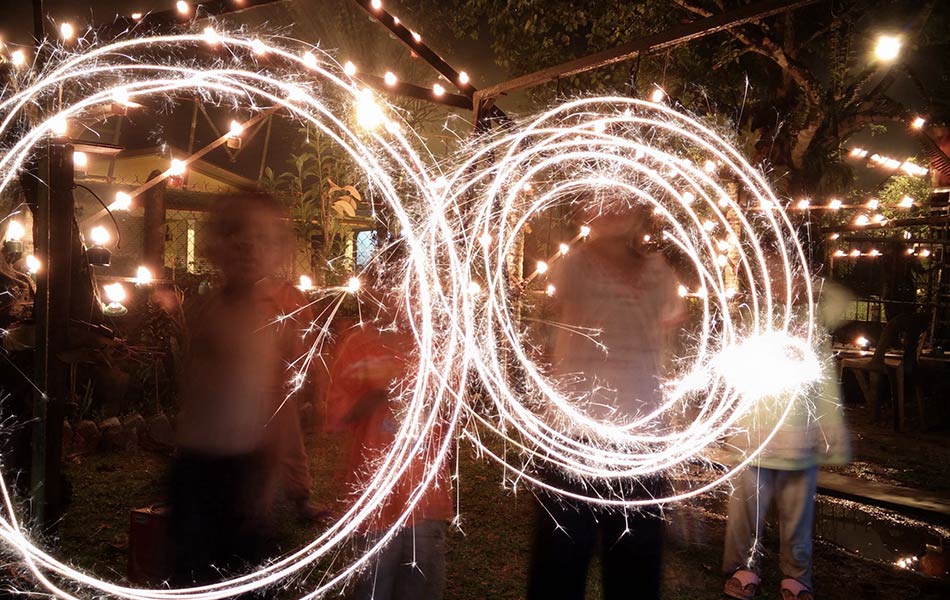 But things might be less explosive this year as shops are currently prohibited from selling firecrackers and fireworks in stores due to Covid-19 regulations.
Not only that, but legal action can also be taken against anyone who sells or purchases 'mercuns' online.
---
Things might be different this Aidilfitri, but that shouldn't stop us from enjoying all of our long-cherished traditions, granted with a bit of a twist, to keep our spirits strong as we face the Covid-19 crisis together.
Selamat Hari Raya everyone!
---
Share your thoughts on TRP's Facebook, Twitter, and Instagram.
Akmal Hakim
Typing out trending topics and walking the fine line between deep and dumb.