It's Mahiaddin Yassin From Now On For Official Documents, Gov't Officials Told
But people can still call him Muhyiddin Yassin, if they want to.
Subscribe to our Telegram channel for the latest stories and updates.
---
Official government documents and letters will now use the official name of Prime Minister Tan Sri Muhyiddin Yassin, which is Mahiaddin Md Yasin.
It's reported that the the Prime Minister's Office has issued a memo on 3 June to use his actual name which will be in effect immediately.
In the memo, officials are notified to either use Mahiaddin Bin Md Yasin or Tan Sri Datuk Haji Mahiaddin Bin Haji Md Yasin.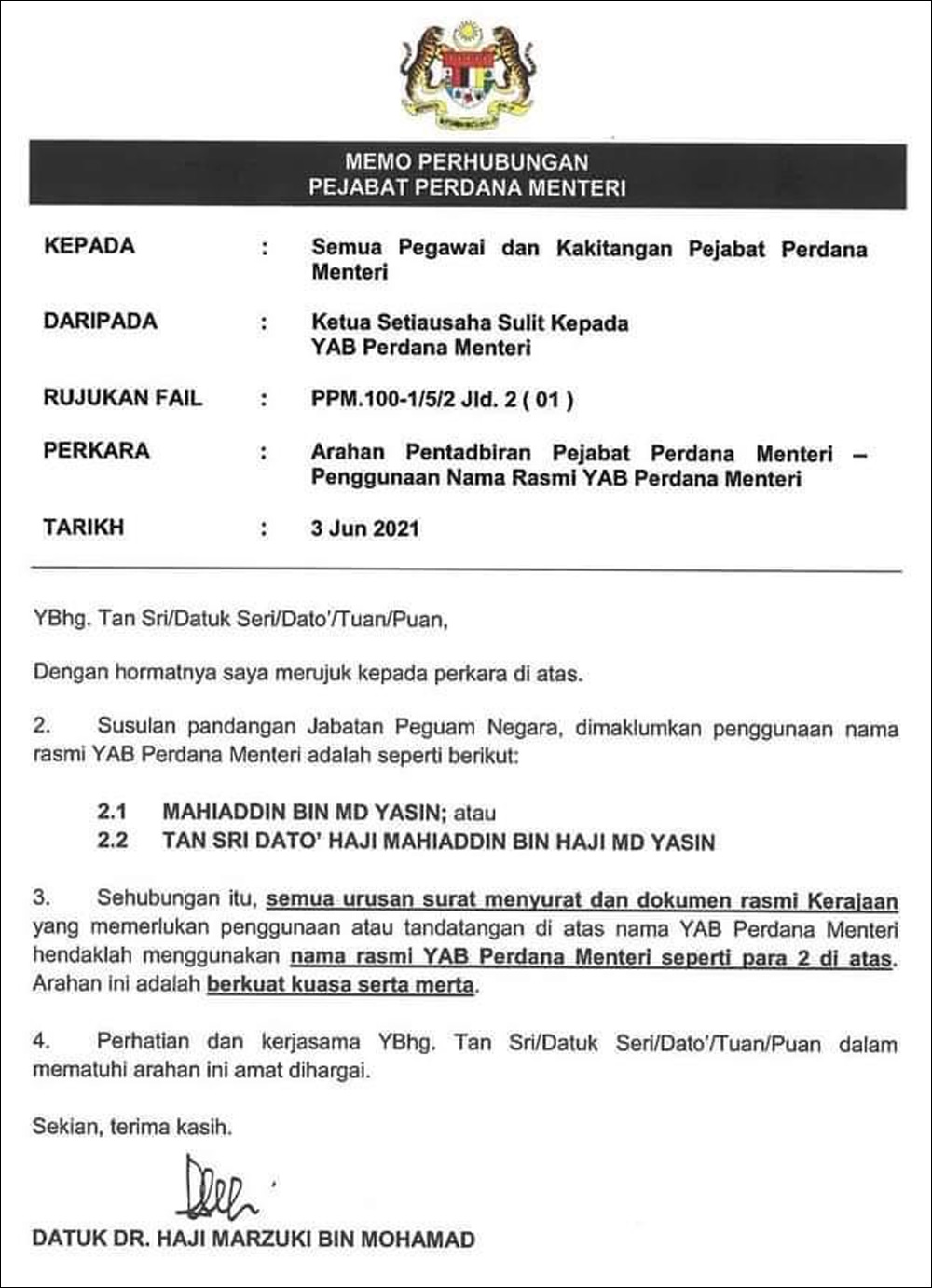 Shah Alam court rules out order due to name change
This comes a few months after Shah Alam court reversed a preventive detention order signed by the Prime Minister during his time as the Home Minister because he signed the order using the name "Muhyiddin Yassin".
They ruled that any executive decision or action taken by the Prime Minister or Minister must use the name as stated in their MyKad and not a "glamour name".
READ MORE: "Muhyiddin Or Mahiaddin?" Shah Alam Court Rules Out Order Made By PM Because He Didn't Use His Real Name
It's still Muhyiddin for everybody else
Despite the name change, the public and media can still call Malaysia's Prime Minister Muhyiddin Yassin, according to his aide.
FMT quoted his aide who said that his official name is only used for official documents after the memo went viral online.
---
Share your thoughts with us on TRP's Facebook, Twitter, and Instagram.
Hakim Hassan
Unkempt in both stories and appearance, Hakim loves tech but tech left him on read, previously he used to write about tall buildings and unoccupied spaces that he can't afford, and legend has it that he still can't afford it to this day