"More Than A King" Car Caught Breaking Traffic Rules In Kelantan Allegedly Deputy Minister's
Netizens claimed that the car belonged to Deputy Minister Datuk Ahmad Marzuk Shaary.
Credit: KucingKuncitara via Twitter
Subscribe to our Telegram channel for the latest stories and updates.
---
"More than a King, that's the minister's car!" exclaimed one commuter when he spotted a vehicle supposedly belonging to a high ranking government official breaking traffic rules.
A 38-second clip that's gone viral showed a black Toyota Alphard overtaking on a doubled-lined road in order to jump ahead of traffic.
The footage showed the car being stuck behind a long queue at a traffic light before swerving out into the opposite lane with its emergency blinkers on to get to the front of the line.
Narrating the video was a man clearly irritated by what he had seen, saying that the driver was a nuisance to the public.
He claimed that the car had belonged to a PAS minister based on the vehicle's plates which he reads out loud as "P-A-5".
It's believed that the incident had taken place in Kelantan.
A Minister driving around in Kelantan…. pic.twitter.com/zudhmRpXKy

— 🏴 (@KucingKuncitara) September 27, 2021
Netizens quickly got to work and deduced that the vehicle in question may have belonged to Pengkalan Chepa Member of Parliament (MP) and Deputy Minister in the Prime Minister's Department (Religious Affairs) Datuk Ahmad Marzuk Shaary.
Commenters had claimed that the Deputy Minister owns a similar black van under the registration "P-4-5".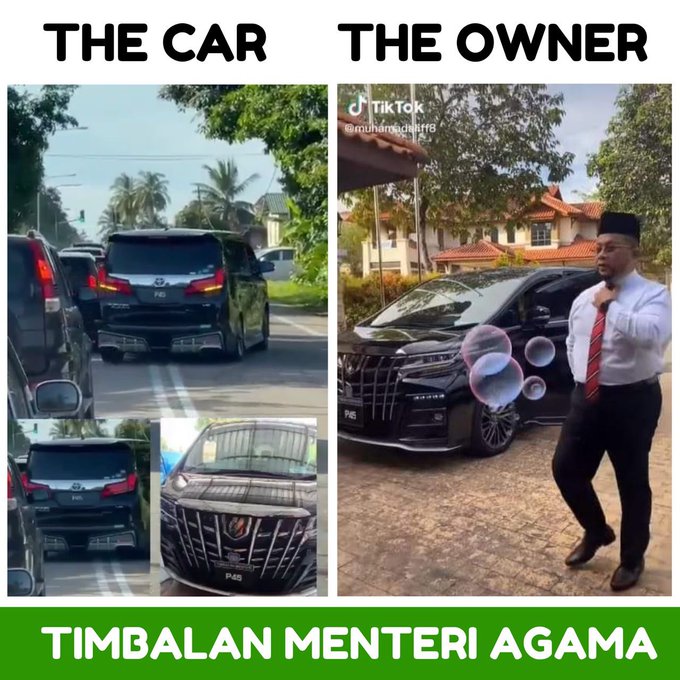 Though no one can yet confirm whether this is true, people were seen sharing the common are opinion that no one should be above the law and that the authorities should act immediately to bring the ones responsible to justice.
let's see what @JPJ_Malaysia would do about this. evidence is up on this app though so it's a big time to act with no double standards 😉 https://t.co/BnbQEc9A5v

— Karmila (@karmilanazar) September 27, 2021
@JPJ_Malaysia @PDRMsia_Trafik dah boleh ambil tindakkan kan? bukti ada 😁 https://t.co/628XWE2V7Z

— Paksu Abdul (@PaksuAbdul) September 26, 2021
The Deputy Minister is yet to respond to people tagging him about the video on social media.
---
Share your thoughts with us via TRP's Facebook, Twitter, and Instagram.
Akmal Hakim
Typing out trending topics and walking the fine line between deep and dumb.