"No officer, I'm not trying to kill myself"
Talk about a weird day at work.
A misunderstanding left one Malaysian in quite the awkward predicament when he was arrested for attempted suicide, last Wednesday.
In a thread which is currently making its rounds on Twitter, user AsyrafBinAzlin recounts an amusing episode involving the Fire and Rescue Department which resulted in him being detained by police.
Bapak kelakar siallll. Ad org ingat aku nak bunuh diri. Sampai bomba polis datang ,sebab nampak aku berdiri sini. Padahal aku jauhh gilaaa dengan pagar tu. Jarak platform /lantai tu dalam 20 kaki. Cuma platform tu sama level dgn pagar. Tak pasal2 sangkut balai polis ni😫😫 pic.twitter.com/mT4DSLDpXW

— AsyrafBinAzlin (أشرف) (@acapgiga) May 29, 2019
"Hilarious! Someone thought I wanted to kill myself. Police and fire department came, because they saw me standing here," wrote Asyraf in his tweet accompanied by a short video of the supposed incident which was apparently shot from an adjacent building.
The 17-second video shows a man, seemingly standing at the ledge of the rooftop.
At the time, Asyraf was actually in the process of servicing and repairing the building's water heaters (which is where he works BTW guys) when the authorities came to collect him.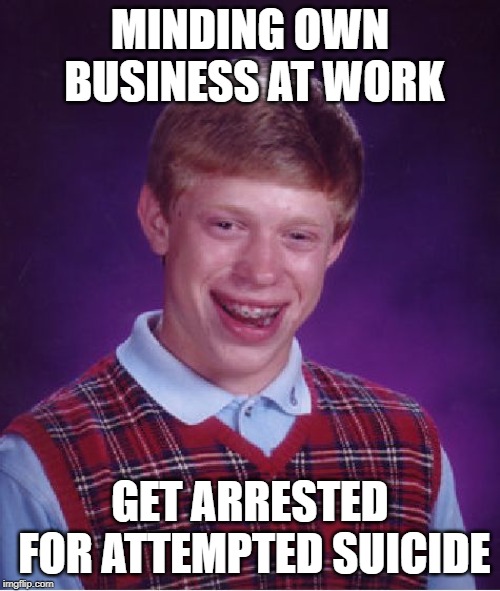 Asyraf was quite perplexed by the whole ordeal, when the word of his supposed attempt at suicide had even reached his colleagues and superiors.
Sekejap je sampai dekat boss. Masak laaa kalau kena jawab dgn manager sini karang 😪 pic.twitter.com/WlWCGy7DyJ

— AsyrafBinAzlin (أشرف) (@acapgiga) May 29, 2019
He was later free to go after giving his statement and was left pretty amused by the whole ordeal.
However the twist continues, as upon closer inspection, Asyraf had figured that the man (in the original video) wasn't actually him.
It may have been a cleaner who had been working there earlier, drawing attention but leaving before police arrived.
Baru lepas dapat perlepasan dari balai sbb depa ckp kesian dekat aku kena naya mcm ni. And depa ckp aku tgh buat kerja, tak pasal2 kena report nak bunuh diri. Skrg ni aku pi balik tempat tu. Ni haaa tempat aku berdiri. Jauhh gilaaa weh..jarak dekat tepi dinding tu dalam 20-30kaki pic.twitter.com/ADyGYDbXrA

— AsyrafBinAzlin (أشرف) (@acapgiga) May 29, 2019
Twitterjaya who were equally amused by the affair came in to share their thoughts on what had happened.
Plot twist yg menarik😅😅

— Muhammad Aidil (@dilaymin93) May 29, 2019
Baca cerita awak perasaan sedih dan lawak bercampur aduk hahahahahahaaa

— 👑 (@shikinkholid_) May 29, 2019
Betapa prihatinnya rakyat Malaysia sampai salah faham dibuatnya

— syhah_my (@syhah_my) May 30, 2019
Akmal Hakim
Typing out trending topics and walking the fine line between deep and dumb.