"Better Governance Or Change The Government" Netizens Rally Behind #KitaMintaLima
There are five demands in the list to help Malaysians survive throughout Covid-19.
Subscribe to our Telegram channel for the latest stories and updates.
---
Apparently fed up with how things are going in the country, netizens have banded together behind the hashtag #KitaMintaLima, urging the Yang di-Pertuan Agong to better manage the Covid-19 pandemic or change the present government.
A picture with the list of demands started to float about on social media, mainly Twitter, with netizens wanting:
Targeted and effective control orders
Full support to frontliners by channelling resources to fight Covid-19
Automatic bank moratorium and cash assistance to Malaysians throughout the MCO
Fair and equal enforcement of MKN SOPs
Devices and internet data to all students immediately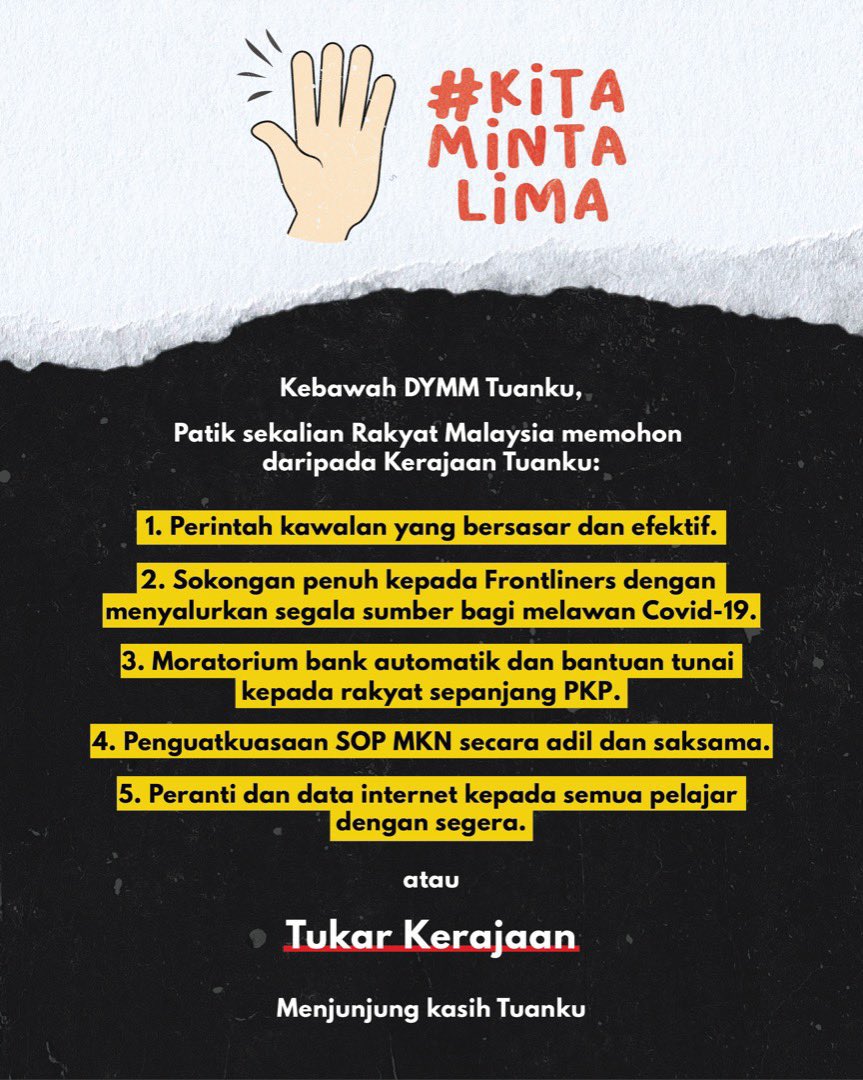 People are rallying behind it
The hashtag gained quite the traction among Malaysians with 35.7k tweets as of the time of writing.
Many of the more well known users have jumped in to join the cause, including Lim Kit Siang's Political Secretary Syahredzan Johan.
So #KitaMintaLima is trending in Malaysia.

Who started it? Who is behind it?

Don't know, but I'll get behind it too. pic.twitter.com/KZLaknAez2

— Syahredzan Johan (@syahredzan) February 5, 2021
Menyeru sahabat-sahabat dari kpop stan acc sekalian, we need your strength to support this cause for our country and our people 🇲🇾 #KitaMintaLima pic.twitter.com/lhXjRa9HVn

— #KitaMintaLima 🤚🏻 (@InjangNation) February 5, 2021
Even Bulu Bulu Kehidupan, a Twitter account dedicated to tweeting cat photos and videos have voiced their support on the movement.
✋✋ Im taking part in #KitaMintaLima too pic.twitter.com/oEzFkCR0h1

— Bulu Bulu Kehidupan 🇲🇾 (@ulat_bulu_bulu) February 6, 2021
Who started it?
According to reports from MalaysiaKini, the hashtag was started by Twitter user Muhamad Alias.
The tweet was made after he was reading through the comments on Istana Negara's Facebook page but to his surprise, the hashtag is now viral and gained traction among many Malaysians online.
---
Share your thoughts with us on TRP's Facebook, Twitter, and Instagram.
Hakim Hassan
Unkempt in both stories and appearance, Hakim loves tech but tech left him on read, previously he used to write about tall buildings and unoccupied spaces that he can't afford, and legend has it that he still can't afford it to this day