Malaysians Share Their Impromptu Cov-Eid Khutbahs At Home
Credit: Twitter/@syaifulbale21/@KecikHimbar/@zakimarzuki9
Subscribe to our new Telegram channel for the latest stories and updates.
---
Last weekend saw millions of Muslims around the globe rejoicing in the humble celebration of Hari Raya Aidilfitri, but with many countries, including our own, still confined under Covid-19 restrictions, the 'new normal' Hari Raya hits a bit different this year.
Normally on Aidilfitri, Muslims would congregate at mosques in the morning to perform the customary Aidilfitri prayers in communion.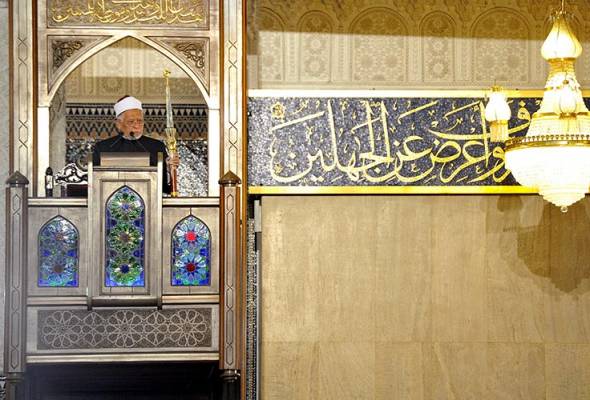 But for the first time in recent memory, many Malaysian Muslims took the opportunity to perform their "Cov-Eid" prayers at home with their families and shared charming scenes of them making do with what they have to perform the obligatory khutbah or religious sermons following the morning prayer session.
Images of Muslim men clad in their Hari Raya attire whiles holding miscellaneous objects filled the internet as Malaysians delight over the uncommon Aidilfitri scenario.
Please share pics of your home khutbahs. I wana see all the tongkats 😂 pic.twitter.com/cyNaW4W3dz

— Acacia Diana (@ShaFoShizzle) May 24, 2020
Selamat Hari Raya 🌙 Khutbah by my father , live from home 🥵 pic.twitter.com/5SSGg33aCj

— Aiman (@aimvnanwxr) May 24, 2020
my father during khutbah this morning

btw the text was on the computer hahaha pic.twitter.com/6BNTh96FqL

— rania. (@niazammm) May 24, 2020
Just delivered the most fire khutbah! I hear shaitan's back I'm ready for him ⚔️ 😤 pic.twitter.com/ouE5kd9133

— X (@seedat62) May 24, 2020
my dad delivered the khutbah raya with a golf club as his tongkat 😭😭 pic.twitter.com/dgZV74cS9Q

— azhar (@saifulazharazin) May 24, 2020
However, there are those who feel that the act of using such random objects during a religious activity to be un-Islamic and detrimental to the religion.
All of these "funny" photos of people holding different tongkat, penyapu, joran and so on for Aidil Fitri khutbah,

Tak rasa macam kita tengah persenda agama kita sendiri ke?

Khutbah is supposed to be an ibadah which focusing on reminding people of Allah, not something to laugh.

— Talk From Home (@AimanPsikologi) May 24, 2020
The matter even drew a response from Malaysia's Religious Affairs Minister Datuk Seri Dr. Zulkifli Mohamad Al-Bakria who, though not condemning such actions directly, mentioned that such a religious activity should be conducted with respect for Islam and not be made fun of.
According to the former Mufti, Muslims should make use of a 'proper' staff if they have it, instead of utilizing arbitrary objects such as broom handles, golf clubs, or lightsabers for that matter, while performing their religious duties.
However, the minister also mentioned that as long as a person has no intention of mocking the religion while performing such acts, then everything should relatively be okay.
The sermon is good enough; however, if possible, be serious about the object in hand while reading the sermon and don't make a joke out of it. Hold a stick if you want to,  though it is optional to hold something while giving a sermon.

Zulkifli Mohamad via Bernama
Apart from the no balik kampung rule and constraints on open houses, Malaysian Muslims were also advised against going to the mosques to perform religious activities during Aidilfitri due to the ongoing Covid-19 pandemic.
---
Express your thoughts on our Facebook, Twitter and Instagram.
Akmal Hakim
Typing out trending topics and walking the fine line between deep and dumb.