Malaysia Mourns Death Of 38-Week-Old Baby, The Youngest Covid-Fatality In Malaysia To Date
More children below 5 years old are critical or dying due to Covid-19 this year compared to 2020.
Credit: JAWIWP via Facebook
Subscribe to our new Telegram channel for the latest stories and updates.
---
Malaysia mourns the death of a 38-week-old baby boy who recently lost his life to Covid-19.
News of his untimely passing was made public on social media by the Federal Territory Islamic Religious Department (​JAWI) on Tuesday (13 July) together with a photo of the infant being laid to rest at the Raudhatul Sakinah Muslim Cemetery in Kuala Lumpur.
"God willing, this tiny child will be waiting in heaven, aiding his parents on the day of judgement." note the caption on JAIS's page as funeral workers in personal protective gear (PPE) were shown handling the boy's wrapped up remains in the rain and under the cover of darkness.
It's understood that the boy's mother was still battling for her life in the intensive care unit (ICU) and that his father and eight older siblings were undergoing quarantine at home.
Netizens were seen expressing their heartbreak over the tragedy and reminded of what odd times we live in at the moment.
This looks so dystopian https://t.co/sycVK95cx6

— An (@ushwyj) July 13, 2021
Condolences and well-wishes also flooded cyberspace as Malaysians shared their anguish over the child's death as well as prayers for his family's well being.
Inna lillahi wa inna ilayhi raji'un…. only God knows how the parents feel 😔 praying for the mother as well… https://t.co/cTz5LPi7gF

— Maisarah (@ssararosli) July 13, 2021
Some even shared their empathy with the brave frontliners who diligently perform their duties despite the death and misery around them.
Take a moment and have a look at this photo, of our frontliners, mourning for the death of the youngest victim of Covid-19. The mental state of them when they need to face hopelessness every single day, hours, minutes and seconds. #KerajaanGagal https://t.co/z42Imnc5e1

— Jamaliah (@_jamaliah_) July 14, 2021
The boy's unfortunate end marks the youngest fatality the nation has suffered since the start of the Covid-19 pandemic.
Young children at risk
On 30 January 2021, a four-month-old baby was confirmed as Malaysia's 812th Covid-fatality. Reportedly, the child was noted to have had an underlying heart condition and passed away at the Tawau Hospital, Sabah.
On 9 November 2020, a one-year-old baby boy with a history of congenital heart disease, down syndrome and hypothyroidism passed away from Covid-19 at the Duchess of Kent Hospital in Sandakan, Sabah.
On 6 October 2020, the death of a one-year-old baby girl, designated as case #12,432, was confirmed at the Semporna Hospital in Sabah.
The Health Ministry (KKM) said that there were reports of more critical cases and deaths from Covid-19 in children below the age of five this year compared to the year previous.
In June, Health Director-General Tan Sri Dr Noor Hisham Abdullah explained that there had been three confirmed Covid-19 deaths from the age group in 2020 and just as many cases in the first five months of 2021.
He also stated that the number of children needing ICU treatment was showing a sharp rise.
According to the DG, as many as eight children below five years old had been admitted to the ICU in 2020, while 19 kids had to be admitted to the ICU as of May 2021.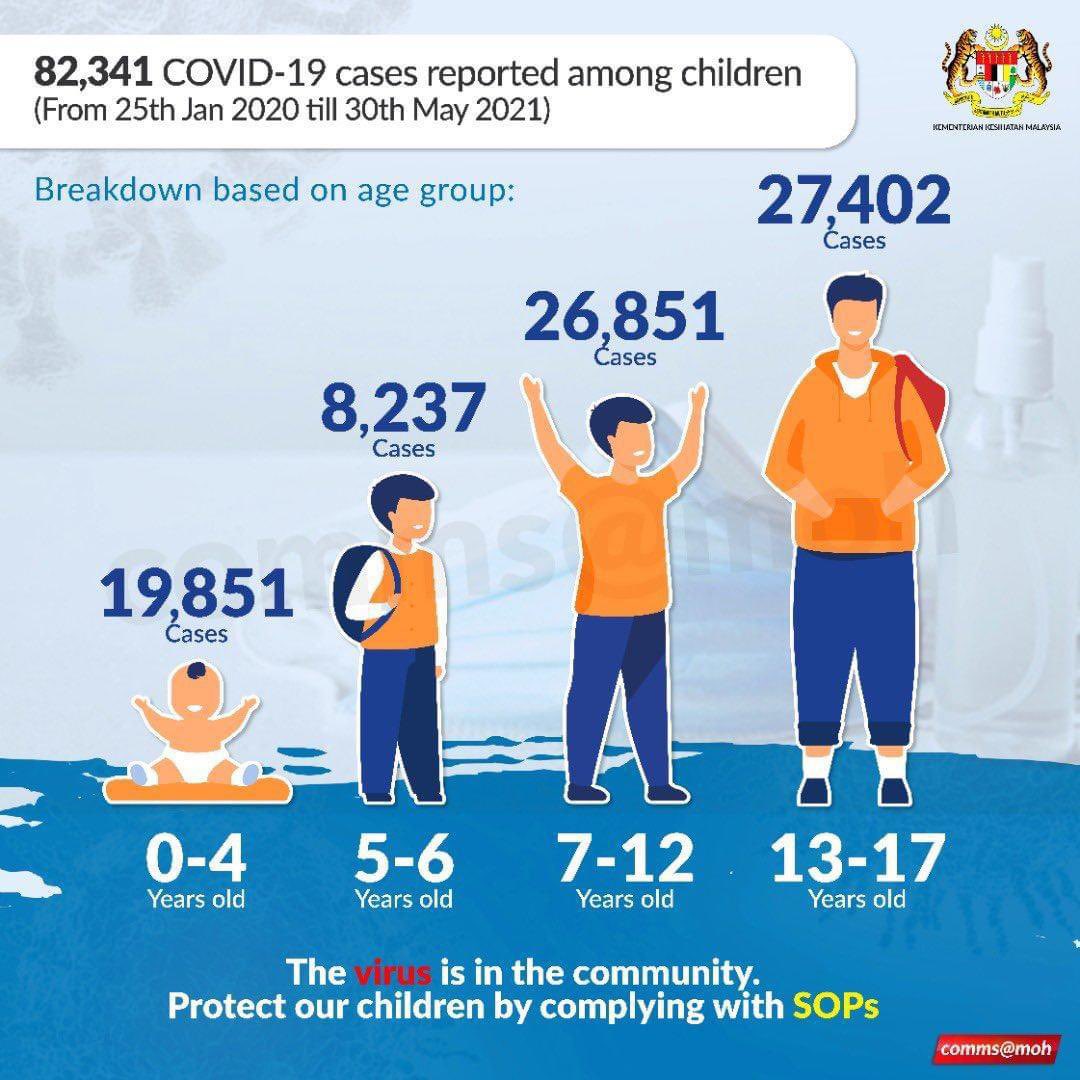 Vaccine for teens
In June, the National Pharmaceutical Regulatory Agency (NPRA) approved the usage of the Pfizer-BioNTech vaccine on children aged 12 years and above.
Datuk Seri Dr Adham Baba was quoted as saying that only children with underlying medical conditions such as cancer, chronic lung disease, heart disease and diabetes will be given priority to receive the Covid-19 vaccine.
He added that healthier children would be vaccinated after the completion of Phase 3 of the National Covid-19 Immunisation Program (PICK).
Although children accounted for 15% of total Covid-19 cases, they tend to be asymptomatic or have milder symptoms and are less likely to develop severe illness.

Datuk Seri Dr Adham Baba via The Star.
Technology and Innovation Minister, and PICK coordinator Khairy Jamaluddin recently announced that secondary level, Form 5 and Form 6 students that will be sitting for their SPM and STPM examinations this year will be inoculated with the Covid-vaccine as early as July.
---
Share your thoughts with us via TRP's Facebook, Twitter, and Instagram.
Akmal Hakim
Typing out trending topics and walking the fine line between deep and dumb.