Unsigned Statement Says BN MPs Sticking With PN, Najib Irked
While UMNO has pulled support for the Prime Minister, the party's president said MPs have the freedom to choose.
Subscribe to our new Telegram channel for the latest stories and updates.
---
Barisan Members of Parliament (MPs) have announced their support for Prime Minister Tan Sri Muhyiddin Yassin despite UMNO's recent exodus from the coalition.
Despite not having a letterhead or signature, the statement which has been circulating on social media has been confirmed to be true, according to Tan Sri Annuar Musa when he was contacted NST.
Here's a roundup of what has happened:
Barisan stays put
After UMNO President Datuk Seri Ahmad Zahid Hamidi announced that the party will withdraw from Perikatan Nasional (PN), the Barisan Nasional coalition (of which UMNO is a part of) has also issued their own statement saying that they will support the PM instead.
The statement says that their stand was made after the UMNO President said in the party's Supreme Council meeting that MPs are free to choose whether or not to support Muhyiddin if there's a call for a vote.
It's also stated that the priority of Barisan's MPs right now is to ensure the success of the National Recovery Plan and fight Covid-19.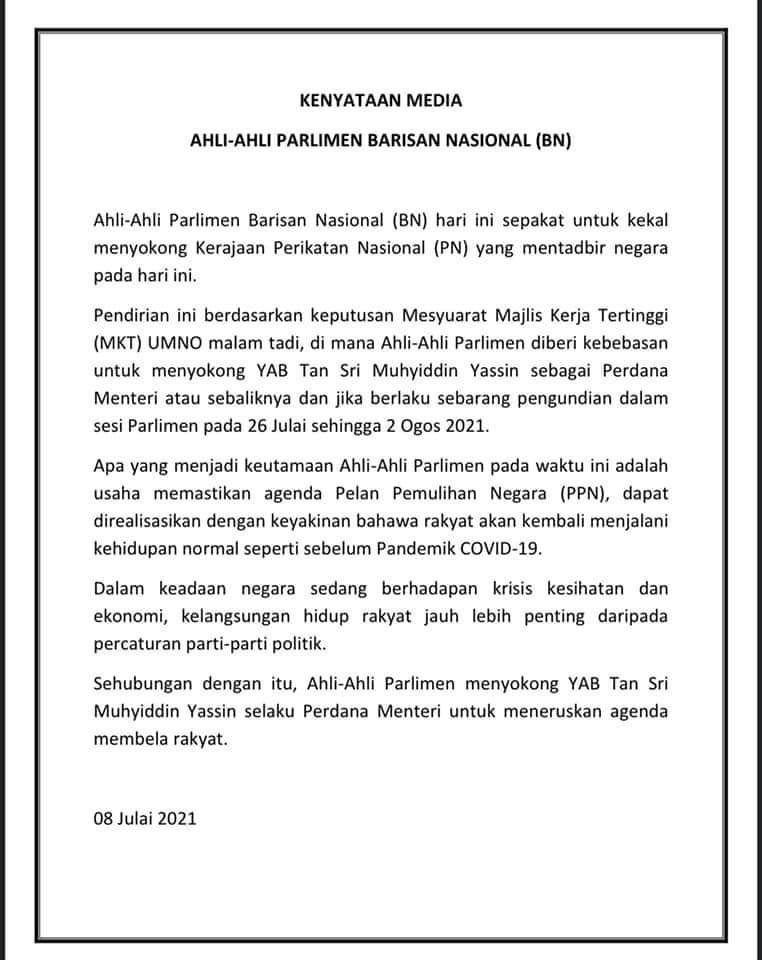 Ahmad Zahid says it's okay to choose
It was revealed that Ahmad Zahid had given all 38 MPs from UMNO the freedom to support or oppose a no-confidence motion against the Prime Minister if it's tabled when Parliament reconvenes on 26 July.
Based on reports by Utusan, the matter was stated by Ahmad Zahid in the MT meeting he chaired last night, which decided that UMNO's support for Muhyiddin be withdrawn and terminated immediately, thus allowing a new Prime Minister to be appointed within a limited period.
However, the whole 'freedom for MPs to choose' thing was not mentioned by the President in a virtual press conference held with the media after the meeting.
Najib wants names
Former Prime Minister Datuk Seri Najib Tun Razak took to Facebook to question the statement issued by Barisan saying that he didn't disobey the directive made during the UMNO meeting.
Eh .. I am also a BN MP. Since when did I agree to violate the party's MKT directive yesterday? Who has the full list of names as stated in this statement? I am the one who signed the nomination letter for every BN Member of Parliament. Because of that, I will certainly know the name of every BN parliamentarian.

Former Prime Minister Datuk Seri Najib Tun Razak
He was also quoted by Astro Awani saying that the result of the Supreme Working Council (MKT) Meeting last night did not mean that they're leaving PN but rather they are withdrawing support to Muhyiddin as Prime Minister.
Najib said that this to give way to an interim administration with a fixed term and goals to resolve the Covid-19 issue.
UMNO MPs to… support PN until Parliament reopens?
MalaysiaKini reported that UMNO MPs are going to continue supporting the Perikatan Nasional (PN) government until Parliament reconvenes.
The party's Supreme Council member Datuk Mohd Puad Zarkashi said that this was one of the issues discussed during the four-hour UMNO Supreme Council meeting recently.
---
Share your thoughts with us via TRP's Facebook, Twitter, and Instagram.
Hakim Hassan
Unkempt in both stories and appearance, Hakim loves tech but tech left him on read, previously he used to write about tall buildings and unoccupied spaces that he can't afford, and legend has it that he still can't afford it to this day