Couple Spends Under RM1,000 For Their Budget Wedding Ceremony
The bride was also the photographer on her wedding day.
Subscribe to our Telegram channel for the latest stories and updates.
---
It is common for couples to splurge on their wedding ceremony because it is a joyful moment in life.
The unending endeavour to please the guests who attend the wedding is also the reason for all the glitter and enjoyment.
But not all couples may want to spend a lot of money on their wedding ceremony.
Recently, a pair of newlyweds spent less than RM1,000 for their wedding ceremony as they did not want to burden their families.
Despite being a budget affair, the couple fulfilled their religious and cultural obligation.
Alhamdulillah. Buat bawah RM1,000 pun okey je. Sederhana tapi meriah. Baguslah, dapat jimat, banyak lagi nak guna duit lepas kahwin.#mstar230306 @wydsetan https://t.co/Yv3maNkyMn

— mStar Online (@mstaronline) March 6, 2023
Nur Ashiekin Johari Hamki (@wydsetan), who just got married on 3 March, shared her experience in an interview with the online media mStar.
She and her husband, Ahmad Farith Zulkefli, wanted a simple ceremony to save money on the wedding.
We married on at the Islamic Religious Office in Central District, Malacca. There was a wedding seat (pelamin), so my husband and I took photos there.

Newlywed Nur Ashiekin Johari Hamki to mStar on the various ways they kept the cost down to a minimal.
She said the cost of the wedding, dowry, and witnesses at the religious office was RM380.
She spent another RM55 on henna, and did not buy any new dresses.
The groom's family provided the food and spent RM200 to prepare rice and dishes for guests.
Nur Ashiekin did her makeup on the wedding day and was also the photographer.
The total expenses of under RM1,000 also included the wedding ring.
Nur Ashiekin said that she and her husband wanted to pay more attention to life after marriage.
The couple is well aware they will need to spend more money after marriage, such as buying furniture and food, among other expenses.
I am a simple person and the head of the family, so I know it takes work for a man to save money; he (my husband) has his own family, and I have my own. So we decided to set the wedding fee below RM1,000, which is easy; we must manage well.

Newlywed Nur Ashiekin Johari Hamki to mStar on being fully aware of financial commitments.
As for the reactions of those around her, Nur Ashiekin said she did not worry about other peoples' opinions.
In other words, there is no need to go into debt or show off to others.
READ MORE: RM2,200 Per Table: Facebook User Slams Wedding Guests For Giving Out Less Than RM300 In Ang Pows
READ MORE: Til Debt Do We Part: Couple Regrets Taking Out RM40k Personal Loan For Wedding Ceremony
Grand And Elaborate But Why?
Wedding costs in Malaysia can vary widely depending on factors such as the location, number of guests, and level of luxury desired.
Generally, weddings in Malaysia can be quite expensive, especially if you opt for a large and elaborate celebration with many guests and multiple events.
'Tak rasa kahwin tu precious'

Shallow-nya pemikiran sampai letak your own perception dekat other people punya preferences.

Nak kahwin simple ke, mahal ke, medium size ke, venti ke, grande ke – janji jangan susahkan diri sendiri and orang lain. Sukati dioranglah. https://t.co/x3LEQMWTMa

— Shukri Saleh (@ShukClimbWalls) March 10, 2023
In urban areas such as Kuala Lumpur or Penang, wedding costs can be higher due to the higher cost of living and more luxurious venues and services available.
However, even in smaller towns and rural areas, wedding costs can still be significant.
To give you a rough estimate, a typical wedding in Malaysia may cost between RM 30,000 to RM 100,000 or more, depending on various factors.
My sistur kahwin 2017, mas kahwin dan jugak dikira sebagai wang hantaran RM5k. Kalau ikut gambar ni, level SPM. Walaupun ada ijazah. Itupun ayah marah dan cakap tinggi. Tapi abah abang ipor cakap up sikit jadi 5k. Majlis pun ayah tak bagi abang ipor tanggung. Hmmm pic.twitter.com/zkQtg5R5Bm

— no remorse, no regret (@abcdefghermione) October 18, 2020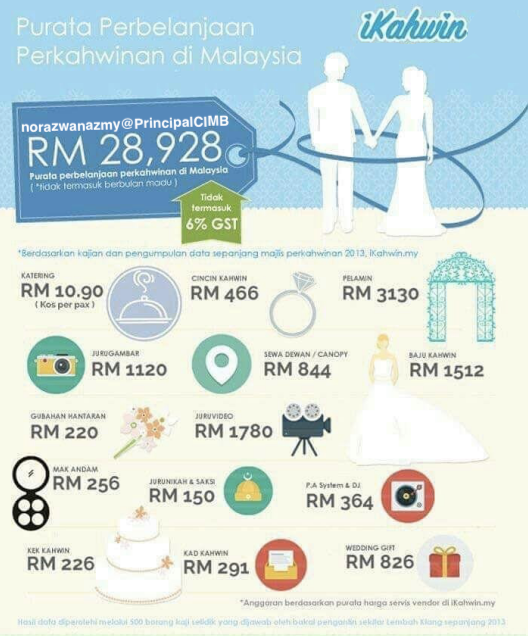 This cost usually includes expenses such as venue rental, catering, decorations, photography, wedding attire, and entertainment.
It's worth noting that many Malaysians take out loans or save up for years to afford their dream weddings, while others opt for more modest celebrations to keep costs down.
Ultimately, the cost of a wedding in Malaysia depends on your personal preferences and budget.
---
Share your thoughts with us via TRP's Facebook, Twitter, and Instagram.