Netizen Makes Vulgar Sexual Comments On Young Syefura's Attire
She was wearing a baju kurung with a long-sleeved raincoat on the outside.
Subscribe to our Telegram channel for the latest stories and updates.
---
Bentong MP Young Syefura Othman has revealed that a netizen made vulgar sexual comments about her.
The netizen commented about a picture showing her visiting Janda Baik, which was recently hit by flash floods.
Young Syefura had gone to the ground to inspect damages, including road collapses at the Bentong – KL trunk road.
Dari Parlimen tgh hari tadi saya terus Bukit Tinggi site visit kawasan bencana bersama Timb Menteri KETSA. Kebetulan hujan turut sewaktu site visit berjalan dan kami boleh lihat sendiri keadaan semakin teruk. pic.twitter.com/rdWd7jjCgj

— Rara 🇲🇾 (@youngsyefura) February 14, 2023
The DAP lawmaker expressed surprise that such a picture could invite obscene words.
She was wearing modest clothes, a baju kurung with a long-sleeved raincoat on the outside.
In the picture, she was with the Deputy Minister of Natural Resources, Environment and Climate Change, Datuk Seri Huang Tiong Sii and Ketari assemblyman Thomas Su.
READ MORE: [Watch] Kampung Bukit Tinggi Flooded, Roads Collapse As Heavy Rain Wreaks Havoc
She shared a screenshot of the comment in a tweet, while another Twitter user uploaded a Facebook profile picture and a photo of the alleged harasser.
Pakai macam ni pun kena komen lucah. https://t.co/eTCAEE7fZ5 pic.twitter.com/lEBwLlZyOD

— Rara 🇲🇾 (@youngsyefura) February 14, 2023
Netizens were shocked by the comment and suggested that she filed a police report.
Some said it could be a fake account, as it's not in the culprit's interest to reveal their identity.
Rasanya fake account ni..sebab takkan dia senang2 tayang muka dia..kecuali BELIAU adalah BETUL2 insan yang sangat BANGANG..😅

— Si Khusnuzon (@DamienSvosky) February 14, 2023
Sexual Harassment Is Not Just Physical
Sexual harassment includes unwelcome sexual advances, requests for sexual favours, and other verbal or physical harassment of a sexual nature.
Verbal harassment that is offensive, aggressive, or intimidating can be typical sexual harassment.
It includes:
Catcalling and sexual or lewd remarks about someone.
Spreading malicious rumours about someone in a sexual light.
Requesting sexual favours in exchange for promotions or other benefits (also known as quid pro quo sexual harassment).
It's not just women who are impacted by workplace harassment.
Men can also be victims of sexual harassment by women and other men.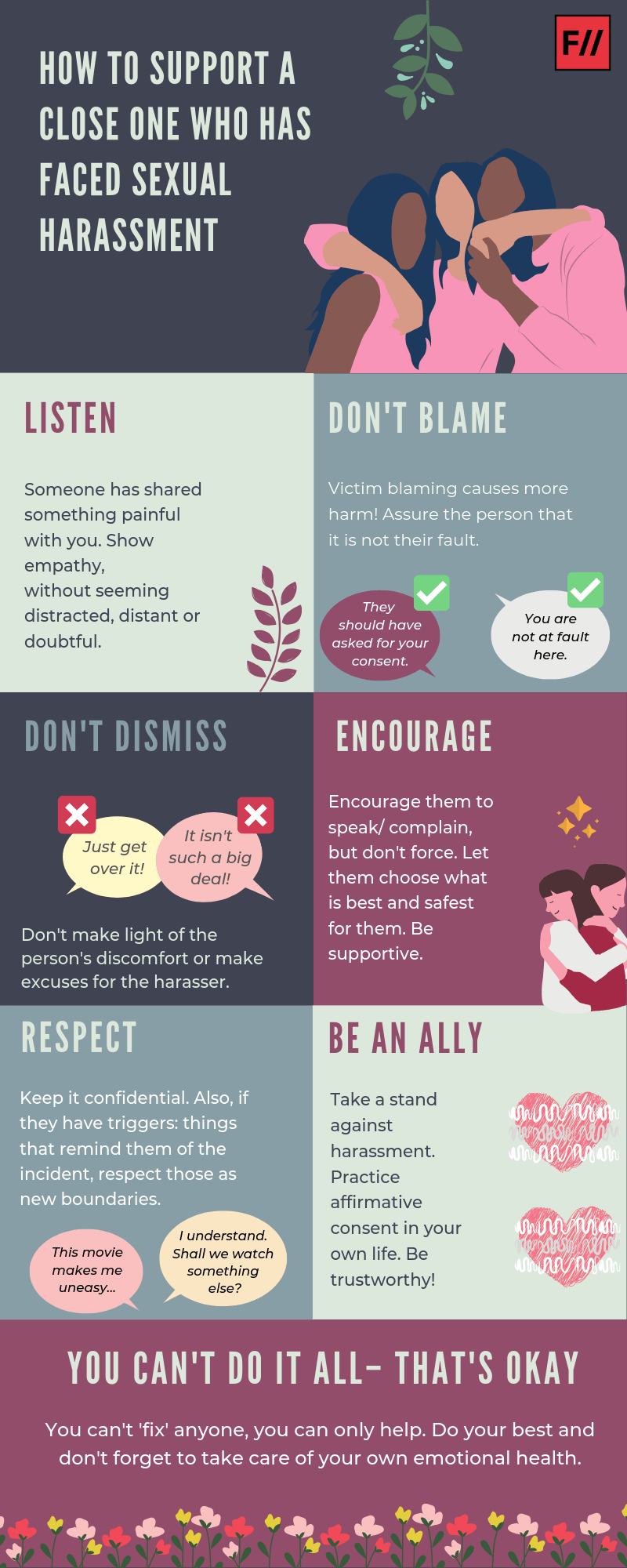 ---
Express your thoughts on TRP's Facebook, Twitter, and Instagram.