Flood Victims Allegedly Tricked Into Attending Najib Solidarity Event And Netizens Are Fuming
Users on Twitter pointed out that Taman Sri Muda flood victims went to the event because they wanted help.
Subscribe to our Telegram channel for the latest stories and updates.
---
Taman Sri Muda flood victims were allegedly duped thinking that they were attending an event to receive aid but it was actually a rally in defense of Former Prime Minister Datuk Seri Najib Tun Razak.
This was revealed after a user posted on Twitter saying that people gathered in Putra World Trade Centre in support of the convicted Former Prime Minister.
Himpunan HENTIKAN penganiyaan terhadap @NajibRazak dianjurkan oleh Persatuan Sahabat Ulul Amri tadi di PWTC. Desakan Tangkap Zeti turut dilaungkan. pic.twitter.com/bujalIqmhP

— mahazalimreturn (@mahazalimreturn) January 23, 2022
Attached to the tweet are pictures of people holding placards that had slogans like "Stop The Prosecution Of Najib" and "Tangkap Zeti, Bebas Najib" (Catch Zeti, Free Najib).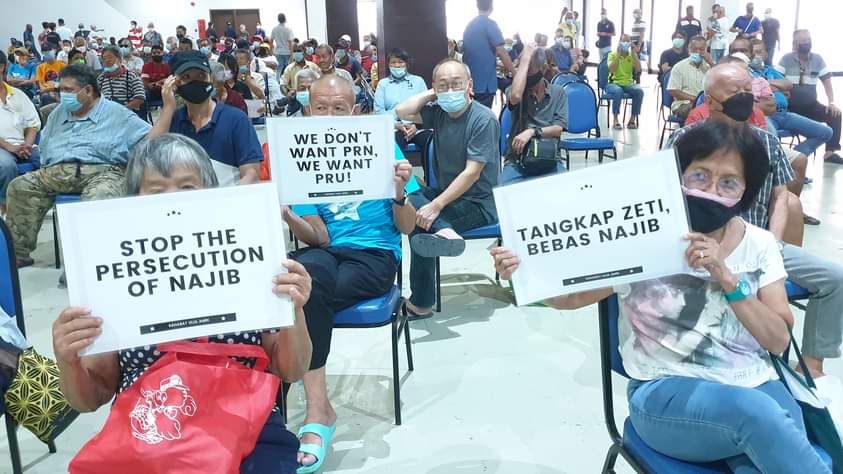 Netizens pointed out that they were actually flood victims seeking help
After the tweet gained traction online, one user pointed out that the people who attended the event were actually flood victims from Taman Sri Muda.
He quoted the original tweet saying that people around the area thought that aid is going to be given out by Najib and Umno President Datuk Seri Ahmad Zahid Hamidi based on a flyer that was shared amongst the residents.
Ada parents share benda ni kat group sekolah. Ramai pergi kononnya akan ada bantuan banjir. Sekali kena laung selamatkan najib. Gila. Kesian mangsa2 banjir tu 😣 https://t.co/pup8gWuukz pic.twitter.com/afeGTzlqqK

— NS (@nasyrulsyahmi) January 23, 2022
He then posted a video of the event in a subsequent tweet, saying that the residents were offered free bus rides and they were only there because they wanted some help.
Ada video ni siap. Kesian dieorang. Senang2 kena manipulated. Bas free siap.

Nak salahkan dieorang tak boleh. Dieorang memang perlu sangat bantuan. Tu yang memo print kertas macamtu pun ramai percaya 😣 pic.twitter.com/npK09wgU1c

— NS (@nasyrulsyahmi) January 23, 2022
Although Taman Sri Muda residents have received help in the past, he mentioned that it's not enough for them to restart their lives.
Kami ada dah dapat bantuan, tapi masih tak cukup. Kurang dalam 250 set beg sekolah dan alat tulis lagi yang belum cukup. Kalau ada yang nak sedekah atau bagi sumbangan, boleh dm ya. Sumbangan boleh dibuat ke account PIBG sekolah.

— NS (@nasyrulsyahmi) January 23, 2022
Meanwhile, some users on Twitter dug up posters of the Najib solidarity event which was held on the same day and at the same venue.
They also questioned why are the event organisers manipulating the flood victims for their own gain.
Jelas team terdesak buat jemputan palsu, bantuan banjir adalah acara sampingan pengacara sebagai tanda prihatin. Team #psuam telah pun berkhidmat ketika banjir tersebut, agenda banjir bukan tajuk utama. Tetapi disertakan kelangsungan dari yg terdahulunya, spin apa? pic.twitter.com/0RGDY8isYe

— ʀᴀᴢᴍᴀɴ ʀᴀʜɪᴍ 🇲🇾 (@razmanrahim) January 23, 2022
---
Share your thoughts with us via TRP's Facebook, Twitter, and Instagram.
Hakim Hassan
Unkempt in both stories and appearance, Hakim loves tech but tech left him on read, previously he used to write about tall buildings and unoccupied spaces that he can't afford, and legend has it that he still can't afford it to this day