TLDR: "Proton Too Expensive" Finance Ministry Defends Minister's Luxury Car Quandary
The government said that Ministers should get new cars once every 4 years.
Share your thoughts with us via TRP's Facebook, Twitter, and Instagram.
---
Vellfires have been heavily talked about on social media after the Finance Ministry (MoF) revealed that the luxury MPVs have replaced the Proton Perdana as the official vehicle.
After it was ridiculed by netizens over the weekend, MOF recently came out with another statement justifying the change.
They mentioned that the vehicles for Cabinet Ministers were due for a change because it's been 6 years since they've replaced it and MOF said that the replacement is actually scheduled once every 4 years.
Siaran Media Berkenaan Pertukaran Kenderaan Rasmi Jawatan Berikutan Penamatan Pengeluaran Proton Perdana Menjimatkan Perbelanjaan Sewaan Kenderaan Kerajaan. pic.twitter.com/Zkq26lk5sQ

— Ministry of Finance🇲🇾 (@MOFmalaysia) November 7, 2021
It's sort of cheaper than the Proton Perdana
MOF in the recent statement argued that the Vellfire 2.5L is relatively cheaper than the Proton Perdana 2.4 Premium.
Below are the lease prices for both vehicles per month:
Proton Perdana 2.4 Premium – RM4,854.41
Vellfire 2.5 – RM4,851.61
Previously, Finance Minister Tengku Zafrul Aziz said in a written reply to Bayan Baru MP Sim Tze Tzin that these Vellfires cost RM5758.35 monthly (RM4851.61 for leasing, RM907.74 for maintenance).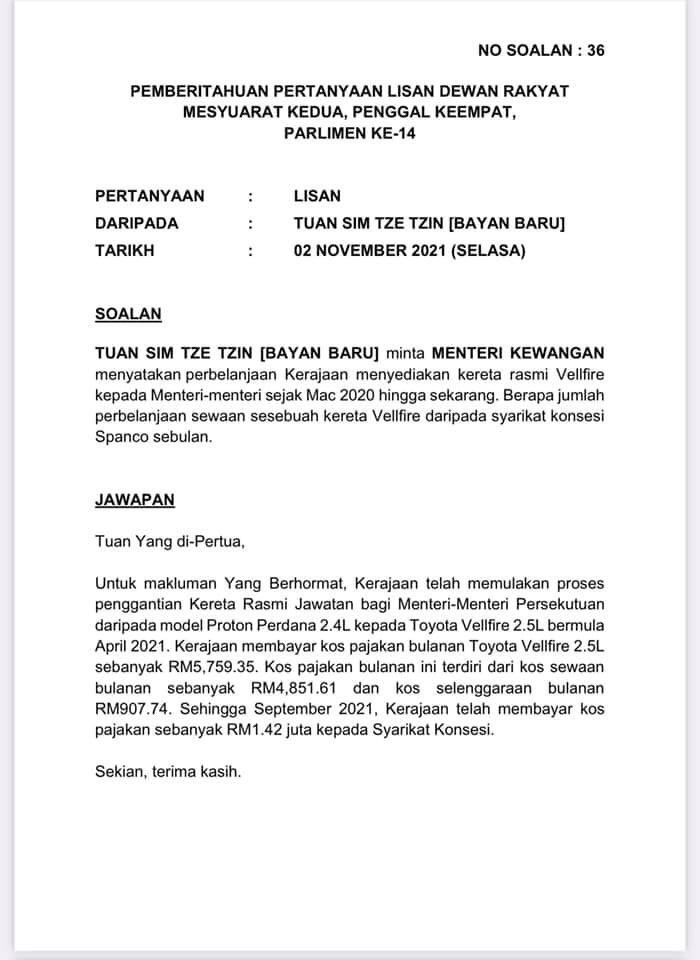 Malaysians question the change
The change hasn't been well-received by netizens who mentioned that the vehicle change doesn't really translate to saving costs.
One Twitter user pointed out that while the government saves RM2.80 a month but the Vellfire consumes much more petrol than the Perdana.
So kita jimat RM2.80 sebulan tapi fuel comsumption bagi Proton Perdana average 6.3L/100Km, berbanding kepada Vellfire 2.4L avg fuel consumption 7.1L/100Km. 0.8L lebih drp Perdana, setiap 100KM. Sebulan kalau jalan 2000KM 16L X RM1.85 = RM29.60. So tak lah jimat pun.

— Eddie LFC 19X🏆 (@lfc_eddie) November 7, 2021
Meanwhile, another user pointed out that the Perdana is a Malaysian-made car by choosing the Vellfire, which means that the government is not supporting local vehicle makers.
READ MORE: "More Than A King" Car Caught Breaking Traffic Rules In Kelantan Allegedly Deputy Minister's
Satu perbezaan besar:

PROTON Perdana 2.4L tersebut dihasilkan di Malaysia, melibatkan syarikat & vendor tempatan. Toyota Vellfire 2.4 tidak dijual di pasaran kami melalui pengedar sah, malah model ini adalah model import Jepun.

Kerajaan sepatutnya menyokong industri tempatan. https://t.co/3lMwVFDAX7

— Aiman I. Abdullah (@AimanIAbdullah) November 7, 2021
---
Share your thoughts with us via TRP's Facebook, Twitter, and Instagram.
Hakim Hassan
Unkempt in both stories and appearance, Hakim loves tech but tech left him on read, previously he used to write about tall buildings and unoccupied spaces that he can't afford, and legend has it that he still can't afford it to this day