Nationwide Infection Rate Is Down, Vaccines Up But Still A Long Way To Go
KKM forecasts that the transmission rate will go down further to 0.9 if Covid-19 standard operating procedures (SOP) are met.
Credit: TRP
Subscribe to our new Telegram channel for the latest updates and stories.
---
Malaysia's Covid-19 infection rate has gone down, but we're still in the red.
Official figures released by the Health Ministry (KKM) indicate that the R-value (R0/Rt) or the rate of transmissions nationwide as of 17 June was at 0.95, and over the past week, the country has seen a marginal drop in the number of infections.
However, the Rt rate in Kuala Lumpur, Sabah, Negeri Sembilan and Labuan remains higher than the national average.
Kadar kebolehjangkitan Covid-19 atau Ro/Rt pada jangkaan mengikut kes seharian pada 17 hb Jun 2021 untuk seluruh negara adalah 0.95.. Manakala pecahan mengikut negeri adalah seperti di lampiran. pic.twitter.com/RRW50yqEO9

— Noor Hisham Abdullah (@DGHisham) June 17, 2021
Reportedly, Malaysia's test positivity rate (TPR) or the number of positive results acquired from testing was at 4.99%.
According to the World Health Organization (WHO), a country's TPR needs to be below 5% for conditions to be considered OK, and based on the government's Covid-19 Recovery Plan, we would still need to wait for daily cases to drop below 4,000 before the total lockdown order can be lifted.
Read More: There Are 4 Phases Planned For The Country To Recover From Covid-19
KKM forecasts that the transmission rate will go down further to 0.9 if Covid-19 standard operating procedures (SOP) are met.
Currently, 678,764 people have been infected with coronavirus with 66,097 cases remaining active.
The country has also lost a total of 4,202 souls due to the deadly plague.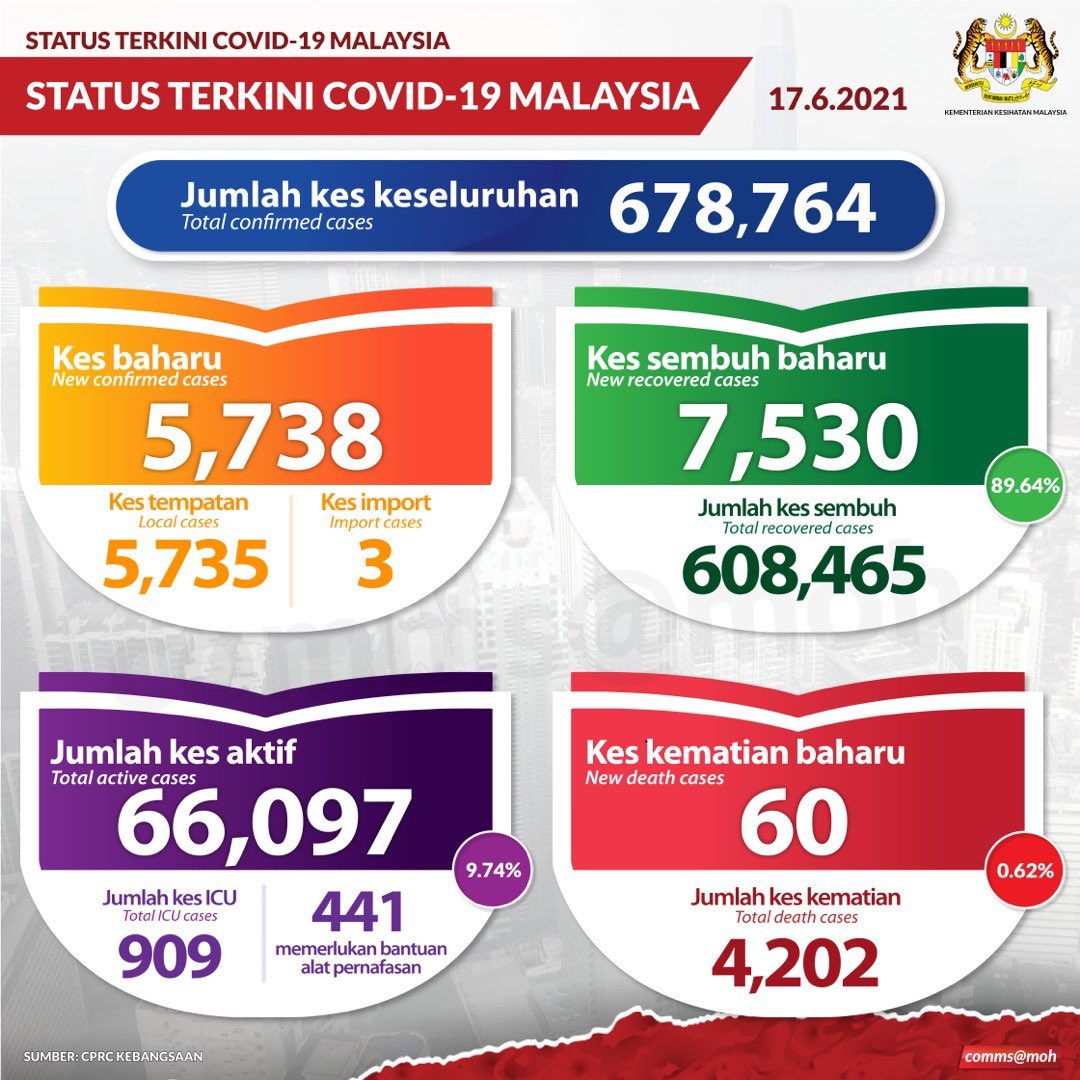 Good news is that Malaysia's vaccination rate has gone up
The Special Committee on Covid-19 Vaccine Supply Access Guarantee (JKJAV) reports that over 5 million of the country's denizens have been inoculated – with 11% of the population having already received their 1st dose of the coronavirus vaccine.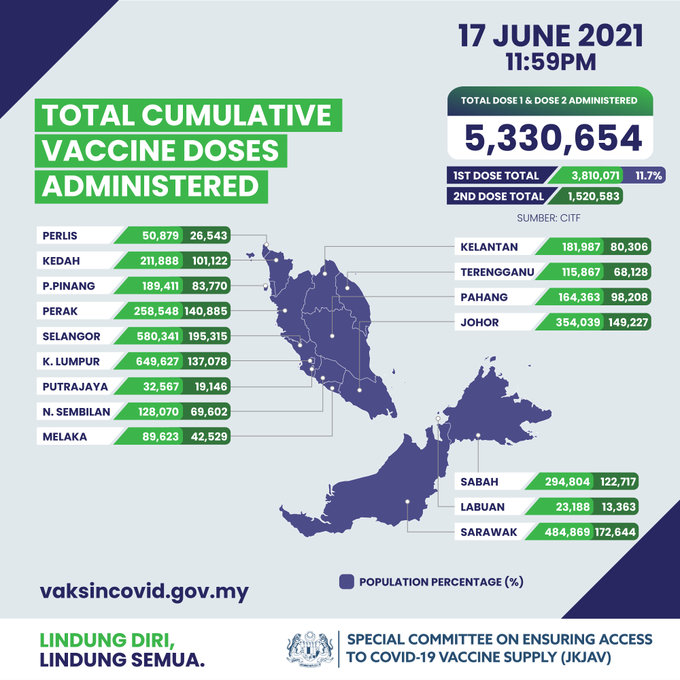 Read More: Less Than 150,000 Doses Per Day Administered In The Last Two Days
JKJAV Head Khairy Jamaluddin explained that the country is targeting to vaccinate more than 200,000 people every day in July, and over 300,000 people daily starting August.
KJ also promised that Malaysians could begin walking in for Covid-19 vaccinations without prior appointments by September this year.
Yesterday, the country hit a positive milestone by vaccinating a total of 221,706 people in a single day.
Pemberian vaksin COVID-19 pada 17 Jun merekodkan jumlah tertinggi setakat ini. #MenangBersama #LindungDiriLindungSemua pic.twitter.com/Ej8M4wOw2F

— KKMalaysia🇲🇾 (@KKMPutrajaya) June 18, 2021
---
Share your thoughts with us on TRP's Facebook, Twitter, and Instagram.
Akmal Hakim
Typing out trending topics and walking the fine line between deep and dumb.