PDRM: Only These 36 Fireworks Are Allowed For Raya Celebrations
Merchants can only sell them within a 30-day period.
Credit: YouTube
Subscribe to our Telegram channel for the latest stories and updates.
---
For this Hari Raya Aidilfitri, the Royal Malaysian Police (PDRM) has allowed 36 types of fireworks for sale, provided that traders must comply with all rules set by PDRM.
Berita Harian quoted Bukit Aman Deputy Director of Management (Administration), Datuk Mat Kasim Karim who said that said policy approval had been given by the Home Ministry (KDN) to import, store and trade fireworks for general sale in conjunction with the festive season in the country.
However, he said, the ban on playing firecrackers and fireworks decided by the government in 1995 is still in effect until now and these items are still subject to the Explosives Act 1957 (Act 207).
If there is a violation of the conditions, action can be taken in accordance with Section 8 of Act 207 and can be jailed for 7 years or a fine of RM10,000 or both.
What you can and cannot buy
Based on reports from Bernama, some of the fireworks allowed to be sold during the festive season includes:
Pop-Pop
Happy Boom Dush 20
Happy Boom Glow of Sunset
Happy Boom Flower Silver Cracking Rain
Happy Boom Thunder Clap (Rockets)
Mat Kassim said the Home Ministry had approved these types of fireworks for import, store and trading in the country.
However, there are nine types of 'Happy Boom' fireworks which are NOT allowed, including:
Happy Boom Red Cracker
Happy Boom Assorted Celebration Cake Repeat
Happy Boom Shoot Cake
Happy Boom Tikus 50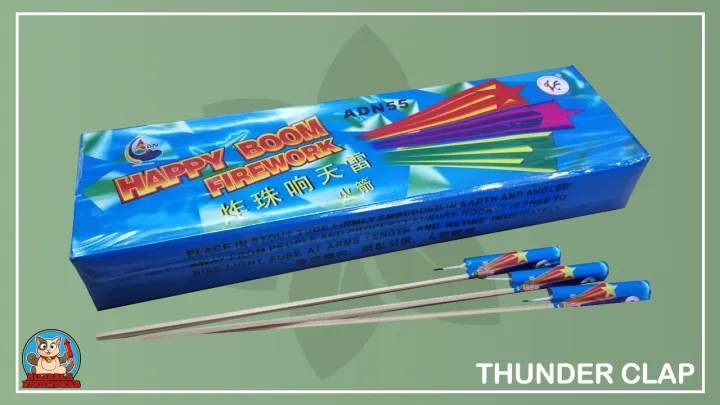 Traders will need to be certified to sell
The police said that the sales period for these fireworks are limited to only 30 days – 15 days before and 15 days after the festive season.
Sales outside supermarket buildings such as wholesellers, hypermarkets or shopping malls are allowed provided they have a safe storage area and are certified by the PDRM Armament Division.
---
Share your thoughts with us on TRP's Facebook, Twitter, and Instagram.
Hakim Hassan
Unkempt in both stories and appearance, Hakim loves tech but tech left him on read, previously he used to write about tall buildings and unoccupied spaces that he can't afford, and legend has it that he still can't afford it to this day