Protesters Stage 18-Minute Silent Sit Down Outside Parliament In Protest For #Undi18
Protesters also demanded for the Emergency to be over and that parliament reconvenes.
Yusof Mat Isa/Malay Mail
Subscribe to our new Telegram channel for the latest stories and updates.
---
Representatives of Malaysian youths were seen gathered outside the Parliament building in Kuala Lumpur today (27 March) in peaceful protest demanding that the government implement the "Undi 18 Bill" which lowers the voting age from 21 to 18.
The strike which was said to be organised by the "Himpunan Tuntut Undi 18" movement saw hundreds of people, including those from NGO groups, attending to show solidarity for the constitutional amendment which was passed and gazetted in 2019.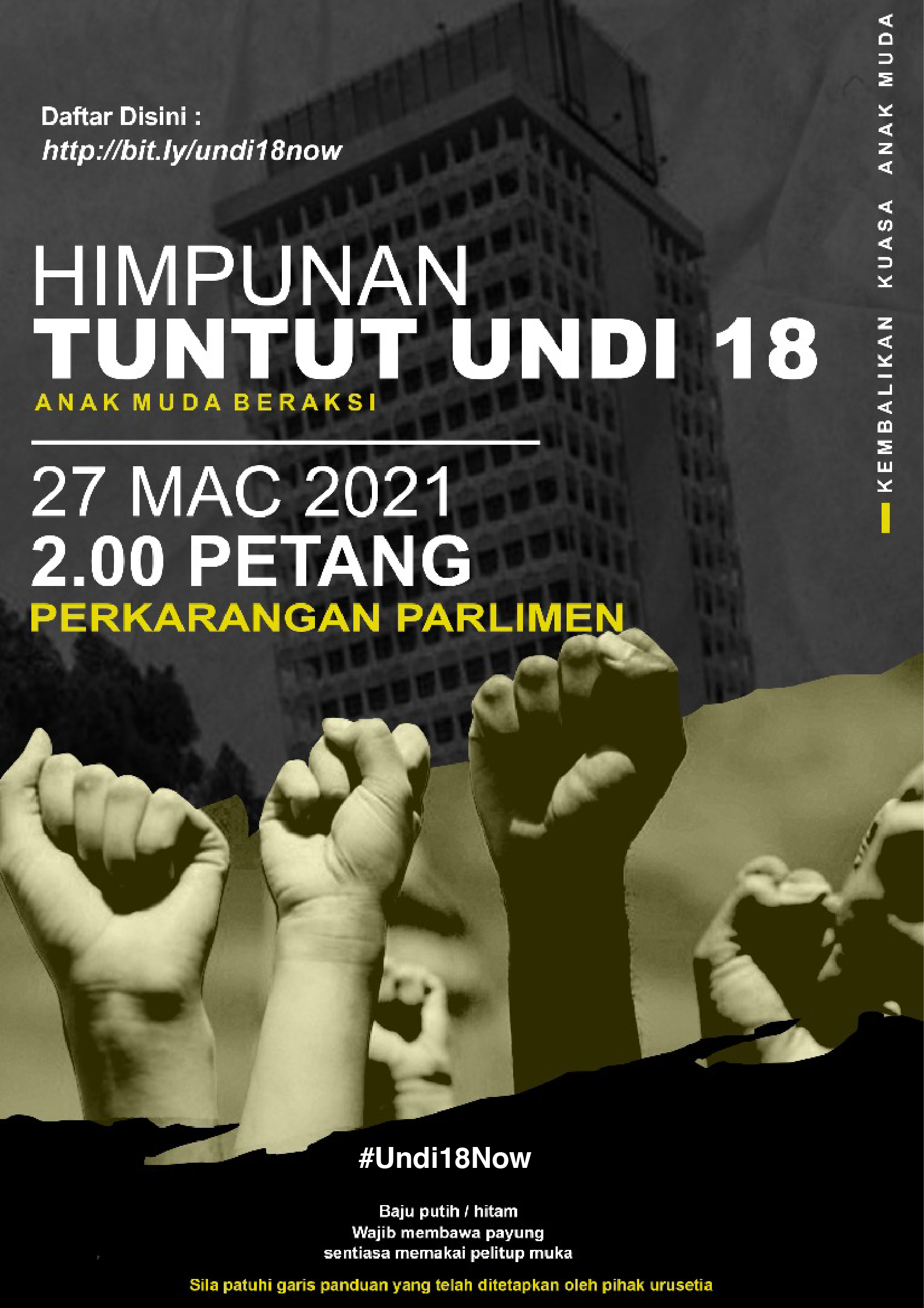 Protesters were reportedly there to stage an 18-minute "sit in silence" symbolic of the Undi 18 movement.
Journalists present at the scene also revealed that a group of heavily armed police officers were also on the scene.
March 27, 2021
Seen among the crowds were also prominent politicians like independent Simpang Renggam MP Maszlee Malik and PKR Vice-President Chua Tian Chang.
Simpang Renggam MP and former education minister @maszlee seen also at the demonstration. Here's what he has yo say. #Undi18 pic.twitter.com/Z4IJGQCux8

— Norman Goh (@imnormgoh) March 27, 2021
The movement also gained traction online as images and footage of the protest spread on social media under hashtags like #Undi18NOW and #ManaUndiKami – echoing demonstrations on the ground.
Protestors also were also seen making other demands such as for the Emergency period to be over and for Parliament to reconvene.
in solidarity with #Undi18NOW & #ManaUndiKami. ✊🏼 pic.twitter.com/VIawx73OhM

— freyr (@notsoaidil) March 27, 2021
We want democracy! Stop emergency! #Democracy #Undi18 #Undi18NOW pic.twitter.com/s3sXAg14Hj

— Shaq Koyok (@ShaqKoyok) March 27, 2021
The civil rights of an estimated 1.2 million eligible voters between the ages of 18 to 20 now hang in the balance of a law which was expected to come into effect in July 2021.
READ MORE: What's Going On With Undi 18 Right Now
---
Share your thoughts with us on TRP's Facebook, Twitter, and Instagram.
Akmal Hakim
Typing out trending topics and walking the fine line between deep and dumb.