Want To Get Vaccinated? Here's All You Need To Know About The National Covid-19 Immunisation Program
Registrations will be open to the public on 1 March 2021.
Hakan Nural/Unsplash
Subscribe to our Telegram channel for the latest stories and updates.
---
Prime Minister Tan Sri Muhyiddin Yassin suggested those who refuse to take the Covid-19 vaccine in Malaysia may find themselves restricted and unable to freely move about in public.
According to the New Straits Times, the PM said that some nations would likely set rules for travellers to be vaccinated against coronavirus to protect their local population and explained that those who are not inoculated may be restrained from moving around or travelling.
The requirement would likely be in the form of a (health) passport for visitors to prove that they have been vaccinated as a move to protect the locals… And if you are not vaccinated, there could be a restraint for you to travel and move around.

Prime Minister Tan Sri Muhyiddin Yassin via NST.
But when will the vaccine be made available to the public?
The government recently unveiled its guidebook and website to provide information concerning the National Immunisation Program (NIP). The NIP is scheduled to begin distributing Covid-19 inoculations to the public starting 26 February 2021.
The Prime Minister himself will be the first person to receive the vaccine along with healthcare frontliners.
The vaccine will be distributed to denizens free of charge – including foreigners – and will be given out in three phases;
Phase 1
Inoculations are scheduled to be given to 500,000 people from two main groups between February and April;
Group 1 – Medical frontliners in the public and private sector.
Group 2 – Essential services frontliners and security personnel (police officers and such)
Phase 2
Vaccinations to be given out to 9.4 million people from two groups between April and August;
Group 1 – All remaining healthcare and essential services personnel.
Group 2 – Senior citizens aged 60 and above, and high-risk individuals with chronic illnesses and persons with disabilities (OKU).
Phase 3
The final phase of the NIP will involve inoculating the rest of Malaysia or more than 13.7 million people.
Vaccinations will be given to citizens and non-citizens aged 18 and above with priority given to residents in Covid-19 red and yellow zones before moving on to people living in green zones.
Children below the age of 18 will not be given the vaccine, and it isn't mandatory for everyone to be inoculated.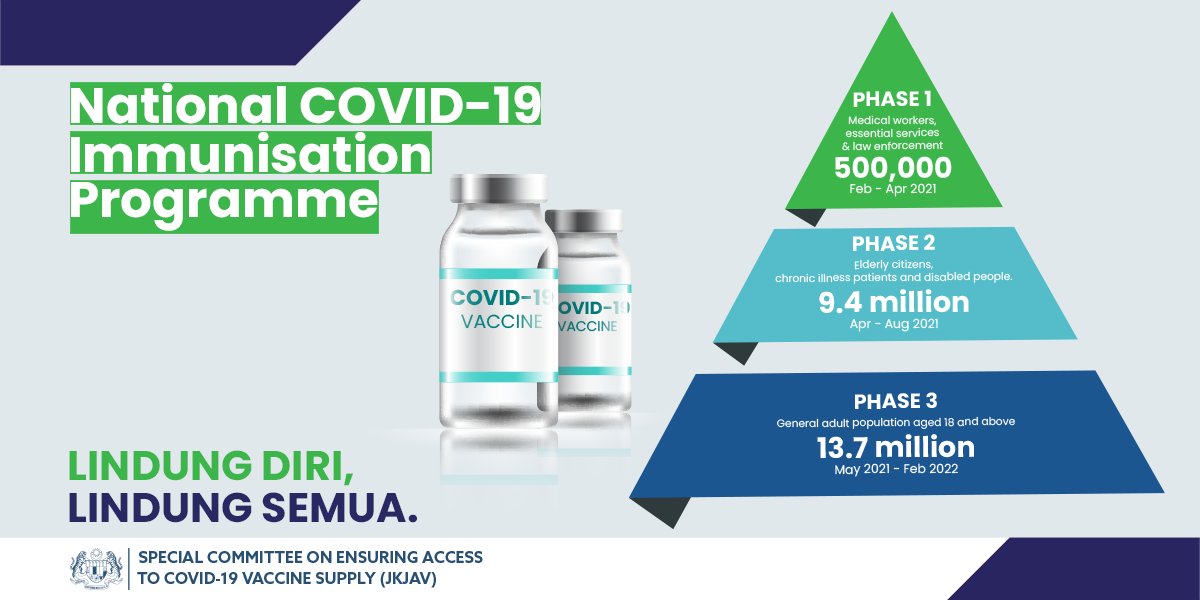 How do I get vaccinated?
Malaysians will be receiving five different variations of the Covid-19 vaccine;
Pfizer-Biontech (2 doses)
AstraZeneca (2 doses)
Sinovac (2 doses)
CanSinoBio (1 dose)
Sputnik V (2 doses)
The public must register themselves in order to get the vaccine. Registrations will be open beginning 1 March via;
The MySejahtera mobile application.
The NIC official website, HERE.
The NIC public hotline – 1800-888-828
Walk-in registration at public and private healthcare facilities.
Public outreach programs in rural areas.
Will there be any side effects from taking the vaccine?
The NIC guidebook explains that mild and temporary side effects are to be expected from the inoculation which include;
Pain, redness and swelling around the injection area.
Fatigue.
Fever.
Headaches.
Nausea.
Shivers.
Joint pains.
Swelling of the lymph nodes.
Other undetermined symptoms.
The government would also be conducting enhanced surveillance through the MySejahtera app of any adverse event following immunization (AEFI) in the case of other negative symptoms and side effects after taking the vaccine and keep the public informed.
Medical experts would also be able to report any adverse effects that they come across to be evaluated through the system.
For more information please refer to the NIP guidebook and website, HERE.
---
Share your thoughts with us on TRP's Facebook, Twitter, and Instagram.
Akmal Hakim
Typing out trending topics and walking the fine line between deep and dumb.