Cabinet Ministers' Quarantine Period Cut Short To 3 Days, #AdhamBabaLetakJawatan Trends
The Health Ministry said the Ministers have to follow a strict itinerary.
Subscribe to our Telegram channel for the latest stories and updates.
---
The quarantine period for Cabinet Ministers who return from overseas have been shortened from 10 days to three days following an amendment to Act 342.
The amendment will be in effect from today until 1 August, based on the Prevention and Control Infectious Diseases (Exemption) Order 2021.
Based on reports, everyone else who returns from international trips are required to undergo a 10-day quarantine period.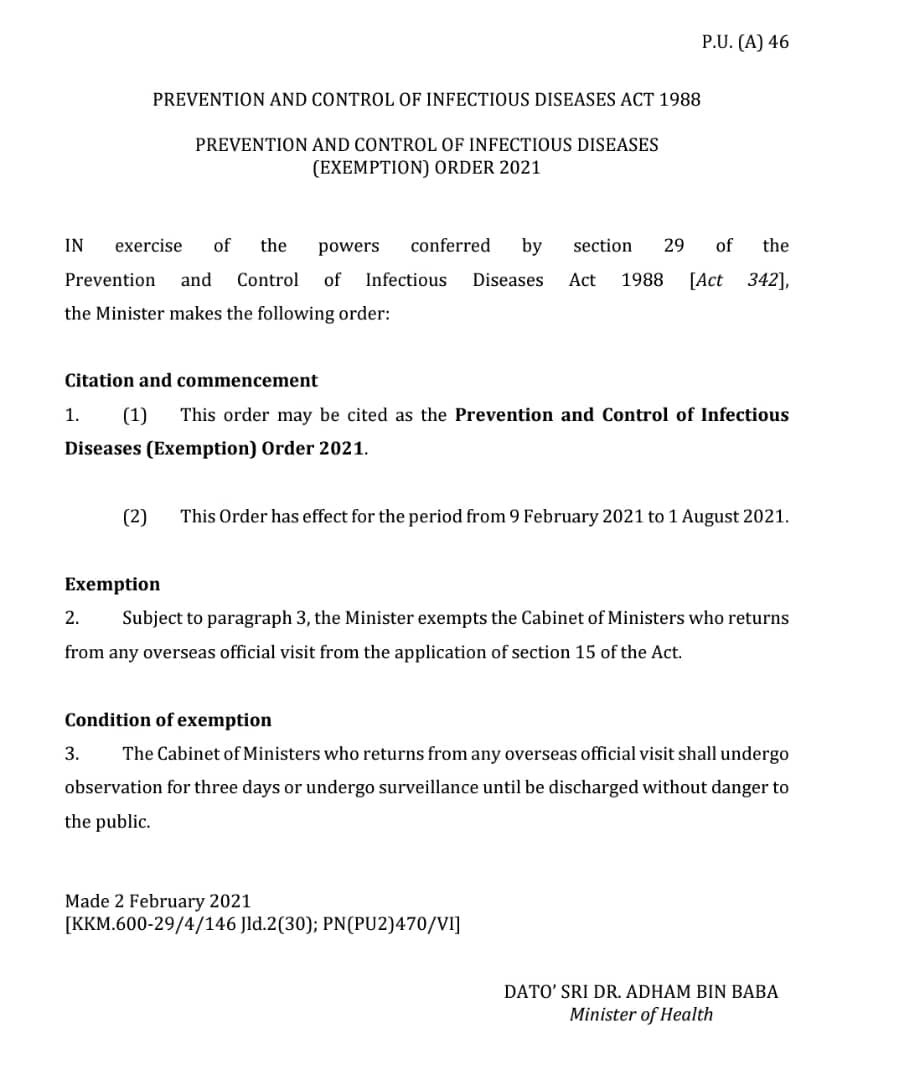 But they need to follow an itinerary?
It was later explained by Health Minister Datuk Dr Adham Baba to CodeBlue that it only applies to Ministers who they follow a strict bubble itinerary.
What that means is that the delegation only meets their overseas counterparts without taking part in any other outside activities between official meetings.
How did the people react?
The decision caught the attention of some of the prominent figures in the country, including Perlis Mufti, Datuk Dr Mohd Asri Zainul Abidin who tweeted a cheeky question asking whether he could also have three-day period if he went overseas.
Bolehkah kalau saya ke luar negara saya hanya dikuarantin 3 hari? Apakah beza tubuh saya dengan tubuh mereka yang mendapat kelonggaran 'istimewa'?

— Dr MAZA official (@realDrMAZA) February 9, 2021
Former Education Minister Datuk Dr Maszlee Malik was a bit more direct in his criticism, saying that it's a clear sign of double standards being practiced right now.
Never we expected that Malaysia would have gone to this level…

If it is not clearly double standard, then what is it? pic.twitter.com/K1SutuF3BB

— Maszlee Malik 🇲🇾 (@maszlee) February 9, 2021
Even Former Prime Minister Datuk Seri Najib Tun Razak had a say on it as he went on Facebook and the Sabah State Elections as an example of why it's a bad idea to shorten the quarantine days.
Meanwhile, Marina Mahathir pointed out that the median incubation period for Covid-19 is between four to five days.
'The median incubation period for Covid-19 is 4-5 days' #justsaying pic.twitter.com/XAP3zXSf4J

— Marina Mahathir (@netraKL) February 9, 2021
But the one who takes the cake, is Fahmi Reza who tweeted an illustration comparing the treatment given to the common folk and Cabinet Ministers.
February 9, 2021
The amendment comes hot on the heels of a movement on social media that, among others, called for Covid-19 SOPs to be enforced equally on all levels of Malaysian society.
Many were critical towards the decision and the Health Minister, with the hashtag #AdhamBabaLetakJawatan trended on Twitter, with 11.3k tweets as the time of writing.
---
Share your thoughts with us on TRP's Facebook, Twitter, and Instagram.
Hakim Hassan
Unkempt in both stories and appearance, Hakim loves tech but tech left him on read, previously he used to write about tall buildings and unoccupied spaces that he can't afford, and legend has it that he still can't afford it to this day