Unscheduled Water Cuts In 121 Areas In Klang Valley Starting 1pm Today
Kuala Lumpur, Petaling and Hulu Langat to face distributions till 9 January.
Shafwan Zaidon/Malay Mail
Subscribe to our Telegram channel for the latest stories and updates.
---
Klang Valley faces another unscheduled water cut beginning 1pm today (8 January) as Air Selangor conducts emergency repairs on a burst pipe in Cheras.
They said that the pipe was broken during the installation of a sewerage pipe by a third party on 2 January, 2021.
121 areas in Kuala Lumpur, Petaling and Hulu Langat are expected to be affected by water disruptions while authorities work to remedy the problem – which would only be finished by 3pm tomorrow (9 January).
Following that, Air Selangor has to carry out emergency works to repair the broken pipe and ensure the repair works are carried out smoothly, water supply to the affected areas will be cut off from 1pm on 8 January 2021.
Air Selangor explained that the water supply will return to affected homes and businesses at various stages depending on where they are and advised the public to store an adequate supply of water before their taps run dry and conserve their use.
Find out if your area is affected, below;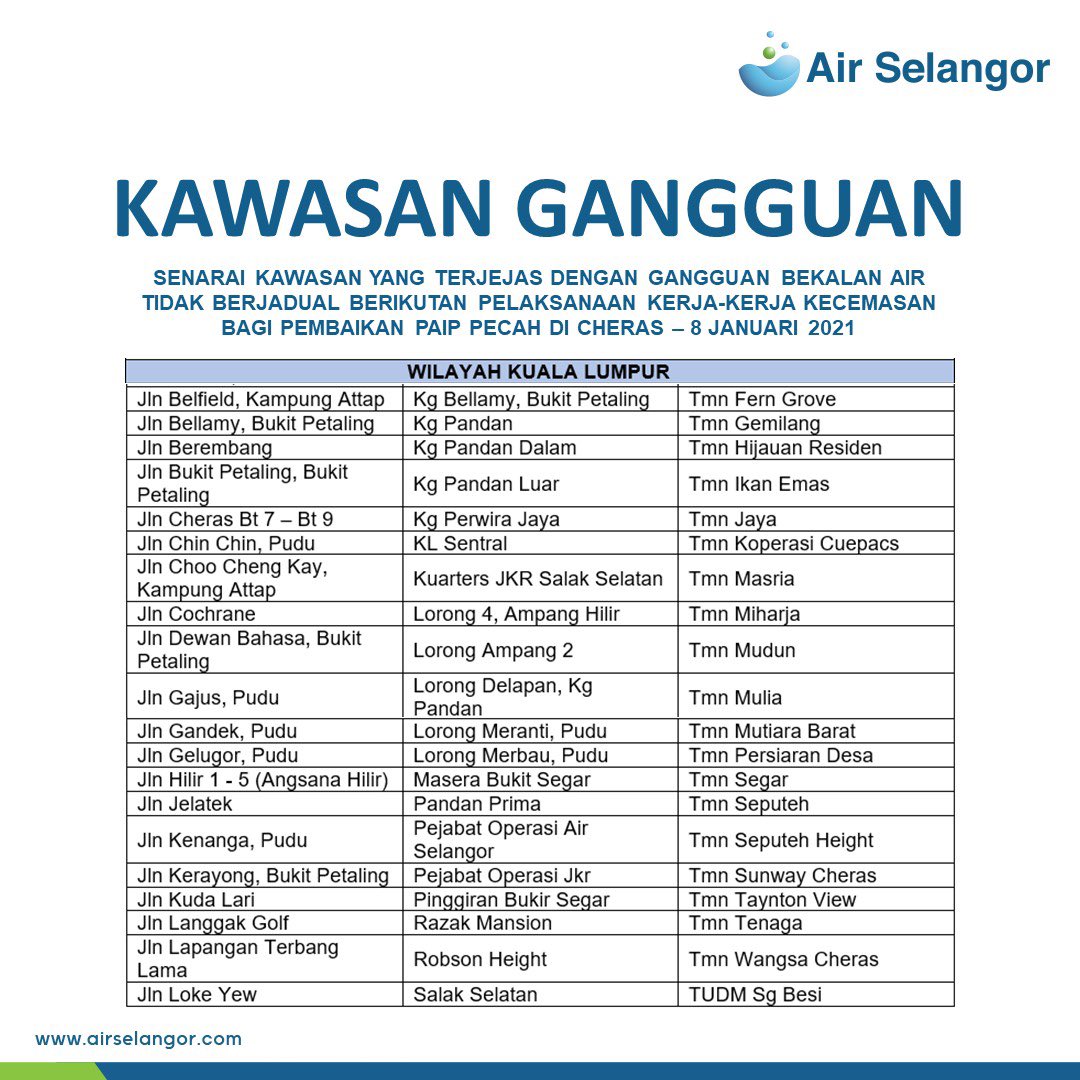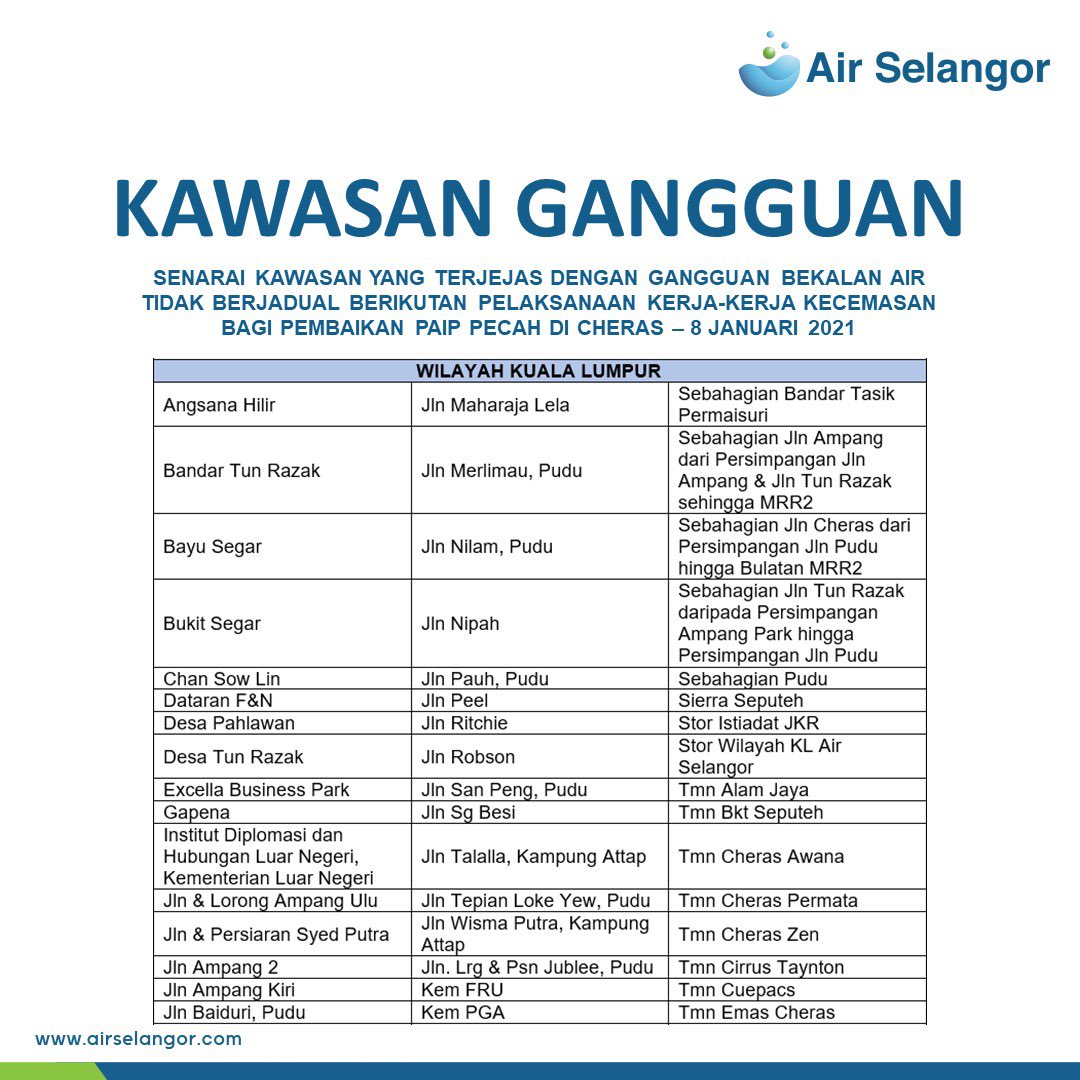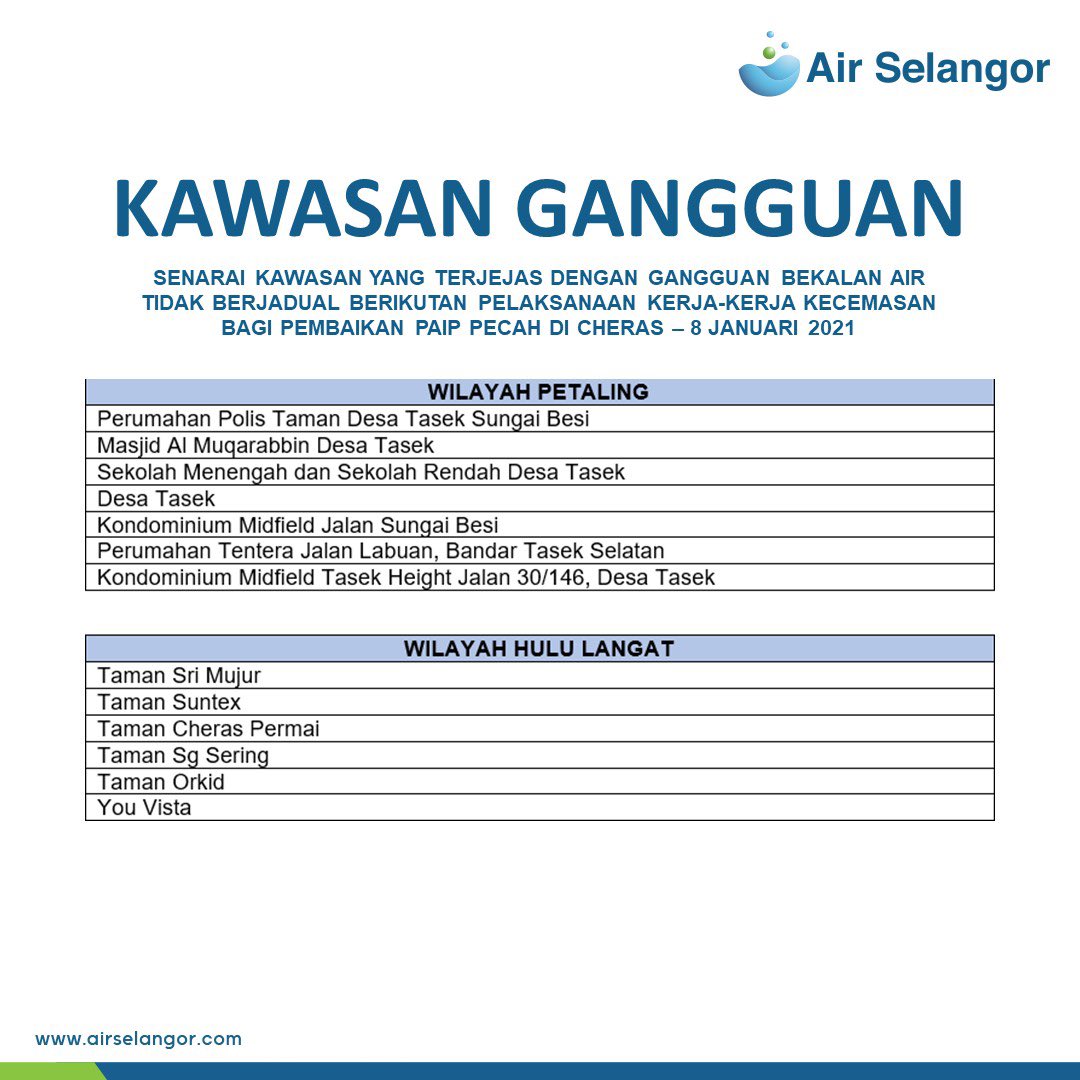 Air Selangor ingin memaklumkan bahawa telah berlaku kejadian paip pecah di Jalan Sering, Taman Sungai Sering di Cheras berpunca daripada kerja-kerja pemasangan paip pembentungan oleh pihak ketiga pada 2 Januari 2021 yang lalu.
Maklumat lanjuthttps://t.co/MhjbMz98BX#AirSelangor pic.twitter.com/2sMYkJ8jWD

— Air Selangor (@air_selangor) January 8, 2021
For more information on the water supply disruption, you can head on to Air Selangor's website or download the Air Selangor app (for Android or iOS).
---
Share your thoughts with us on TRP's Facebook, Twitter, and Instagram.
Akmal Hakim
Typing out trending topics and walking the fine line between deep and dumb.