What You Can And Cannot Do During CMCO In Selangor (UPDATED)
There are slight differences to the Federal SOP.
Subscribe to our Telegram channel for the latest stories and updates.
---
Selangor Menteri Besar Datuk Seri Amiruddin Shari has come out with a revised list of activities that you can and can't do during the CMCO in the state of Selangor.
There are slight differences, such as Selangor allowing for 5 people to eat out together at a restaurant table for 10.
Berikut dikongsi infografik mengenai SOP dan waktu operasi bagi premis perniagaan, kedai makanan serta aktiviti-aktiviti di Negeri Selangor sepanjang Perintah Kawalan Pergerakan Bersyarat dari 14 – 27 Oktober 2020. (1/2)#SelangorGempurCOVID19 pic.twitter.com/OVMbMJp1fE

— Amirudin Shari (@AmirudinShari) October 14, 2020
Again, do note that this applicable to the state of Selangor and not Kuala Lumpur and Putrajaya which are Federal Territories, which have to follow SOPs set by the Federal Government.
Below is the list:
Buying household groceries
Only 2 people from the same house
Those who considered as high risk are not recommended to go outside to open, public and crowded spaces.
Interstate travel
It's allowed for emergency cases such as illness and funerals but those who want to travel out of the district but they have to apply for a permit with the police.
Employees are allowed for inter-district travel but must have a valid work pass or a permission letter from the employer but the government encourages businesses to allow their workers to work from home.
For those who need to travel between Selangor and Kuala Lumpur to other states, they are advised to get the permission letter from the nearest police station before making their trip.
Individuals who is using the airspace going through KLIA, KLIA2 and Subang also need to get permission from the police.
Restaurants, hawker stalls and convenience stores
Allowed to operate between 6 am to 10 pm.
The public is encouraged buy food via drive thru, deliveries or take-away only.
Dine-in is limited for 2 people, 1 table but the state government has followed the federal government's recommendation of 5 people for 1 table that fits 10 people.
SOP PKPB : Ramai bertanya tentang jumlah dibenarkan di meja ketika makan direstoran – Kerajaan negeri setuju dalam sesi pelarasan antara MKN & YDP PBT untuk benarkan meja besar dibenarkan utk diisi maksimum 5 orang ( bagi meja utk 10 orang ) syarat penjarakkan fizikal dipatuhi

— Amirudin Shari (@AmirudinShari) October 16, 2020
Petrol Stations
Between 6 am to 10 pm (except for stations located near highways which operate 24 hours.
Markets
Wholesale market – 4:00 am to 2:00 pm.
Morning market – 6:00 am to 12:00 am.
Farmers' market – 6:00 am to 12:00 am.
Night market – 4:00 am to 10:00 pm.
Public transport and food deliveries
Public transport such as buses, expresses buses, LRT, taxies/e-hailing will be allowed.
Taxies/e-hailing will only be allowed to operate between 6:00 am to 12:00 am (with a maximum capacity of just 2 passengers).
Food delivery services will be allowed to operate between 6:00 am to 12:00 am.
Vehicles used for transporting workers will be allowed to fill up passengers according to the capacity that was set earlier.
Medical
Clinics, government and private hospitals – for 24 hours.
Pharmacies – 8:00 am to 11:00 pm.
Economic sector and industries
Can operate but according to SOP.
Vehicles related to industry, business, manufacturing will be allowed to operate as usual including traveling inter-district and inter-state.
Fisheries, plantations and agriculture will be allowed to operate.
Sea and airports will be allowed to operate
Religious activities
Daily prayers

Congregation of not more than 3 people.
The azan (Islam call to prayer) is allowed.

Maghrib, Subuh, Dhuha lectures and other activities are not allowed.
Management and staff in all non-Muslim houses of worship – allowed but not more than 6 people.
Leisure, recreational and cultural activities
All leisure, recreational and cultural activities are not allowed.
All entertainment activities such as night clubs/pubs, recreational centres, theme parks, indoor playgrounds and movie theatres are not allowed.
Sports Activities
Allowed
Individual based sports, e-sports, non-contact sports and outdoor sports of not more than 10 people.
Not allowed
Water, physical contact sports and sporting events.
Events which have an audience attending.
Events that involve foreign participants.
Centralized training programs by national sports councils and state sports is allowed to continue but they must follow a quarantine based approach.
Education
All schools, universities, kindergartens, day-care centres, will be closed during the CMCO period.
IPTA and IPTS students who are taking exams from foreign institutions are only allowed to attend the test and not the learning session.
Seminars, exhibitions, training, conventions, lectures and meeting, incentives, conventions and exhibitions (MICE) events are not allowed.
Only online seminars are allowed.
Meetings
Should be done via a video teleconference and its not encouraged to meet in person.
Organizing a gathering
Official and informal government and private functions, social events such as kendrui kendara, weddings and engagements, aqiqah ceremonies, prayers for peace, tahlil, birthday celebrations, birthday celebrations, reunions, etc are not allowed.
Tourism
Any sort of tourism activity going in and out of the CMCO area is not allowed.
Religious ceremonies
Marriage registration ceremony for non-mulims is allowed but it shouldn't exceed 6 people at any one time.
Playgrounds, etc
Playgrounds and public exercise equipments are not allowed to be used.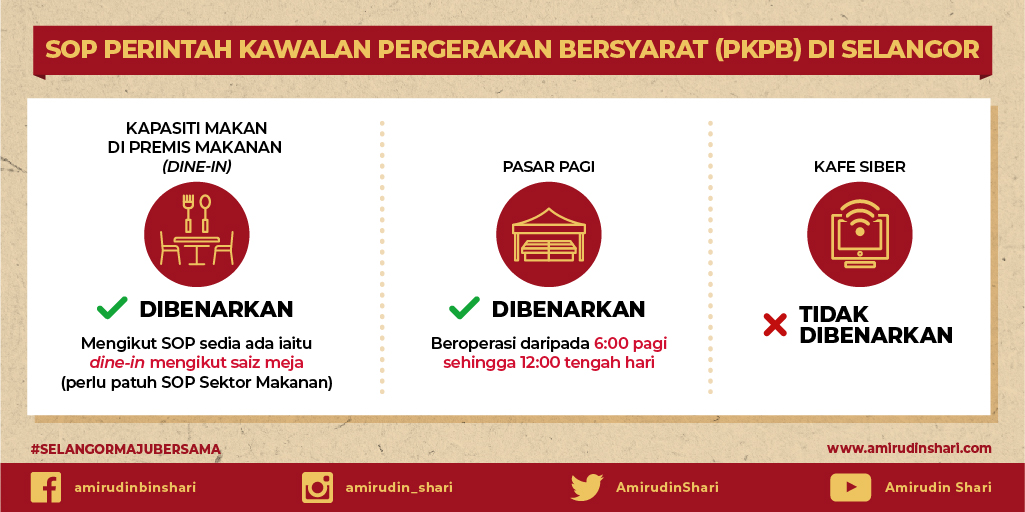 ---
Share your thoughts with us on TRP's Facebook, Twitter, and Instagram.
Hakim Hassan
Unkempt in both stories and appearance, Hakim loves tech but tech left him on read, previously he used to write about tall buildings and unoccupied spaces that he can't afford, and legend has it that he still can't afford it to this day