Malaysian Football Hero, Mokhtar Dahari Is The World's 3rd Top Football Scorer In History
Malaysia's golden age of football.
Twitter/MetallicJuan
Subscribe to our Telegram channel for the latest stories and updates.
---
Malaysia's very own late and great football legend, Mokhtar Dahari was listed as the 3rd highest goal scorers in the history of the sport.
The Kuala Lumpur born football icon is credited with scoring a total of 89 goals for Malaysia in over 100 international matches throughout his 15-year career from 1972 to 1987 – just a few goals short from the world's current number one international top scorer, Iranian footballer Ali Daei.
Datuk Mohd "Supermokh" Dahari was an indomitable figure in the country's football scene during the golden 70s', playing side by side with other notable football figures such as Santokh Singh, Soh Chin Aun, and others.
Sporting superior striking skills, Mokhtar was known to fans as the man with the "bullet-like kick", with a kick so strong that he even broke three of legendary national goalkeeper, R.Arumugam's fingers to score a goal.
In fact, Supermokh was even featured on the World Star Soccer magazine as one of Asia's best strikers in 1976.
Supermokh started off his football career playing for Selangor in 1971 and quickly made a name championing the team to achieve 10 victory titles in the Malaysia Cup football tournaments.
In 1972, Supermokh began representing Malaysia in international tournaments and to later don the sacred No.10 jersey – worn by many legendary players such as Pelé, Zinedine Zidane and others.
The footballer even got the chance to play against another saint in the football world, Diego Maradona during a friendly match between Selangor and the Argentinean, Boca Junior football club (FC).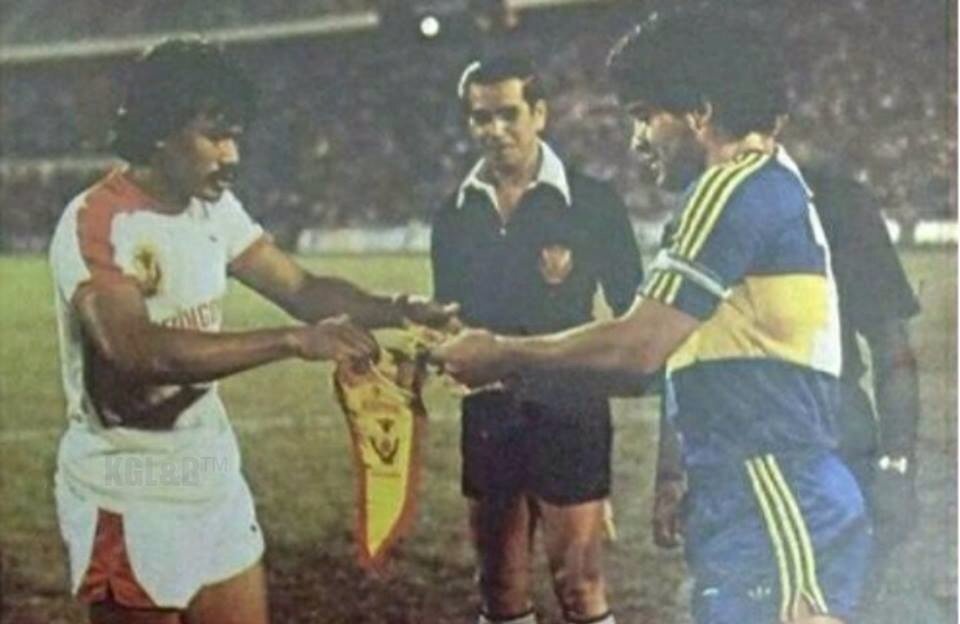 After retiring in 1987, Supermokh became a coach and trained players of Selangor as well as RHB Bank's professional football team, Kwong Yik Bank FC.
The legend passed away from a rare motor neuron disease (MND) in 1991 at the age of 38.
---
Share your thoughts with us on TRP's Facebook, Twitter, and Instagram.
Akmal Hakim
Typing out trending topics and walking the fine line between deep and dumb.