Malaysia May Be Hit With 3rd Wave Of Covid-19 Infections
Malaysians who don't follow the rules are the fuel to the infection fire.
Malay Mail
Subscribe to our new Telegram channel for the latest stories and updates.
---
We must take action to control Covid-19 outbreaks before the third wave of infections crashes down on Malaysian shores.
Health Director-General Datuk Dr. Noor Hisham Abdullah said that new cases and clusters that have popped up across the nation are like "embers waiting to burn" and Malaysians who ignore Covid-19 standard operating procedures (SOP) are the "fuel" that would light up the "fire" of infections.
The DG laments the worrying spike in cases, saying that the country needs to take control of the infection curve before the nation's healthcare systems get overwhelmed.
He mentioned that Malaysia has a very limited time to break the chain of infection in this early stage before things get worse.
If that happens, Dr. Noor Hisham said that the country would have to shift its focus from preventing viral transmissions to treating sick patients, which is not ideal.
The doctor said that the country's best bet was for everyone to comply with wearing face masks, practicing social distancing and hygiene measures, as well as all the things we're expected to do in the 'new normal' post-pandemic world.
As of writing, the country records 179 active coronavirus cases, with overall infection numbers totaling at 8,904.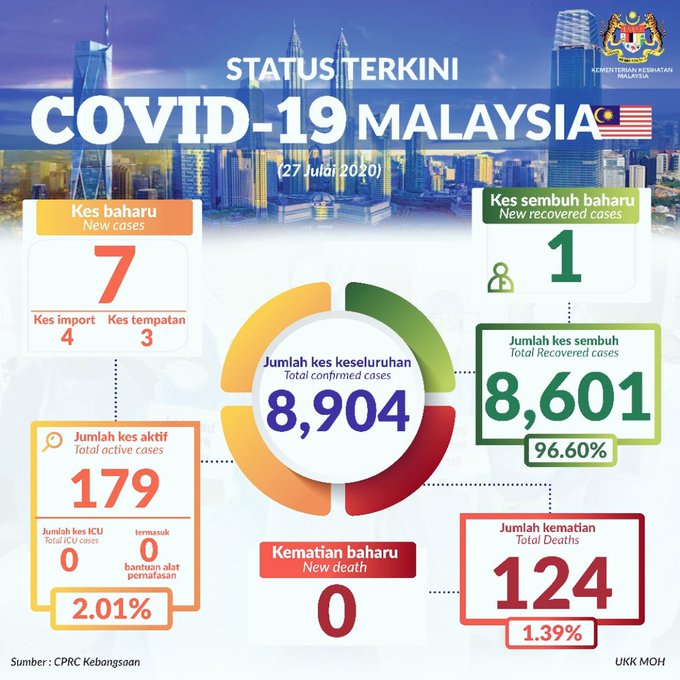 Curiously enough, reportedly, the Deputy Health Minister Datuk Dr. Noor Azmi Ghazali explained that the country had been facing the second wave of Covid-19 infections since March, 2020.
---
Catch more updates by following us on Facebook, Twitter, and Instagram.
Akmal Hakim
Typing out trending topics and walking the fine line between deep and dumb.