Malaysia's Drunk Driving Problem
Credit: Pexels/Pixabay
Subscribe to our new Telegram channel for the latest stories and updates.
---
It looks like Malaysians are out for blood with the recent rise in road accidents involving drunk drivers.
A quick look through social media reveals that a majority of Malaysians have grown rather weary of the ongoing news reports of tragic incidents caused by irresponsible individuals who continue to jeopardise the safety of others while being intoxicated behind the wheel.
Almost everyday we encounter news about drunk driving. No matter how careful we are, there will always be irresponsible ones creating unfortunate situations in the end. About time we strengthen the laws cos this involves other people's lives. Just don't drink and drive. Easy.

— Neelofa (@Neelofa) May 26, 2020
Malaysia is no longer safe bcoz every day there are people die or injured due to drunk driving. Shame.

— Hang Lucky jr. (@r_marvelous) May 22, 2020
I'm really sick of seeing the same posts every week making drunk-driving a racial/religious issue. Literally nobody supports drunk drivers, you can ask any non-Muslim. Everyone rational supports heavier penalties.

Nobody hates drunk drivers more than those who drink responsibly. https://t.co/FSH3VpYSuo

— Ming Yao (@themingyao) May 23, 2020
What the law says
Under the current Road Transport Act 1987, a person who is caught behind the wheel while under the influence of alcohol or drugs can be punished with a fine not exceeding RM1,000 or receive jail time of no more than three months.
Moreover, repeat offenders can be fined for no less than RM2,000 and are also liable to a jail term of not exceeding 12 months.
Furthermore, those who cause an accident which results in the injury or death would be met with imprisonment for a maximum 10 years and be fined up to RM20,000.
Not only that, those who are merely inside a vehicle whilst drunk can be met with fines and jail time.
However, based on the general consensus at the moment, these punishments are seen as inadequate to prevent people from drunk driving.
What experts are saying
Criminologist Datuk Shahul Hamid Abd Rahim told Bernama that Malaysia must look into reforming the nation's laws to provide stricter punishment for drunk drivers.
This opinion was shared by International Islamic University of Malaysia's (IIUM) sociology and anthropology expert, Associate Professor Dr. Noor Azlan Mohd Noor who told Bernama that action and enforcement towards drunk driving must be taken immediately.
The Professor explained that strict action can be taken to those who disobey the law now, on a case-by-case basis, before the powers at be finally decide to enact changes to the rule of law governing the matter.
What politicians are saying
Despite years of back and forth, the government (past and present) is yet to make any substantial move to enact changes to the drunk driving rule.
In response to ongoing public pressure, a couple of DAP politicians have stepped up to challenge the Perikatan Nasional (PN) government to take action against drunk drivers.
The statement claimed that the Pakatan Harapan (PH) administration had previously tried to amend the Road Transport Act and introduce harsher penalties for driving under the influence (DUI), which should've been brought to Parliament this year.
However, the PH politicians explained that this move was cut short following the recent regime change in Putrajaya.
Meanwhile, Minister in the Prime Minister's Department Datuk Liew Vui Keong recently said that the government was looking into reviewing the current laws and considering implementing a RM100,000 fine and a 20-year jail term for DUI offenses.
Concurrently, the country's sole Islamic party, PAS, had called on the government to immediately cease and suspend all production and sale of alcoholic beverages until measures can be taken to put a stop to drunk driving in Malaysia.
In 2018, Malaysia reportedly had the 3rd highest fatality rate from road accidents in the Asian region according to the Global Status Report on Road Safety by the World Health Organization (WHO) and the World Bank.
Furthermore, based on data provided by the United Nations (UN) Economic and Social Commission for Asia and the Pacific (ESCAP), drunk driving accounted for approximately 25% of fatalities on Malaysian roads as of 2018.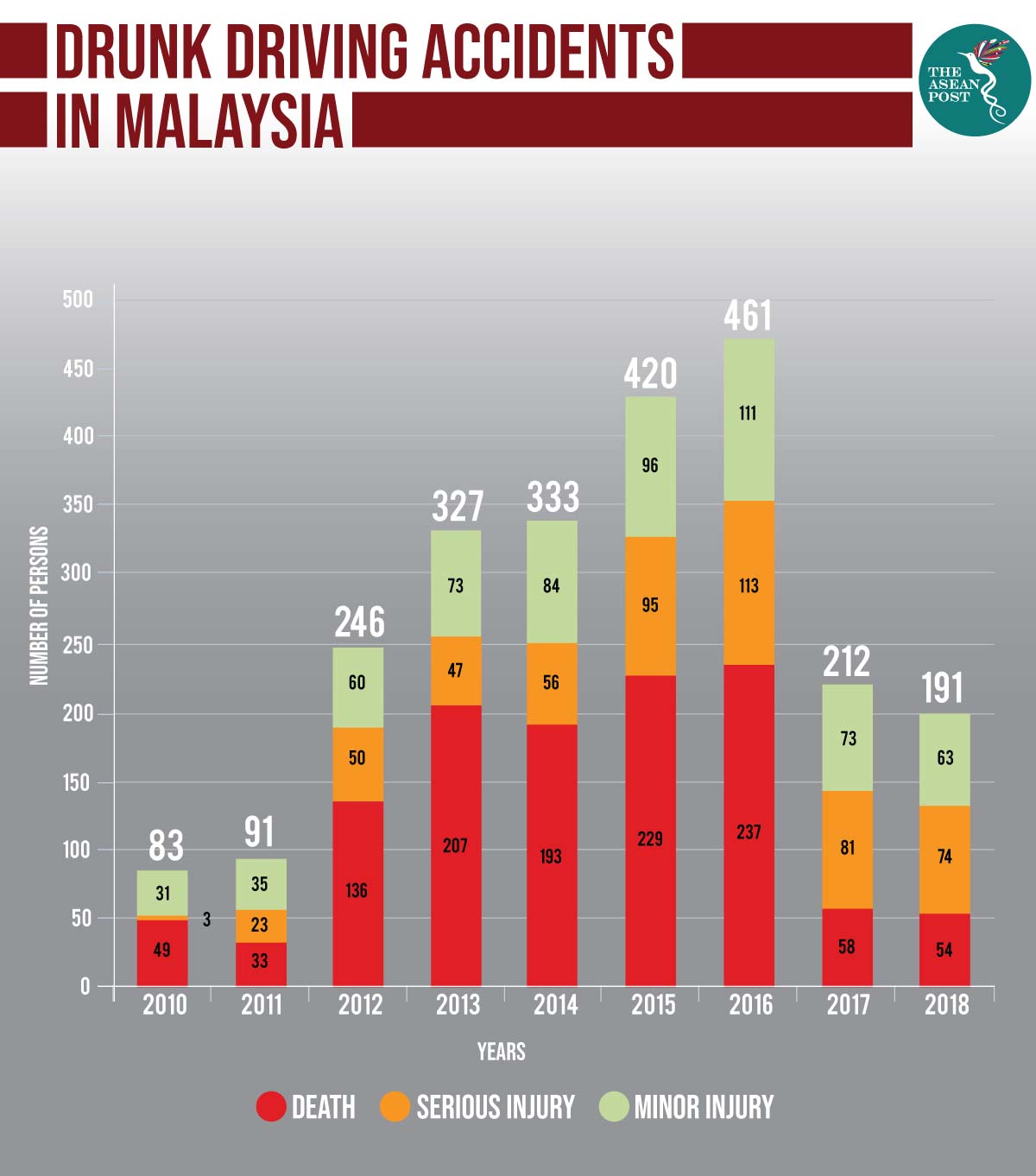 ---
Most recently, a 64-year-old Sabahan man was slapped with the maximum fine of RM6,000 for DUI offenses when he tried to run a police roadblock during the nationwide Movement Control Order (MCO) lockdowns.
---
Express your thoughts on TRP's Facebook, Twitter, and Instagram.
Akmal Hakim
Typing out trending topics and walking the fine line between deep and dumb.