[Video] KL Traffic Cop Shoots Tire Of Fleeing Car
Credit: Facebook/Bernama TV
Subscribe to our new Telegram channel for the latest stories and updates.
---
Footage of an intense car chase is going viral on social media.
The scene shows a lone traffic police officer in pursuit of a black sedan on the crowded streets of Jalan Gombak, Kuala Lumpur.
The 40-second clip sees the cop chasing after the car on his motorcycle, trying to get it to stop.
As both vehicles were making their way through busy traffic, the officer quickly overtook the car, jumped off his bike and drew his firearm in attempts to order the driver to stop.
When the car failed to do so and attempted to run the cop over, the officer proceeded to fire several shots of his pistol into the side of the moving vehicle. A loud pop can be heard as the car's front tyre deflates from the bullet.
The video ends with the officer continuing his chase on foot as the car swerves through traffic to escape.
According to KL traffic police, the cat and mouse chase that occurred around 4 pm on May 19 began when the black Nissan Teana had first run a traffic light.
It was then that the officer seen in the video began his pursuit of the 2 suspects in the vehicle, which had also crashed into several other vehicles as it sped on to escape.
Apparently the chase ended later when the car was found abandoned on the DUKE highway with the 2 suspects nowhere in sight.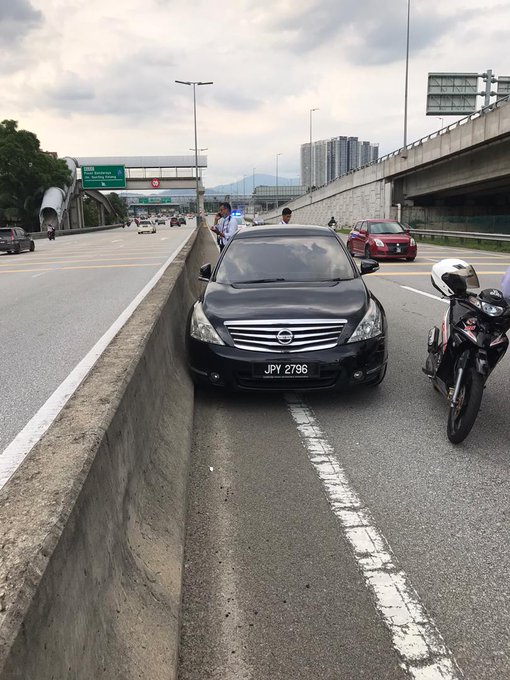 Upon searching the vehicle, police found a packet which they believed to be a bag of meth.
Police say that the car was registered to a woman from Senai, Johor.
The case is currently being investigated under Section 186 of the Penal Code for obstruction of justice.
---
Express your thoughts on TRP's Facebook, Twitter, and Instagram.
Akmal Hakim
Typing out trending topics and walking the fine line between deep and dumb.