Covid-19 Death Toll Goes Up, Claims 14 Lives & Infected 1518 Malaysians In Total
Credit: Twitter @KKMPutrajaya
The national Covid-19 death toll now stands at 14 people.
Victim #11 was identified as a 70-year-old Malaysian man who passed away on Sunday, March 22.
The victim, classified as case #1070, was confirmed positive for the coronavirus and was later admitted to the Intensive Care Unit (ICU) at UKM's Canselor Tuanku Muhriz Hospital.
Reportedly the deceased had a recent travel history to Indonesia in February.
Malaysia's 12th victim died on Monday, March 23 after receiving treatment at the Kluang Hospital in Johor.
Classified as case #1114, the 70-year-old man was said to have attended the tabligh congregation that happened in Masjid Jamek, Kuala Lumpur earlier in March.
The country's 13th fatality came from case #1006, a 49-year-old man who also passed away on Monday at the Sarawak General Hospital. The deceased reportedly had also gone to the mentioned tabligh event.
While the 14th death was of a 51-year-old woman, dubbed case #595. The deceased had had close contact with members of the tabligh congregation who tested positive for the virus.
She fully succumbed to the illness and died at the Miri Hospital, Sabah earlier today.
Setakat 23 Mac 2020, sebanyak 14 kematian akibat #COVIDー19 dicatatkan di Malaysia. @DrAdhamBaba @DGHisham pic.twitter.com/WsKxXxTWz8

— KKMPutrajaya (@KKMPutrajaya) March 23, 2020
As of today, the Health Ministry (MOH) reports the finding of another 212 new positive Covid-19 cases, 123 of those cases were linked to the now-notorious tabligh cluster.
Being the worst-affected country by the outbreak in the Southeast Asian region, Malaysia now records a total of 1518 coronavirus cases, with 159 recoveries so far.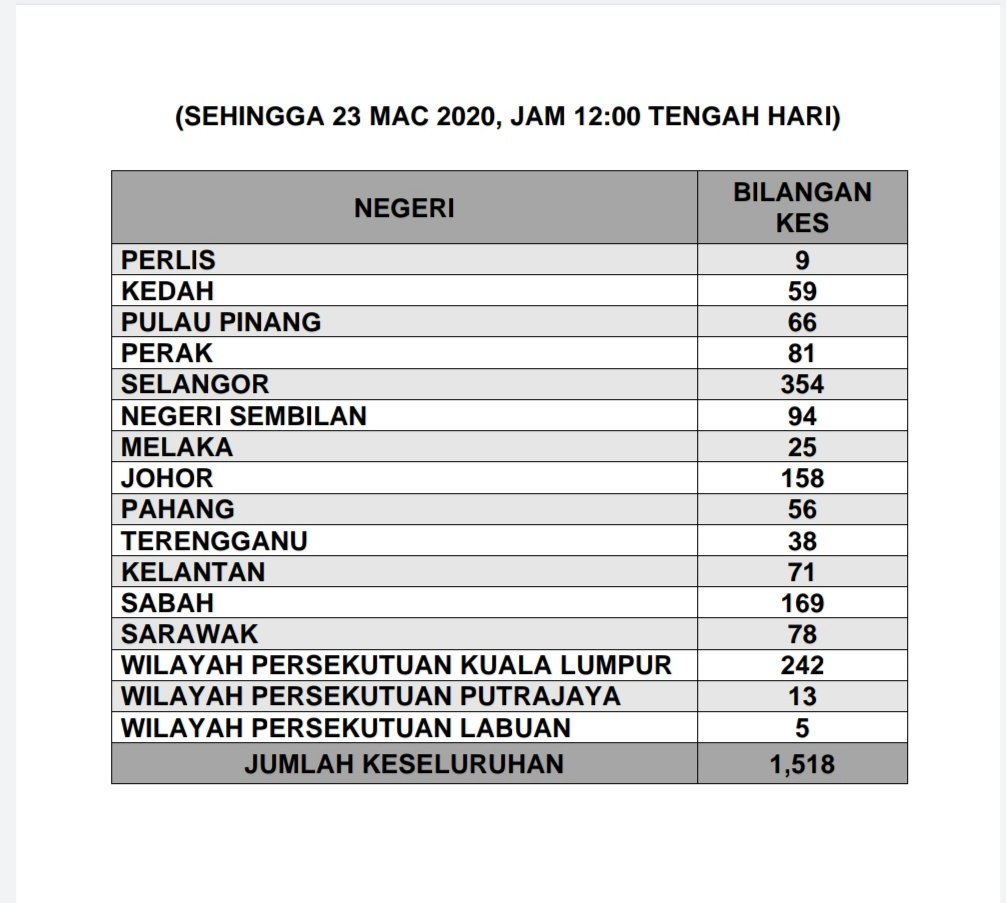 Globally, the death toll of the viral pandemic has claimed nearly 15,000 lives and infected more than 300,000 individuals.
---
TRP sends our deepest condolences to the family and friends of the deceased.
Be sure to catch up with more updates on Covid-19 here at TRP and leave a comment on our Facebook, Twitter, Instagram, and Telegram.
Akmal Hakim
Typing out trending topics and walking the fine line between deep and dumb.