Covid-19: 129 New Infections, 95 From "Tabligh" Event
Credit: Reuters/Malay Mail
Another 120 new Covid-19 cases have been confirmed in Malaysia, adding the country's total case count to 673.
According to the Health Ministry (MOH), 95 patients from the newly identified cases were linked to the tabligh congregation that happened at Masjid Jamek, Kuala Lumpur earlier this month.
This brings the total number of people confirmed to have been connected to the religious gathering to 267, from the previous 172 identified cases.
Separately, the country recorded its first fatalities from coronavirus which includes case #178, a 34-year-old Malaysian man who was part of the tabligh cluster.
The deceased was diagnosed on March 5 and had received treatment at Hospital Permai, Johor Bahru before passing away on March 17, 2020.
The mentioned tabligh event was attended by some 16,000 people, of which 14,500 were locals.
Reportedly 8,786 people from the cluster have been identified, with 3,439 sample tests taken to determine if any are infected.
Meanwhile, MOH also reported that 7 more patients have recovered from treatment, bringing the nation's total to 49 individuals.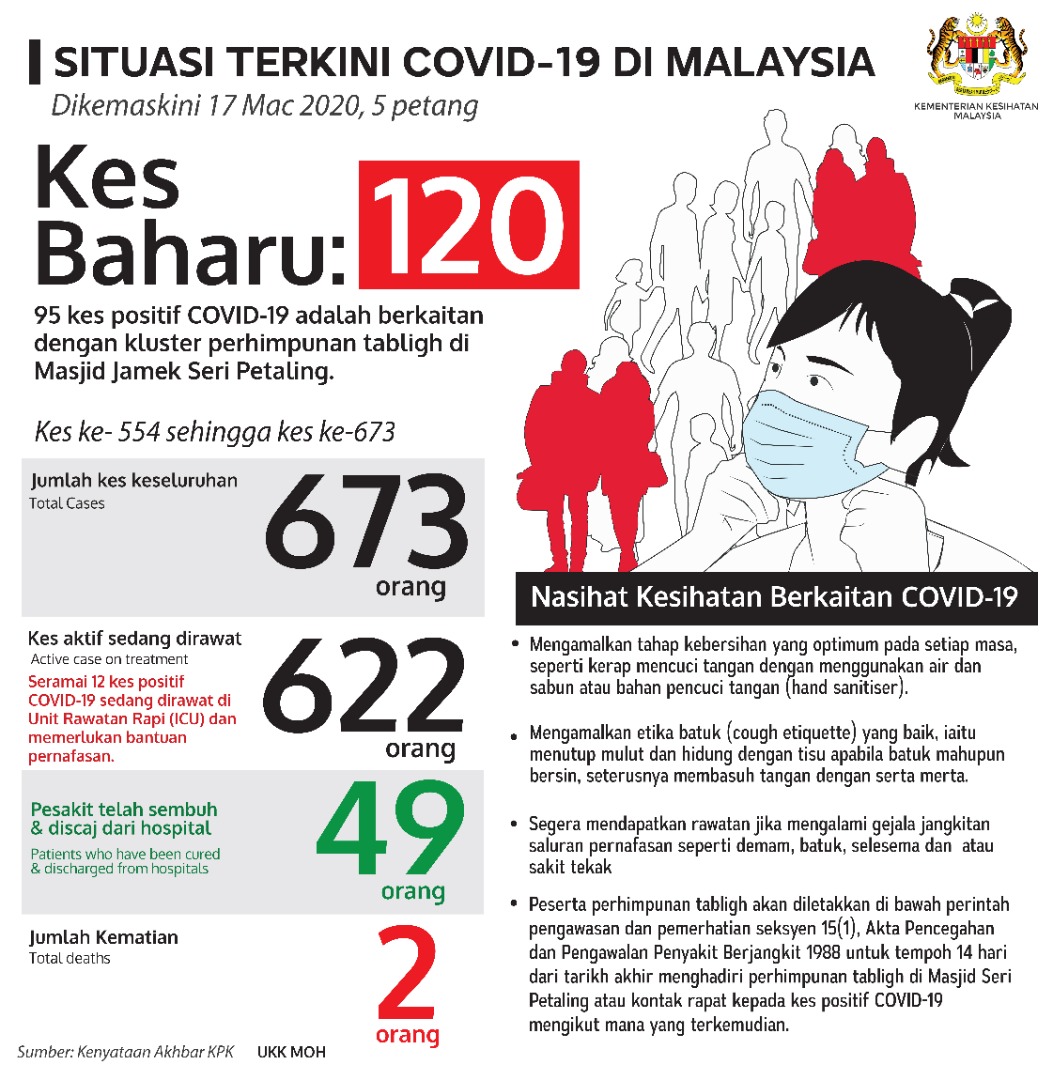 MOH also reminded Malaysians to abide by the mandatory Movement Control Order not only to limit the spread of Covid-19 but also to avoid criminal charges.
---
Get more information on the Covid-19 outbreak and other fascinating stories here at TRP, and be sure to share your thoughts and questions on our Facebook, Twitter, Instagram, and Telegram.
Akmal Hakim
Typing out trending topics and walking the fine line between deep and dumb.