5 Major Roads To Close In 2020 So KL Can Be More Pedestrian-Friendly
In the future, there will be fewer cars in Malaysia's capital as Kuala Lumpur aims to reduce the number of personal vehicles and pedestrianise more roads. By 2025, the city centre plans to close at least 10 roads; at least 5 of them by the end of this year.
Following the footsteps of other countries, Kuala Lumpur also aims to reduce the carbon footprint by limiting the number of cars on the roads.
Some of the roads mentioned by Kuala Lumpur Mayor Datuk Nor Hisham Ahmad Dahlan include Jalan Raja until the Leboh Pasar Besar intersection, and Jalan Tuanku Abdul Rahman (TAR).
Why does Kuala Lumpur want to make more pedestrian-friendly roads?
Burgeoning traffic problems
One of the reasons why Kuala Lumpur is striving to keep more cars off the road is due to the number of personal vehicles entering the city.
Hisham said Kuala Lumpur has a daytime population of 3 million and people with between 1 million and 3 million cars making multiple trips on city roads. However, the number of vehicles is growing.
The gridlock in the past, he mentioned, discouraged weekend shoppers who come into the city and this has ultimately affected traders and their businesses.
Another issue caused by traffic is carbon emissions. Kuala Lumpur aspires to become a low carbon city in 2030 and cut down emissions by 20% in 2022.
This isn't the first time that Kuala Lumpur has closed down roads for pedestrians as the city has implemented car-free mornings since 2014.
More studies need to be conducted
Although the move has been lauded for Kuala Lumpur's commitment to achieving low carbon emissions and making more room for pedestrians, experts point out that the city should first clear the underlying issues before implementing it.
Traffic engineering specialist Dr Law Teik Hua told NST that authorities must take into account pedestrian traffic and any plans to convert the roads into pedestrian zones must be done with proper consultation.
This includes studies with regards to traffic volume and environmental impact assessments.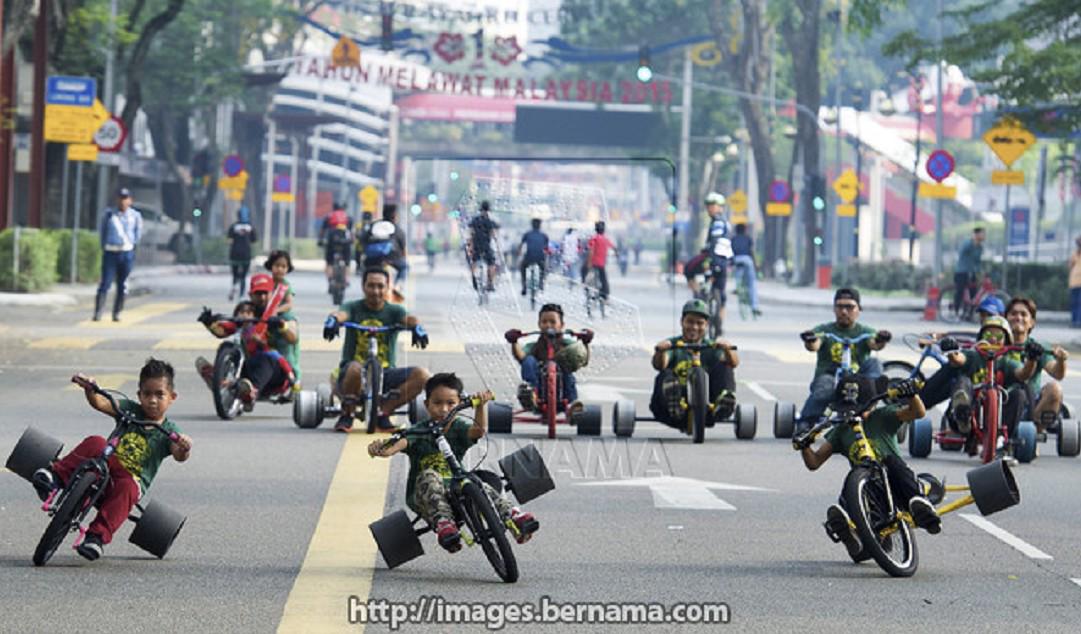 Is it a good thing?
In short, yes.
The idea of pedestrianising vehicular roadways isn't relatively new as many countries have been implementing the idea in varying degrees.
In Europe – the most urbanised continent in the world, there are a number of cities which have car-free roads but the poster child for the EU has to be Copenhagen's main street, Strøget, which was pedestrianised in 1962.
Initially, locals were sceptical and critical of the move but now the city of Copenhagen has over 96 000 square metres (of which 33% is street and 67% city squares) of car-free space.
It's reported that activities connected with stopping and staying are almost four times greater than in 1968 when it first started.
Pedestrians even flock the streets to enjoy outdoor social and cultural activities during the summer and winter months including festivals and even outdoor ice skating.
In the city centre, 80% of all journeys are made on foot and 14 % by bicycle, but most importantly the congestion has reduced as well in the city.
A bit closer to home is neighbouring Singapore which has more than 10 streets closed at varying times during the week, with some being pedestrianised on the weekend.
As a result, these walkways are now the new attractions for locals and tourists alike who enjoy the nightlife in the island country with festivals that can attract thousands.
Even businesses prospered as some have reported to have 15%-20% more customers compared to when the road is accessible by car.
---
Do you want KL to be more pedestrian-friendly? Let us know on TRP's Facebook, Twitter, and Instagram!
Hakim Hassan
Unkempt in both stories and appearance, Hakim loves tech but tech left him on read, previously he used to write about tall buildings and unoccupied spaces that he can't afford, and legend has it that he still can't afford it to this day