Influenza A Hits Almost Every State In M'sia: Here's Everything You Need To Know
Picture Credit: Freepik
Malaysia has been hit with the flu bug.
The influenza A (H1N1) outbreak has spread throughout the country as schools were forced to close and parents everywhere are scrambling to vaccinate their children as a prevention method.
We've covered the first few cases which started in December 2019 and the flu has affected many states in Malaysia, mainly schoolchildren but the government said the situation is currently under control.
How has Influenza A affected the country?
The contagions that affected Malaysia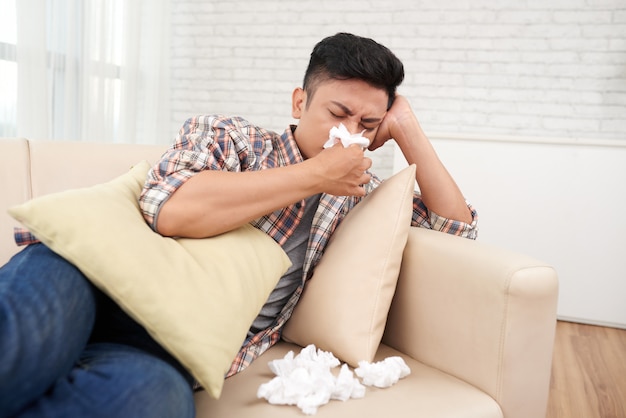 Influenza is an acute contagious viral respiratory disease where patients show symptoms such as fever, coughing, sore throat, and headaches, among others.
It spreads rapidly around the world in seasonal epidemics and in tropical and subtropical regions, the seasonality of influenza is less clearly defined as it occurs year-round.
There are three different types: A, B, and C.
Humans can be infected by all three types but type A and B cause the epidemic disease in humans while type C causes a mild, cold-like illness.
Just like the common cold, Influenza A spreads via droplets released in the air by coughing, talking or sneezing.
According to experts, despite being contagous, influenza A is not fatal. However, those who have preexisting medical conditions such as those suffering from diabetes or lung diseases are at a higher risk of dying from the disease if infected.
The disease usually presents itself all of a sudden and the symptoms could persist up to a week and sometimes even up to 10 days.
Another infection that's also hit Malaysia is the Influenza-like-illness (ILI) that causes sore throats, coughing, fever and other symptoms such as headaches, lethargy, and joint pains.
These are brief descriptions of the illnesses but are not diagnoses, if you or your loved ones are exhibiting the symptoms, seek your local healthcare professional.
Bagaimana cara penularan Influeza? pic.twitter.com/C87aYv4oEd

— KKMPutrajaya (@KKMPutrajaya) January 19, 2020
The current situation
Northern Malaysia
Influenza cases in Penang increased to 198 students from 96 secondary and primary schools compared to 178 cases from 87 schools.
Perlis has no recorded cases of the outbreak while Kedah has 20 cases since early January.
In Perak, the number of students infected by influenza A increased to 94 cases involving 55 schools in nine districts.
East Coast
The Terengganu Health Department recorded two clusters of ILI involving 9 individuals in the Setiu district.
Out of the 9 people, 5 are positive for influenza A, 3 are positive for influenza B and one has yet to be identified.
In Pahang, 53 students and 3 teachers in 9 districts have been infected by the disease while Kelantan is free from the contagion.
Central Malaysia
Selangor recorded the highest number of infections with 717 cases in 248 schools but currently, there are no deaths reported in Selangor due to the epidemic despite initial rumours.
South Malaysia
138 students in Johor have been infected with influenza A and authorities confirmed the death of seven-year-old Nur Dinie Damia Muhammad Noor Ain was not caused by the influenza based on clinical reports.
It was reported that 31 cases of influenza A involving 29 schoolchildren, a preschool pupil, and a female teacher were detected in Melaka in early January.
To prevent the spread of the flu, Melaka Health Department has taken precautionary measures to carry out initial health screening on local and foreign visitors to control the spread of influenza in the state.
In Negeri Sembilan, a total of 119 students had been infected by influenza since the start of the school session on Jan 2 and only 30 of the 119 students were still in the recovery process while the rest had recovered.
Sabah and Sarawak
In Sabah, 12 students were infected with the influenza but they're currently being treated at the hospital.
Sarawak did not report any deaths from the illness but there's a rise in ILI and severe acute respiratory infection (SARI) cases.
How the people react to Influenza A
Worried parents have been cautious with the situation as many flocked to the major pharmacies and private clinics in the country causing a shortage in stocks for the antiviral medication used to treat and prevent influenza since December.
Private clinics also reported higher demand for the flu vaccine which costs about RM100.
The government has ordered 200,000 more vaccines to the country and said vaccine supplies at public hospitals are sufficient, but priority is given to patients in the critical group that includes pregnant women, young children and those suffering from chronic illnesses.
Currently, the Health Ministry is monitoring schools where the outbreak is detected to stop the infection from spreading among students.
They will also coordinate the data on the outbreak and updates on the situation will come from the Ministry itself.
There has been a lot of unverified or false information that stemmed from the fear of the outbreak.
Some have even claimed that using onions to treat the infection but it has been confirmed the vegetable doesn't have medical and scientific benefits to treat Influenza A.
Preventive measures
Ingat, tidak semua demam selesema disebabkan virus Influenza.

Kebanyakan demam selesema akan sembuh tanpa ubat antiviral. pic.twitter.com/DUUE8bNmVf

— KKMPutrajaya (@KKMPutrajaya) January 19, 2020
How can you protect yourself from the flu? The government has underlined a few preventive measures.
Practice good hygiene
Wash your hands with disinfectants or hand sanitizers
Distance yourself from those have a cold, preferably at a distance of 1 meter.
Practice good coughing/sneezing etiquette
Keep a healthy lifestyle
---
Hakim Hassan
Unkempt in both stories and appearance, Hakim loves tech but tech left him on read, previously he used to write about tall buildings and unoccupied spaces that he can't afford, and legend has it that he still can't afford it to this day