M'sian Student Achieves Highest Score In The World For Accounting Exam
There are countless amount of times in the past when young Malaysians proved that they can achieve great things.
This time, it's Hakeem Mohammad Akmal, an 18-year-old student from UiTM who is now the highest-scoring accounting student in the world!
What's more impressive is that he achieved this with a perfect score of 100 in the 'Recording Financial Transactions' (FA1) paper – a Certified Accounting Technician (CAT) examination for the July-December 2019 period.
CONGRATS!!! Hakeem Mohammad Akmal WORLD No. 1 for Recording Financial Transactions paper (July-Dec 2019), Certified Accounting Technician (CAT) programme by The Association of Chartered Certified Accountants (ACCA), United Kingdom. We are so proud of you.#kitaUiTM #UiTMdihatiku pic.twitter.com/lMV53L9fRJ

— UiTM Official (@uitmofficial) December 6, 2019
In case you didn't know, CAT is a foundation-level academic programme under the Association of Chartered Certified Accountants (ACCA).
It's an international accountancy body that has over 500,000 members and students in 170 countries and to become a chartered accountant, you need to pass a maximum of 13 exams in English besides having the relevant practical experience.
How did he achieve this feat?
Previously, Hakeem was a student in Sekolah Berasrama Penuh Integrasi Gombak and achieved 9As before furthering his studies in accounting.
Even more remarkable is that he was a science stream student in secondary school and didn't learn about the basics of accounting before enrolling in the programme.
Hakeem said the reason he switched courses to try accounting was to challenge himself in a completely new and challenging area of study. He hopes to further his studies in ACCA and pursue a career in the field of taxation after finishing his foundation.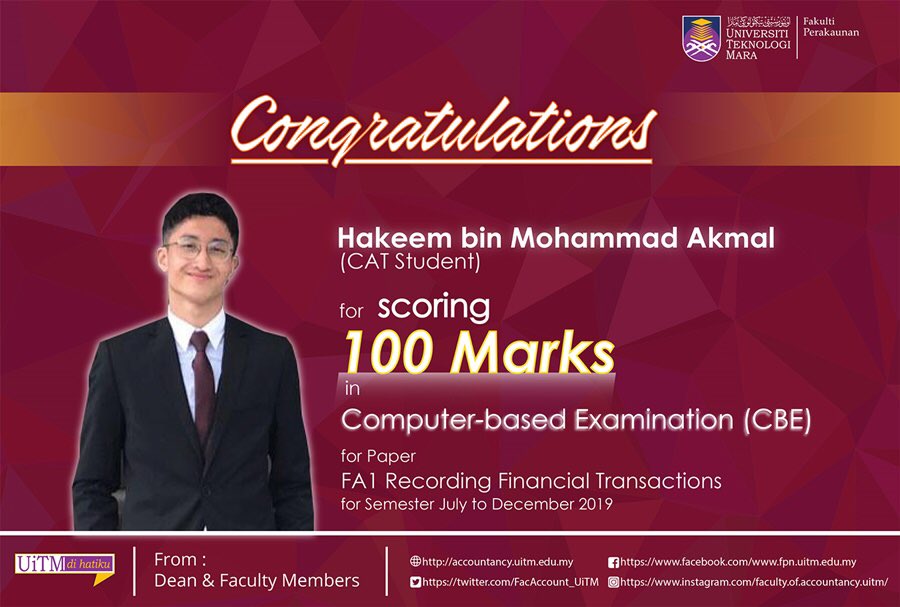 According to mStar, Hakeem said he's just like any other student – someone who enjoys watching films or playing sports but the difference is his self-imposed limits and monitoring his habits to ensure there's a balance between his studies and normal life.
It shows that our students are able to compete with the rest of the globe when it comes to scholastic achievements, just like this year's Rhodes scholarship recipient to Oxford university as well as the 16-year-old local boy who became the youngest student ever to enrol in the Royal College of Surgeons (RCSI) in Dublin.
Congratulations to Hakeem for being the world's best!
---
Share your thoughts with us on our Facebook, Twitter, and Instagram!
Hakim Hassan
Unkempt in both stories and appearance, Hakim loves tech but tech left him on read, previously he used to write about tall buildings and unoccupied spaces that he can't afford, and legend has it that he still can't afford it to this day