Heads Up Malaysia, It's Going To Be A Wet Rainy Christmas & New Years
The winter monsoon season is expected to last between November till March 2022.
Credit: Hendri Sabri/Todd Diemer via Unsplash
Subscribe to our Telegram channel for the latest stories and updates.
---
The Malaysian Meteorological Department (MetMalaysia) issued a "significant weather" update informing the country to expect continuous rains in the eastern parts of Johor and Sabah and the western parts of Sarawak between 28 to 30 December 2021.
It's predicted that strong winds and rough seas are bound to hit coastal areas around the South China Sea as well as the coastal areas in the eastern parts of the peninsula.
The dark and stormy skies were said to be brought up by a "monsoon surge" where cold winds coming from Siberia would cause heavy winds and rocky seas in the South China Sea.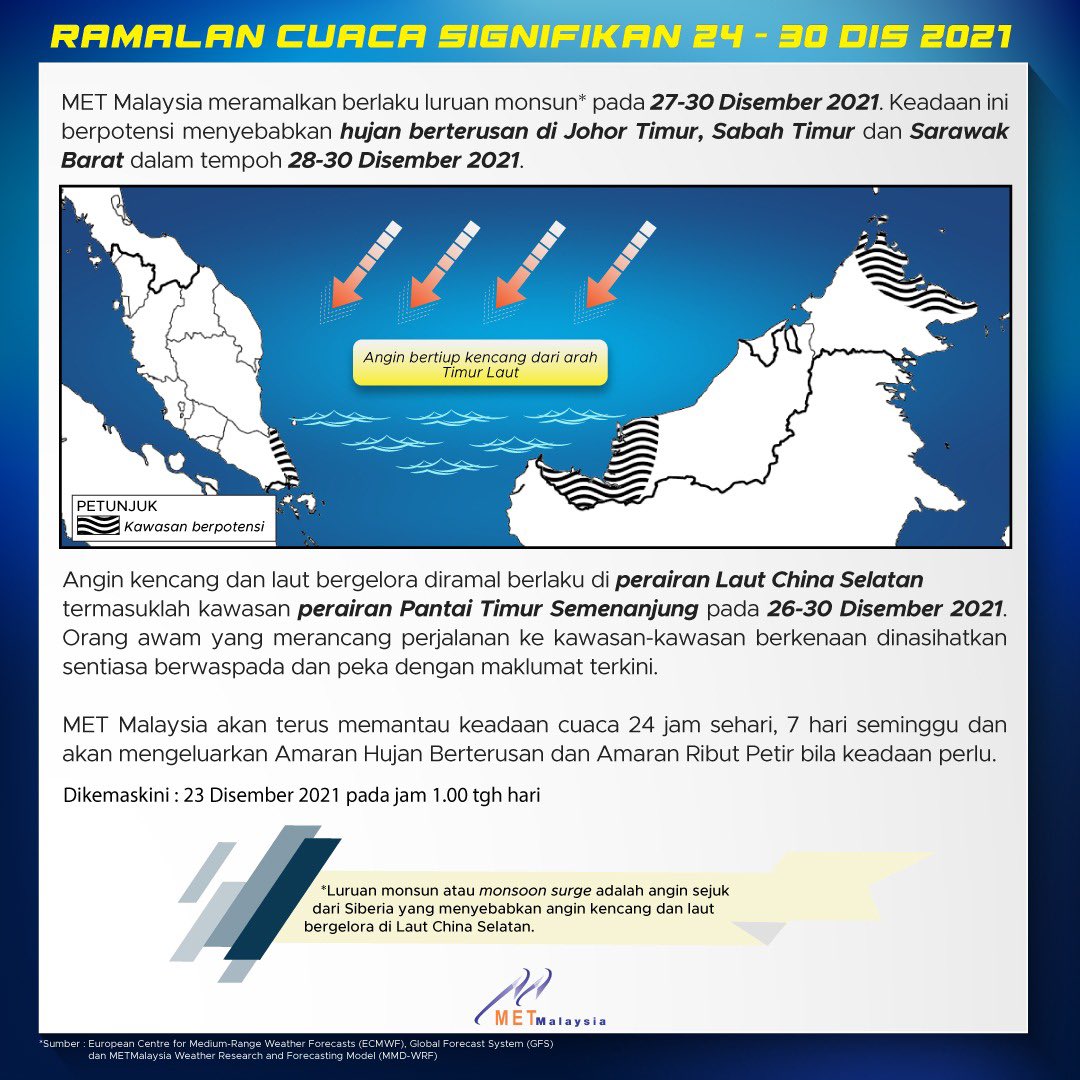 Meanwhile, many other parts of the country would be experiencing a wet or cloudy Christmas Day this December 25.
Rain and thunderstorms are expected to hit one or two areas near the coastal side of Kelantan, Terengganu, Pahang, Sarawak (Kuching, Betong, Mukah, Sarikei, Sibu and Bintulu) and Sabah (Kudat, Sandakan and Tawau) in the morning.
Thunderstorms are also expected to rain down in one or two places in Selangor, Kuala Lumpur, Perak, Melaka, Johor, Pahang, Sarawak and Sabah's west coast and inland areas including Labuan, around noon.
Later in the evening, rains are expected to fall in Selangor, Negeri Sembilan, Melaka, Johor, Sarawak (Limbang, Miri and Kapit), Sabah (west coast, interior, Tawau, Sandakan and Labuan).
While the rest of the country would be having a cloudy and rainless Christmas.
With the winter monsoon season blowing in our direction, do expect strong winds and rains to persist, especially on the east coast of the peninsula as well as the west coast of Sarawak and the eastern side of Sabah from November till March 2022.
Read More: Is Malaysia Really Getting As Cold As London? Here's The Real Reason
Head on over (HERE) for MetMalaysia's long term weather update to get more info on how much rain your state or area is expected to be drenched in through the season.
---
Share your thoughts with us via TRP's Facebook, Twitter, and Instagram.
Akmal Hakim
Typing out trending topics and walking the fine line between deep and dumb.