Malaysian Proves That Racism In Housing Rentals Is Very Much Alive
Math always beats opinion.
Subscribe to our Telegram channel for the latest stories and updates.
---
A Malaysian Twitter user has proven another of Malaysia's long-standing examples of racism: Malaysians of Indian ethnicity have a more difficult time finding and renting places to stay within the Klang Valley.
Twitter user Pinga noted that he had faced these issues since moving to KL from Kedah. To prove his point, he built a code that would allow him to extract data from a property website and quantify his experiences.
The results are not pretty.
Less Availability
To begin with, the racism is fully alive with around 45% of total listings explicitly denied to Indian Malaysians. Only 19% of listings accept Indian Malaysians, while the rest have no preference stated.
However, Pinga noted that 37% of "no preference" listings doesn't necessary mean Indian ethnicities are welcome.
Preferences may be stated elsewhere, such as the description, or will only be declared by the property agent after interest is shown.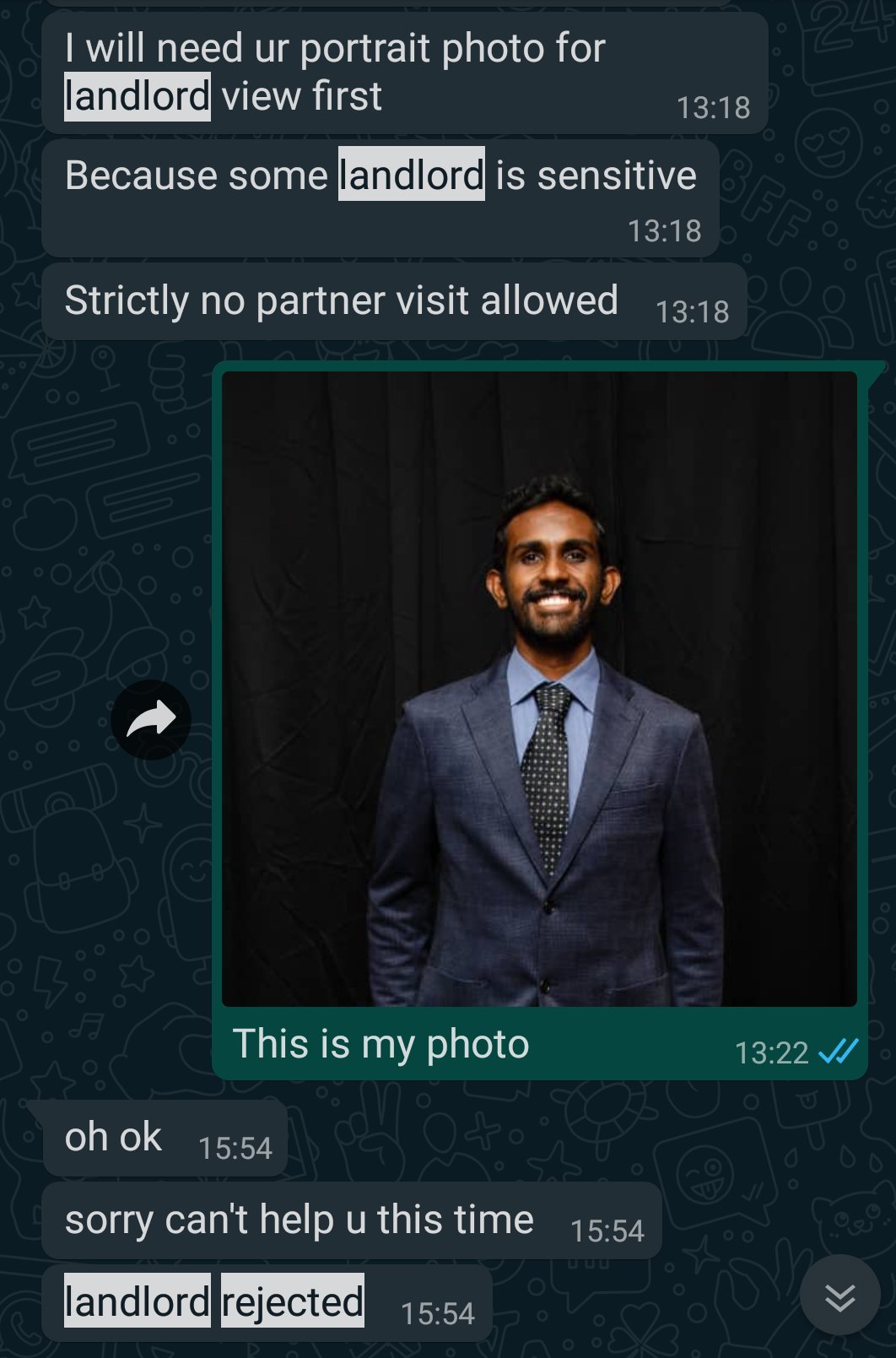 Locations closer to the KL city centre have fewer listings available for Indian Malaysians as well, meaning Indians working in the city will need to live further away with a longer commute time.
Pay More In Rent
Across all room types, Indian Malaysians pay more in rent.
When comparing the rental prices of rooms that accept Indians and those that do not, places that accept Indians can see up to 22% more for their monthly rental- up to a RM146 difference in master bedroom units!
On average, Indians have to pay 19% (RM107) more in monthly rent than non-Indians. To rent a master and middle room, Indians need to pay 22% and 17% more in rent than non-Indians. Rent disparity for single rooms isn't as high, but is still 5% more expensive for Indians. pic.twitter.com/s1T1Ik0bJ6

— You (@pingster2008) November 15, 2020
Popular rental locations like Wangsa Maju, Kota Damansara, and SS2 also see drastic price hikes for rental listings that are open to Indian Malaysians.
For example, the average monthly rental for a room in Wangsa Maju is RM619 for listings not open to Indian Malaysians. However, the listings that welcome Indian Malaysians have an average price of RM833- that's a whopping RM214 difference!
Rent disparity also varies by location. Indians would have to pay at least 21% more rent than non-Indians in locations like Wangsa Maju, SS2 and Setapak. Again, locations are filtered to top 15. pic.twitter.com/OYQKc8slIz

— You (@pingster2008) November 15, 2020
Pinga notes that while the analysis is very basic, it confirms his personal experiences as an ethnically Indian Malaysian trying to find a place to stay in KL.
This is obviously a very basic analysis of the market and further research can and should be done into this phenomenon. However, it puts my experiences in hard numbers. I used to reach out to 10-15 agents at a time because I know most will turn me down on the basis of race.

— You (@pingster2008) November 15, 2020
For other curious Malaysians interested in seeing the data for themselves, he has shared the code used for data gathering here.
He also urges landlords to change their way of judging potential tenants, especially when such judgement is based on race.
So the best we can do is start changing the mindset of judging potential tenants based on irrelevant factors like race and religion and start looking at their personality, income, education, proof of employment, etc. Sekian.

— You (@pingster2008) November 15, 2020
For the full Twitter thread, see this Tweet:
Racism in the Malaysian rental market. I left Alor Setar for KL after SPM and ever since then I've had to deal with racism when it came to room hunting. So I scraped data from a property website to quantify my experience as an Indian person looking for a place to stay.

— You (@pingster2008) November 15, 2020
---
Share your thoughts with us on TRP's Facebook, Twitter, and Instagram.
Anne Dorall
Anne is an advocate of sustainable living and the circular economy, and has managed to mum-nag the team into using reusable containers to tapau food. She is also a proud parent of 4 cats and 1 rabbit.