Horseback Riders At Cyberjaya McD Drive-Thru Draw Criticism
Criticism came from commenters who say the activity was unsafe, disobeyed SOP and was unhygienic.
Credit: 3S Equestrian Cyberjaya via Facebook/Twt_Cyberjaya via Twitter
Subscribe to our Telegram channel for the latest stories and updates.
---
"Quit horsing around," said netizens when viral images showing a group of horseback riders getting food at a McDonald's drive-thru in Cyberjaya galloped into this week's online gossip gallery.
Pictures believed to have been originally shared by the 3S Equestrian Cyberjaya horse riding centre on Facebook drew amazement as well as criticism from Malaysians who saw several faults in the mighty steeds being there.
📸: Facebook 3S Equestrian Cyberjaya pic.twitter.com/LpLICKi3HJ

— Cyberjaya Info (@Twt_Cyberjaya) November 14, 2021
First of all, netizens were seen voicing their concern over the fact that the riders (five of them by our count) were not wearing their face masks in the presence of other people.
So where's the fckg masks. ??? https://t.co/MsI0BqO0RP

— triplennns (@triplennns) November 15, 2021
Face mask mana https://t.co/3b9t1bVMJo

— wangi (@khalillahwangi) November 15, 2021
What about hygiene more like bye giene https://t.co/zuN5Xti9Rx

— Fade Fan Johnny (@JohannAffendy) November 15, 2021
Next people were also a bit uneasy with having large animals walking around in public – being both worried about the animals' safety and the people around them.
"It makes me mad seeing people like this. It's unnecessary and dangerous. Horses are unpredictable. Sometimes they startle at the sound of car horns and stuff. What happens to the bystanders? So crazy," noted one commenter in concern.
Geram betul la org mcm ni. Entah apa2 la. Plus bahaya pun ya. Kuda ni unpredictable. Kadang2 terkejut dgr bunyi hon kereta ke apa ke, dibuatnya ada org tepi2 tu? Gila btl

— Mira Sham #FreePalestine 🇵🇸 (@mirasham89) November 15, 2021
"This is stupid. Try and see if a motorcycle can pass, they would ask you to go inside the store to order even if people were in a hurry. Animals shouldn't be allowed to go through the drive-thru," noted one commenter.
Benda paling bangang ni. Cuba motor yang lalu, eh eloknya disuruh order kat dalam padahal orang nak cepat. Sepatutnya binatang tak dibenarkan lalu dekat mekdi ni.

— (עזאזל/عزازيل)The PatikRiot (@azazelmelayu666) November 15, 2021
Others however were more curious to find out what would happen if the horses were to relieve themselves right there in public.
I hope they clear their horses' doodoo on the driveway https://t.co/JGg2Jl5kRQ

— Miki Minach (@mishkatov) November 15, 2021
Needless to say, their questions weren't unfounded as a pile of horse droppings was seen right in front of the restaurant's drive-thru window in one of the images shared online.
But, information provided by other netizens did say that workers were on standby to pick up any unwanted 'dung pies' left by the horses in their tracks.
"Got a chance to see the brother driving the 4-wheel-drive escort clean up the 'presents' dropped by the horses. We were so amused yesterday," noted one social media user.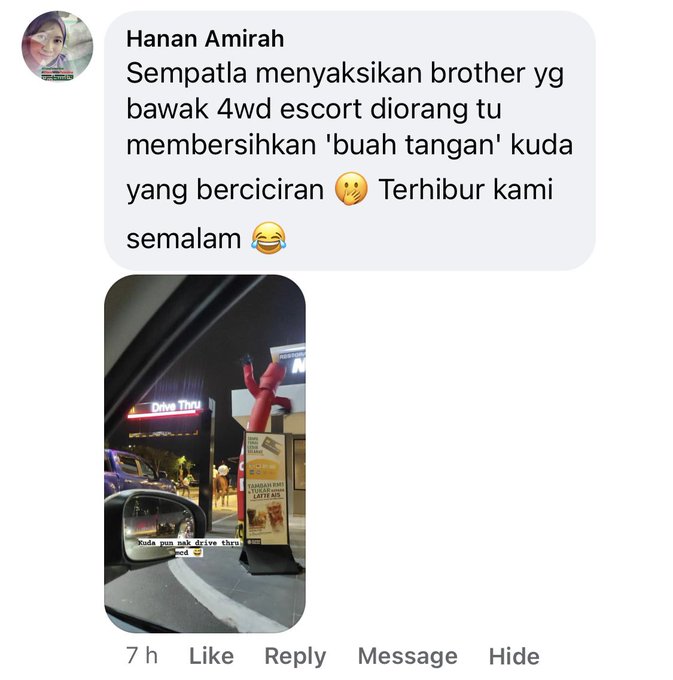 ---
Share your thoughts with us on TRP's Facebook, Twitter, and Instagram.
Akmal Hakim
Typing out trending topics and walking the fine line between deep and dumb.