[Watch] Malaysian Actor's Lips Swell Up Due To Wasp 'Attack' & How You Can Avoid Dying From It
Anaphylactic shock or anaphylaxis is a deadly allergic reaction caused by triggers like food and insect stings.
Subscribe to our Telegram channel for the latest stories and updates.
---
Local actor Harris Annuar's lips may have looked as voluptuous as Angelina Jolie's when he got stung by a wasp recently, but the celebrity's allergic reaction to the tiny insect's venom was no joke.
Fans were both shocked and amused when the celebrity shared his experience of being warded in a hospital following his unfortunate run-in with the bug after taking a bath.
"When I was done, I immediately grabbed my towel and wiped my face. The wasp was trapped between my face and the towel, and so zap!," he explained, pointing to his swollen upper lip that became the target of the wasp's stinger.
Harris said that he quickly rushed for treatment and that proved to be one heck of a good decision.
Apparently, the celebrity was having quite a severe allergic reaction to the insect venom that was now coursing through his body – a condition also known as an anaphylactic shock or anaphylaxis.
See, this is when your body's immune system starts overreacting to certain triggers and sends you into, well… shock.
It can occur within seconds of exposure to something that you might be allergic to like certain food items and of course insect stings.
The condition can be deadly as a body that goes into anaphylaxis would experience a sudden drop in blood pressure as well as swelling or narrowing in their airways – making it hard or impossible to breathe.
Symptoms of anaphylaxis usually develop suddenly and rapidly and can include swelling, itchiness and hives as well as feelings of dizziness, difficulty breathing, confusion and anxiety as well as fainting.
The only treatment for the condition is to immediately receive medical attention. However, for certain people who live with serious allergies, doctors would also sometimes prescribe them adrenaline auto-injectors or 'EpiPens' to treat their conditions.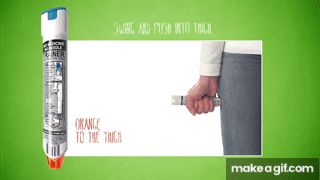 Another recommended treatment is for you to get yourself tested for allergies that can trigger anaphylaxis to know what your triggers are and avoid them.
---
Share your thoughts with us on TRP's Facebook, Twitter, and Instagram.
Akmal Hakim
Typing out trending topics and walking the fine line between deep and dumb.