Stubborn Or Confused? Some Malaysian Seen Blatantly Ignoring MCO
Credit: Twitter
The sheer stubbornness of some Malaysians was shown following days after the nationwide Movement Control Order (MCO) was put into effect.
Despite strict orders from the government for everyone to stay indoors and limit social activities and interactions during the two-week partial-lockdown, it would appear that many of us were still ignorant of the nation's global efforts in combating the spread of the Covid-19 pandemic.
These moments of bullheadedness were, as with all things in the new millennium, captured on camera and distributed through social media and instant messaging applications for all to witness and undoubtedly, criticize.
Malaysians were seen enjoying meals together at crowded cafes and restaurants nationwide.
Kenapa banyak sangat manusia-manusia selfish di Malaysia? Memang kita tunggu negara kita jadi seteruk China, Itali, Iran dan Sepanyol baru kita nak ikut arahan pihak berkuasa dan autoriti ke macam mana? pic.twitter.com/vlSbsCfmC1

— The Patriots (@thepatriotsasia) March 18, 2020
Enjoying a "healthy" day of outdoor activities like jogging and powerwalking.
In one serene scene, a couple of men who were in clear need of some schooling were spotted enjoying a lazy day of fishing at a lake in Selayang, Kuala Lumpur.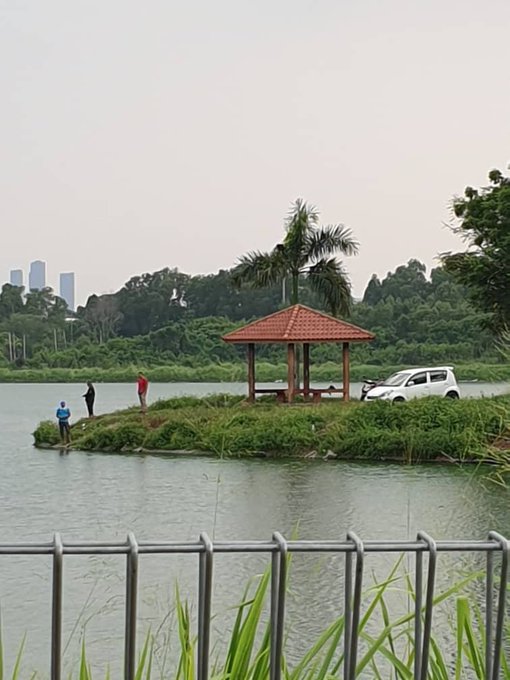 While a pekan in Kedah looked as though it was life as usual with patrons seen crowding the town markets despite the MCO before orders were given to limit all business activities to a given period of time.
The brunt of this lack of care for the MCO appeared to have been placed on members of the nation's enforcement personnel and authorities, as they work to safeguard the nation and its citizens during the lockdown, and you can bet we got some interesting footage of that too.
Point of authority
A video shared by Twitter user Khabir shows how some Malaysians have clear problems with authority.
The 37-second clip starts off with 2 police officers inside a patrol car giving fair warning to a man who was standing by the roadside of what we can only assume to be his neighborhood. The man looks to be chatting on the phone, while completely ignoring the officer's instruction.
The video cuts away just as the officers were about to exit their vehicle to further educate or probably apprehend the defiant citizen.
Cops are getting sick and tired with your bullshit because of arrogant assholes like this fella here pic.twitter.com/378HNDPFED

— Khabir (@KhabirM) March 22, 2020
Words hurt but germs kill
It's a tough job making people abide by the rules, as heard in the angered and frustrated voice of one police officer when he scolds a bunch of teens who were hanging out near an empty field believed to be in Kelantan.
Though the words screamed by the abang polis might seem a bit too harsh to some. A quick look at the comments revealed that a majority of Malaysians agreed that such individuals were clearly being "stupid" for not social distancing themselves during the MCO.
Ini macam cara nak bagi faham.👍 pic.twitter.com/rbMXDssabw

— abang_jambang (@brotherjambang) March 22, 2020
Hakak polis in the house
While other footage showed the proud women of PDRM at work, unmatched in their duty-bound ferocity.
One video showed a female officer breathing down the neck of some unruly locals gathered inside a motorcycle workshop.
Ni lagi garang…

Dgn tokey kedai pun kena sound pic.twitter.com/XtIy6ruHC1

— crylord (@crylord4) March 22, 2020
While another clip gave a POV view of the cramped working conditions that the PDRM are facing amid the MCO as squads of officers patrol the streets to ensure Malaysians stick by the quarantine orders.
Wajah sebenar hakak Polis yg garang dan tegas!
Tahniah PDRM! #COVID19 #StayHome pic.twitter.com/GrwpwGyqBc

— Suara Biasa (@SuaraBiasa) March 22, 2020
---
Malaysia remains the worst-hit country affected by Covid-19 in Southeast Asia and the MCO was set in place to not only slow down the spread of the virus but to reduce the stress on the nation's limited healthcare resources and services.
Do your part and #dudukrumah like some of these wonderful, soulful Malaysians singing on their balconies during the quarantine. You can catch all about it, HERE.
Share with us your thoughts on the MCO on our Facebook, Twitter, Instagram, and Telegram.
Akmal Hakim
Typing out trending topics and walking the fine line between deep and dumb.