What You Need To Know About The RCEP
Experts say that the deal will kickstart the economy which has been battered by Covid-19.
Malaysia has signed, on 15 November, the Regional Comprehensive Economic Partnership (RCEP) joining what is currently the world's biggest trading bloc.
It involves 15 countries – 10 from Asean and 5 countries who are Asean's Free Trade Area (FTA) partners:
Australia
China
Japan
Korea
New Zealand
The 15 countries make up 29.7% of the global population, or 2.2 billion people, and have a combined Gross Domestic Product (GDP) of US$24.8 trillion (RM101 trillion).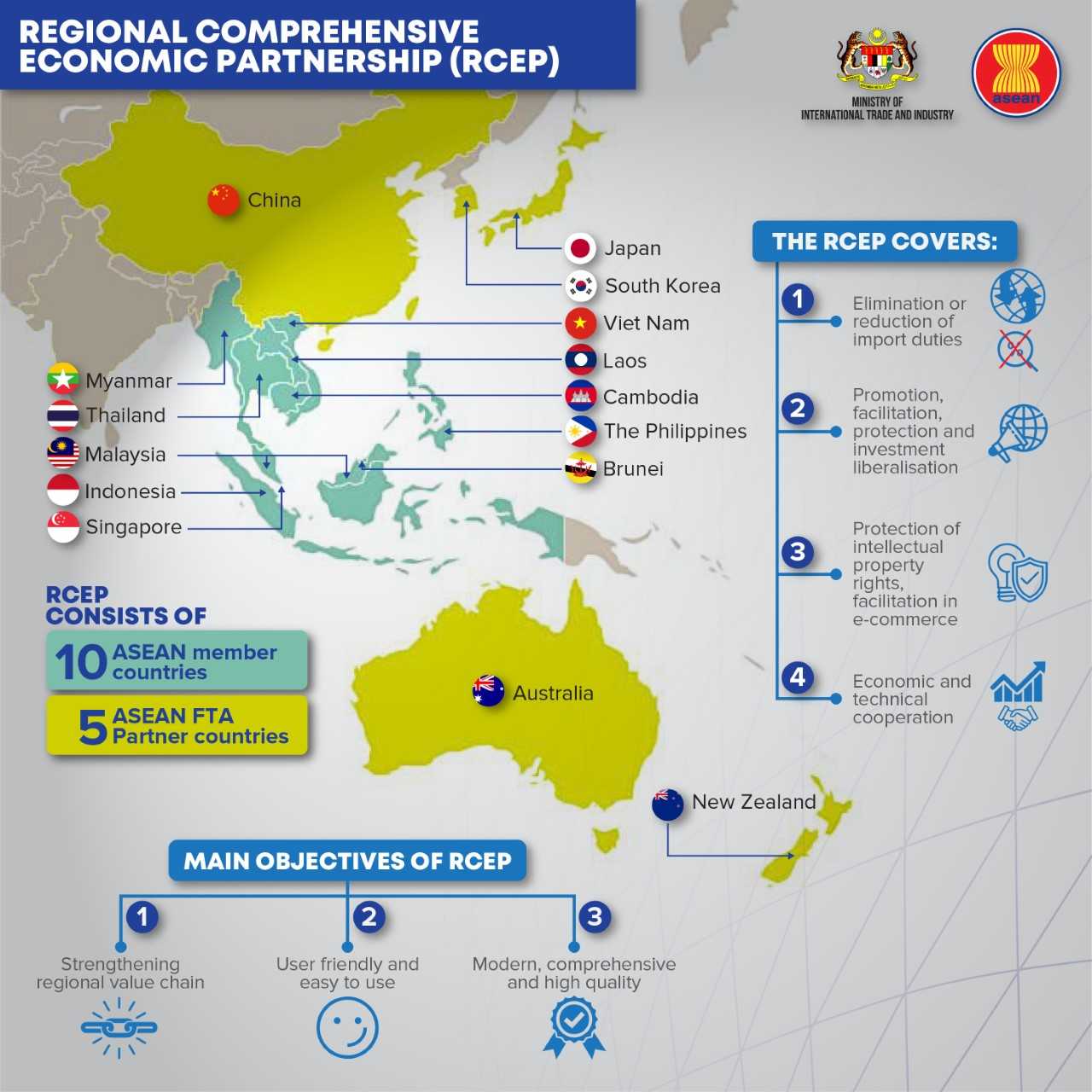 What is the RCEP?
It's a deal signed by 15 countries to reduce or eliminate tariffs, which should mean that goods that come from these nations to Malaysia will not be taxed when they're imported here.
This is the same for Malaysian goods going to the other countries which have signed the RCEP.
It's reported that this will make it easier for local companies to find cheaper raw materials from other third-world countries which are in the trading bloc.
There's also the liberalisation of services sectors, including financial services, telecommunications services and movement of natural persons.
The catch is, unlike the EU, it's only limited to those who are engaged in the trade in goods, the supply of services, or the conduct of investment.
What will Malaysians get out of the deal?
Experts say that the deal will kickstart the economy which has been battered by Covid-19.
Based on a report by The Edge, the Malaysian Employers Federation (MEF) said that the RCEP will provide Malaysia access to a bigger market for businesses and also attract foreign investment.
Also, in a statement released by Senior Minister (International Trade and Industry) Datuk Seri Mohamed Azmin Ali, for Malaysian businesses, the deal will mean tariff eliminations and reduction for merchandise goods, including costs of export and import of goods among the RCEP countries.
It's also reported by The Star that with the RCEP, we could see more Malaysian companies expanding their base to neighbouring countries.
In terms of SMEs, MITI said it could provide a level playing field between the developed and less developed countries.
As for the service providers, including those who are in e-commerce, they should, in theory, enjoy greater market access which means they can now sell their products at other online stores within the RCEP market or buy materials at cheaper prices from member countries.
---
Share your thoughts with us on TRP's Facebook, Twitter, and Instagram.
Hakim Hassan
Unkempt in both stories and appearance, Hakim loves tech but tech left him on read, previously he used to write about tall buildings and unoccupied spaces that he can't afford, and legend has it that he still can't afford it to this day