The Day After The Agong Said He'd Meet Every MP (Timeline)
Credit: Firdaus Latif/ Malay Mail
With the collapse of the 20-month-old Pakatan Harapan government, Malaysia is left in a state of bureaucratic limbo.
TRP brings you quick coverage of what's happening in the country's political scene.
Wednesday – Feb 26, 2020
9:56pm – The Dawan Rakyat is divided between; Mahathir's unity government bloc, the Muafakat Nasional bloc (BN-PAS), and the PH bloc. [Malaysiakini]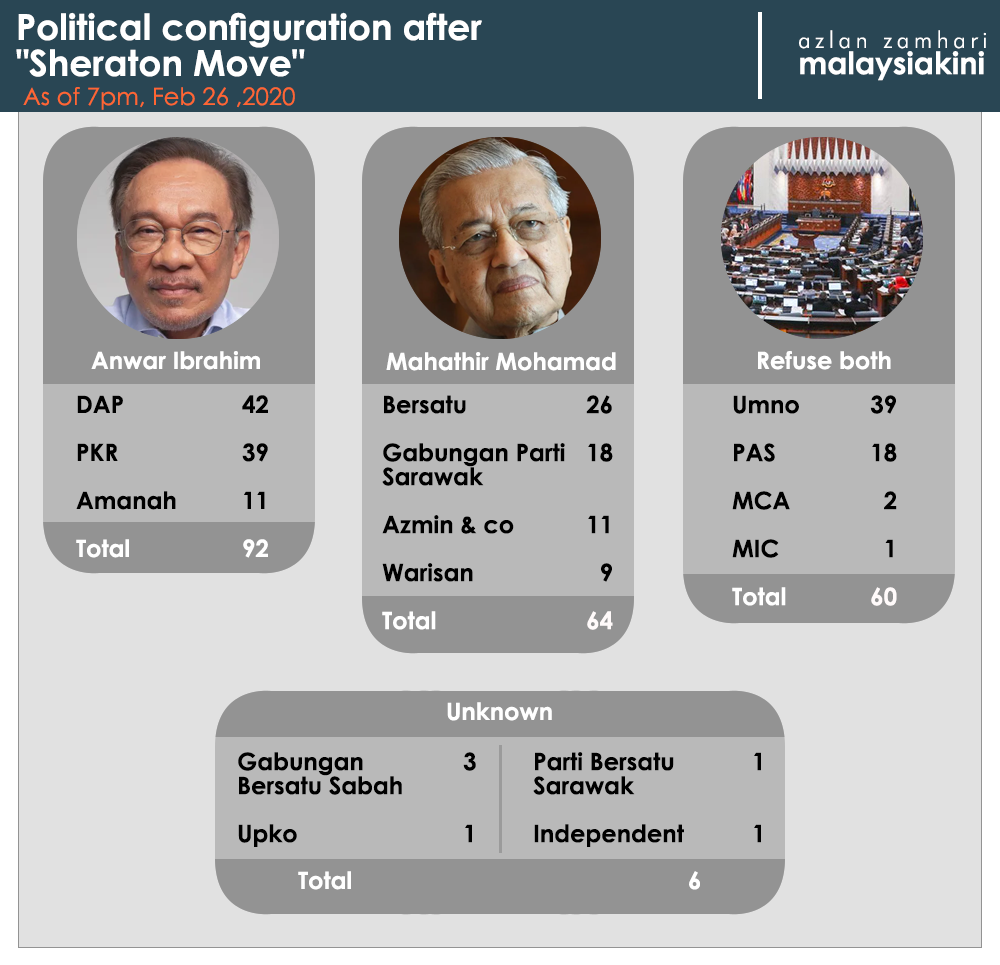 9:42pm – PH rejected Mahathir's unity government proposal as it would give Dr Mahathir complete freedom and control over deciding the Cabinet. [Malay Mail]
5:50pm – PH coalition parties; PKR, DAP and Amanah nominated Anwar Ibrahim as Malaysia's next prime minister. [Malaysiakini]
5:27pm – Azmin's Eleven expressed interest to join Bersatu. [Berita Harian]
5:15pm – The YDPA has concluded interviewing all 221 MPs. [Awani]
4:58pm – Dr Mahathir addressed the nation asking for support to form a new non-partisan unity government. [The Star]
3:56pm – Azmin Ali remains silent over claims that his former PKR fraction, Azmin's Eleven, would be joining Bersatu. [Malay Mail]
3:38pm – PH to hold a press conference at 4pm. Anwar Ibrahim mentioned that the bipartisan statutory declarations (SD) signed by MPs in support of Dr Mahathir's candidacy for prime minister were void and no longer valid. [Malay Mail]
3:30pm – PKR MPs in full support of Anwar Ibrahim's candidacy as Malaysia's 8th prime minister says Wangsa Maju MP Datin Paduka Tan Yee Kew [The Star]
3:17pm – The Malaysian Anti-Corruption Commission (MACC) is keeping a close eye on the situation developing in the country and warns MPs and politicians to defer from corruption in a bid to secure power. [Malaysiakini]
2:57pm – PKR secretary-general Datuk Seri Saifuddin Nasution Ismail denied claims that the party had nominated one of its members as the next prime minister. [Malay Mail]
2:17pm – The PH coalition claims that it is still intact after its members concluded their meeting with the YDPA. [Malay Mail]
2:16pm – Former PKR deputy president Datuk Seri Azmin Ali's cartel of MPs (Azmin's Eleven) said that they are focused on national reconciliation where the government puts public interests and national agenda ahead of politics. [Malay Mail]
1:20pm – PH MPs shows signs of switching to support Anwar Ibrahim instead of Dr Mahathir to be the country's next prime minister. [Malaysiakini]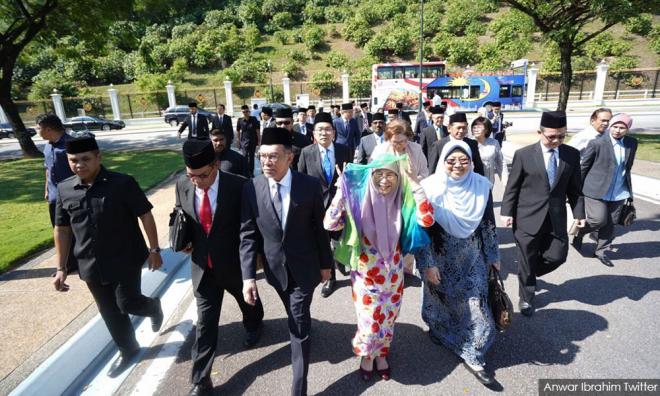 1:19pm – Umno and PAS did not reject the idea of forming a unity government with DAP and wants to be part of the "en bloc" immediately. [Malaysiakini]
1:19pm – Azmin's Eleven meets with the YDPA at the Royal Palace. [Malay Mail]
12:44pm – Parti Pribumi Bersatu Malaysia (Bersatu) MPs announce support for Dr Mahathir to remain as prime minister during meetings with the YDPA. [Malay Mail]
12:40pm – Azmin's Eleven ready to join Bersatu in support of Dr Mahathir's candidacy for prime minister if Pakatan Harapan (PH) signals support for PKR president Datuk Seri Anwar Ibrahim. [Free Malaysia Today]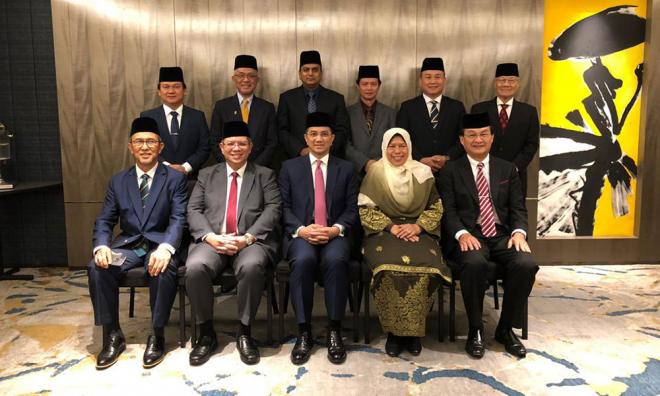 12:35pm – Public Service Department (JPA) director-general Datuk Mohd Khairul Adib Abd said that public servants must remain neutral and abstain from attending political gatherings or spreading fake news following the country's current political situation. [Malaysiakini]
11:47am – A crowd of mostly PKR supporters gather outside Istana Negara. [Malay Mail]
11:05am – A convoy of PKR MPs arrives at the Royal Palace for an audience with the YDPA. The King is set to interview 132 MPs today to ascertain who commends the majority of the Dewan Rakyat to be named prime minister. [Malay Mail]
It is very appropriate that the "Hop On, Hop Off" bus is the vehicle of choice for PKR! https://t.co/bVIuDUkDbY

February 26, 2020
10:01am – Umno advisory council chairman and Gua Musang Member of Parliament (MP), Tengku Razaleigh Hamzah (Ku Li) met with the Yang di-Pertuan Agong (YDPA) Al-Sultan Abdullah Ri'ayatuddin Al-Mustafa Billah Shah twice yesterday fuelling speculation that he is in the running to become the country's next premier. [New Straits Times]
---
Get to speed on what happened on Sunday, (Feb 23) Monday (Feb 24) and Tuesday (Feb 25).
And share with us your thoughts on Malaysia's current political climate on Facebook, Twitter and Instagram.
Akmal Hakim
Like a phoenix rising from the ashes, Akmal returns to the newly improved TRP to uncover cold truths and walk the fine line between deep and dumb.