The Day After The Night Of Long Knives (Timeline)
Credit: Azneal Ishak/Malay Mail
With allegations of a new coalition forming to replace Pakatan Harapan (PH) rocking the nation over the weekend, TRP brings you a close play-by-play of the current happenings surrounding Malaysia's political arena.
Monday – Feb 24, 2020
12:17am – Bersatu supreme council unanimously rejected Dr Mahathir's resignation as party chairman. [The Star]
11:30pm – The 11 former PKR members from Azmin Ali's cartel justified their actions and claimed that it was meant to save the country. [New Straits Times]
10:34pm – Malaysia's key political parties are convening in separate meetings accross Klang Valley. Barisan Nasional (BN) component parties and PAS convened at Umno HQ in KL, Bersatu in PJ, Azmin Ali's former PKR camp gathered at the Sofitel hotel in PJ, while PH postponed its meeting to tomorrow. [Free Malaysia Today]
9:44pm – The Cabinet of Ministers have been disbanded by the YDPA. [Malay Mail]
9:08pm – Dr Mahatir absent from Bersatu's emergency meeting held at its HQ in PJ. [New Straits Times]
7:33pm – Inspector-General of Police (IGP) Tan Sri Abdul Hamid Bador said that the police will be closely monitoring Malaysia's political landscape and keep to maintain the peace. [Malay Mail]
7:25pm – The YDPA reportedly accepted Dr Mahathir's resignation from his position as prime minister and appoints the 95-year-old as the nation's interim premier. [Berita Harian]
7:07pm – The central bank, Bank Negara Malaysia (BNM) is closely monitoring Malaysia's financial markets in light of today's events. [The Edge]
6:45pm – Dr Mahathir has left the Royal Palace after meeting with the YDPA. [Malay Mail]
6:16pm – The FBM KLCI closed 2.69% lower today at 1,490.06 points, the lowest it has ever been since 2011. [Malay Mail]
6:08pm – Election watchdog Bersih 2.0 threatened to organise another public rally (Bersih 6) unless the nation holds new general elections following the collapse of the PH coalition today. Bersih along with several NGOs made a plea to the YDPA to dissolve the parliament and demanded PH deserters to leave the coalition immediately. [Malay Mail]
6:02pm – Warisan is in support of Dr Mahatir to remain as prime minister.The party's president and Sabah Chief Minister Datuk Seri Mohd Shafie Apdal said that Dr Mahathir should be allowed to complete his term as Malaysia's premier.[Free Malaysia Today]
5:08pm – Dr Mahathir arrived at the Royal Palace to meet with the YDPA following his formal resignation made earlier today. [Malay Mail]
4:59pm – DAP announced plans to renominate Dr Mahathir's return as prime minister at PH's presidential council meeting tonight. Lim Guan Eng reaffirmed that Dr Mahathir was reluctant to form a new government with former Opposition parties. [Malay Mail]
4:23pm – Anwar Ibrahim mentioned that Dr Mahathir had no involvement and was distressed by the plot to reform the government. [Berita Harian]
4:12pm – Reportedly Dr Mahathir resigned from his position as Bersatu chairman following the party's decision to break away from PH. Sources claimed that Dr Mahathir refused to work with Umno to form a new government. [Straits Times]
4:07pm – Barisan Nasional (BN) and PAS MPs are scheduled to meet with the YDPA at 5pm today. PAS secretary-general Datuk Takiyuddin Hassan claims that the former Opposition block currently has enough members (129 MPs) to form a new parliament majority. [New Straits Times]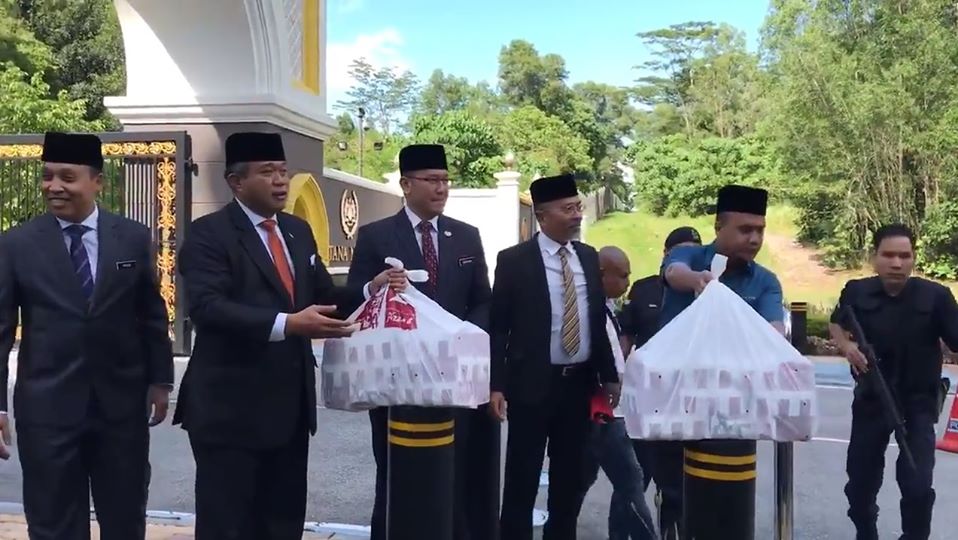 3:37pm – Amanah party president Mohamad Sabu expressed the party's support for Dr Mahathir to continue on as Malaysia's prime minister following the premier's resignation. [Berita Harian]
3:36pm – Anuar Ibrahim and Dr Wan Azizah have concluded their meetings with the YDPA at the Royal palace in KL. The two reportedly came separately earlier this afternoon for an audience with the King. [Berita Harian]
3:22pm – The fate of the nation's government now rests in the hands of the YDPA. The King can decide to either appoint a new prime minister from a new majority in parliament or to dissolve the parliament entirely. [New Straits Times]
3:02pm – Datuk Seri Dr Dzulkefly Ahmad signed off as Health Minister while announcing that 20 out of 22 Covid-19 patients here in Malaysia have recovered from the illness. [Free Malaysia Today]
AlhamdulilLah!
2 lg kes COVID-19 pulih sepenuhnya & discaj hari ini. TIADA kes +ve baru.🤲

Kes-14 & Kes-19 sblm ini dirawat di HKL.
Jumlah yg tlh pulih sepenuhnya & discaj hingga hari ini 20 org.

2 masih dirawat di wad dan stabil.

Tweet saya terakhir sbg YBMK. TK! pic.twitter.com/l1c73qBQXg

— Dzulkefly Ahmad (@DrDzul) February 24, 2020
3:13pm – Dr Mahathir officially vacates his position as Bersatu chairman. [New Straits Times]
2:55pm – Umno leaders and MPs are set for another meeting today at the party's HQ at the Putra World Trade Centre, KL. Reportedly members were also told to be ready for an expected audience with the YDPA. [Berita Harian]
2:44pm – The ruling PH government has officially collapsed. This following the resignation of Dr Mahathir from his post as prime minister, the exit of Bersatu from the PH coalition and the resignation of several PKR MPs from the political party. [New Straits Times]
2:39pm – Anwar Ibrahim arrives at Istana Negara in KL to meet with the YDPA. [Berita Harian]
2:34pm – Azmin Ali and his cartel of PKR MPs announced their official exit from PKR to form a new independent block in Parliament. [Free Malaysia Today]
2:28 – Dr Wan Azizah could become Malaysia's first female premier. The deputy prime minister was reportedly named to be interim or the acting prime minister by Dr Mahathir following Bersatu's withdrawal from the PH coalition. [Malay Mail]
2:22pm – Parti Pribumi Bersatu Malaysia (Bersatu) officially announced its withdrawal from the PH coalition. Its president Tan Sri Muhyiddin Yassin said all Bersatu MPs have signed statutory declarations in support of Dr Mahathir's leadership as prime minister, [Free Malaysia Today]
1:55pm – PKR deputy president Azmin Ali and vice-president Zuraida Kamaruddin have been sacked from the party. [The Edge]
1:55pm – Dr. Mahathir reportedly submitted his resignation to the Yang di-Pertuan Agong (YDPA) Al-Sultan Abdullah Ri'ayatuddin Al-Mustafa Billah Shah. [Free Malaysia Today]
Kenyataan Akhbar : Peletakan Jawatan sebagai Perdana Menteri Malaysia pic.twitter.com/naW2MajfsG

— Dr Mahathir Mohamad (@chedetofficial) February 24, 2020
1:27pm – Azmin Ali's cartel of MPs from PKR was reportedly absent from the meeting held at the party's HQ at Merchant Square, Petaling Jaya. [Free Malaysia Today]
1:01pm – PH component parties PKR and DAP will hold separate emergency meetings today at its respective headquarters in Klang Valley. [Malay Mail]
12:53pm – Anwar Ibrahim and company left Dr Mahathir's residence at 12.30pm. [Berita Harian]
12:04pm – Anwar Ibrahim along with Lim Guan Eng and Mohamad Sabu are meeting with Dr Mahathir at his personal residence in Seri Kembangan, Selangor. [Berita Harian]
11:57am – The Malaysian People's Movement Party (Gerakan) members will convene for an emergency central committee meeting today. According to its president, Datuk Dominic Lau, among the agendas to be discussed is the possibility of PKR deputy president Datuk Seri Azmin Ali's "cartel" of MPs joining the party. [Malaysiakini]
11:43am – Parti Amanah Negara (Amanah) vice-president and Deputy Human Resources Minister Datuk Mahfuz Omar said that the party gives its full support to the leadership of Dr Mahathir and the decision made during PH's presidential council meeting last Friday to allow the premier to arrange his step down after the Asia-Pacific Economic Cooperation (Apec) meeting in November. [New Straits Times]
11:26am – The FTSE Bursa Malaysia KLCI (FBM KLCI) markets opened lower at 1,501.47 points this morning compared to Friday's 1,531.20 amidst today's political backdrop [Malay Mail]
11:07am – Anwar Ibrahim left the PMO after failing to secure a meeting with Dr Mahathir. The PKR leader was accompanied by his wife and Deputy Prime Minister, Datuk Seri Dr Wan Azizah Wan Ismail, DAP secretary-general and Finance Minister, Lim Guan Eng, and Amanah president cum Defence Minister, Mohamad Sabu. [Free Malaysia Today]
10:51am – Veteran DAP leader and Iskandar Puteri MP Lim Kit says his party's Central Executive Committee will meet at noon today but would not preempt it. [The Edge]
9:19am – PKR president Anwar Ibrahim is scheduled to meet with Prime Minister Tun Dr Mahathir Mohamad at the Prime Minister's Office (PMO) in Putrajaya at 9.30 am. [Malay Mail]
---
More to come…
Catch up on what happened over the weekend, HERE.
You can also check out how Malaysia selects its prime minister or find out how Malaysia's parliament functions in our previous articles.
Don't forget to share with us your thought on Facebook, Twitter, and Instagram.
Akmal Hakim
Like a phoenix rising from the ashes, Akmal returns to the newly improved TRP to uncover cold truths and walk the fine line between deep and dumb.