Sabah's Illiterate "Solar Mamas" Are Solar Engineers Powering Kampungs
Access to basic amenities such as running water and electricity might be taken for granted by those living in the city but in rural areas, especially those which have limited access to the outside world, it's still a real problem.
Such were the issues that plagued Inggai Sungging, a 55-year-old semi-literate grandmother and the fourth "solar mama", who recalled the difficulties of studying during her younger days due to the lack of electricity supply to her village.
It was due to this that she had to drop out of school at standard 5 because it was difficult to study after sundown.
Not wanting the next generation to face the same reality as she did, the grandmother of twelve from Kampung Paus enrolled in Barefoot College where she spent 5 months to become a solar engineer and bring electricity to her village.
She graduated top of her class among the 52 participants from Botswana, Mexico, Egypt, Indonesia, Paraguay, Cambodia, Thailand, and other countries.
What is Barefoot College and how do they help rural villagers to generate electricity?
Here are the highlights of our amazing Malaysian 🇲🇾 Solar Mama, while she learns Solar Engineer mastery.

Soon, she'll be heading home to provide her community with clean, renewable Solar Electricity.

Photos courtesy of our local AV Team.#SolarMama #Malaysia #BarefootCollege pic.twitter.com/DYDWUc1k8t

— Barefoot College (@BarefootCollege) February 7, 2020
Previous mamas
Inggai is the product of the Barefoot Solar Project, an initiative by the Sabah Women Entrepreneurs and Professional Association (Swepa), which aims to empower and train marginalised and indigenous illiterate grandmothers to install and maintain solar units.
After enrolling for the programme, these solar mamas learn how to fabricate solar panels, lights, and photovoltaic circuits.
It first started in 2013 and was dubbed Barefoot Solar Project 1.0, giving Tarihing Masanim from Kampung Sonsogon Magandai in Kota Marudu the chance to be the first "solar mama" after graduating from the Barefoot College in India.
When she came back to her village, Tahirig successfully lit up 100 poor households by installing solar panels and connecting them to solar lanterns which were distributed to the households.
The other two grandmas who followed her were Gining Jaineh from the Kampung Binontungan Suyad/Kampung Sonsongon Suyad, and Rusni Singkamung from Kampung Sungai Magandai.
The three Solar Mamas have provided access to sustainable energy for 200 homes in three villages in Kota Marudu, helping around 1,100 villagers.
An initiative to improve the rural poor
Barefoot College is started in a village known as Tilanoia in India, in 1972, by Sanjit "Bunker" Roy as a place where rural people can enroll and take on skills that can benefit their communities.
Spread over eight acres, the Barefoot College runs entirely on solar energy maintained by the Barefoot solar engineers. It's also an institution that aims to empower women in rural areas.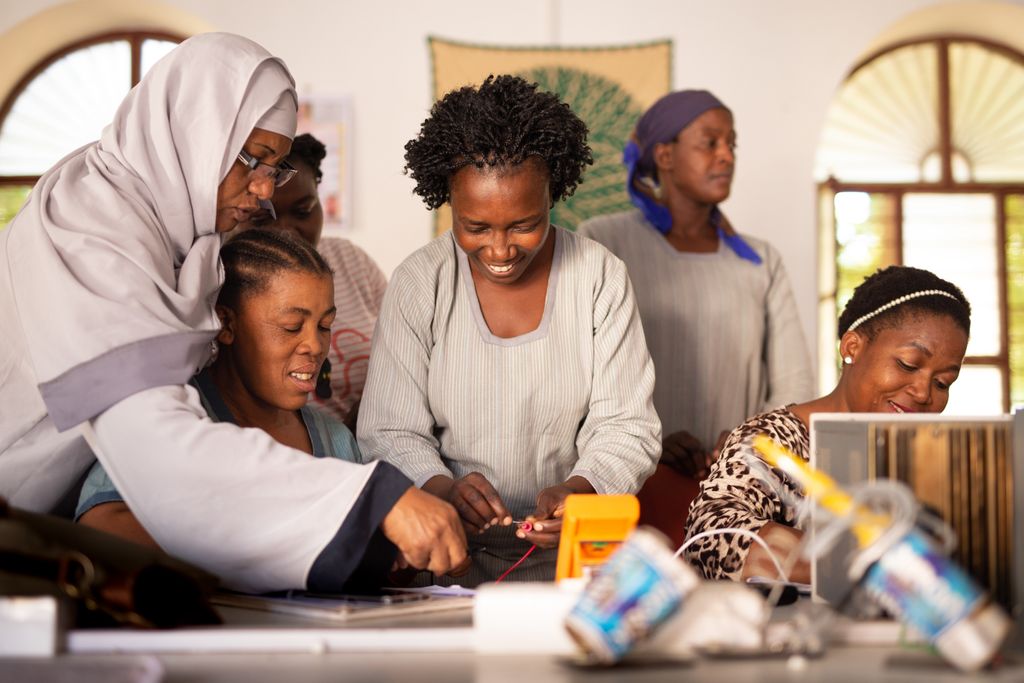 There are currently over 2,200 illiterate women who are proficient in designing, installing and maintaining solar systems that provide light and electricity to their villages, and the college claims to have trained 15,000 women in skills including solar engineering, healthcare and water testing.
The institution has trained Barefoot solar engineers from 93 countries who have installed solar-powered systems in 18,047 households worldwide.
They have now expanded into Africa with 5 training centres, and also in Latin America where the first 70 solar engineers have already brought light to more than 11,000 people.
---
Were you inspired by these "Solar mamas"? Let us know on TRP's Facebook, Twitter, and Instagram!
Hakim Hassan
Unkempt in both stories and appearance, Hakim loves tech but tech left him on read, previously he used to write about tall buildings and unoccupied spaces that he can't afford, and legend has it that he still can't afford it to this day