10 Places Around Klang Valley To Celebrate New Years Eve
2020 is just a few days away and there might be one thing on our minds before the year ends and that'll be where can we go to celebrate the new year?
There are a lot of places around the Klang Valley that you can enjoy the new year and we've compiled a few places that might interest you.
1. Desa Park City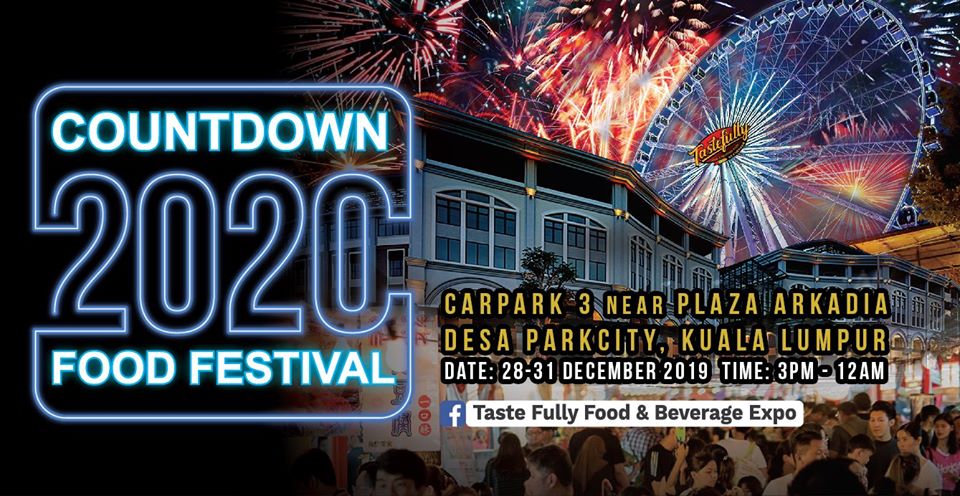 Desa Park City is hosting a three-day Countdown 2020 Food Festival at Plaza Arkadia that features multiple food vendors during new year's eve.
Besides the bazaar, there will also be live performances from local acts and also a fireworks display to usher in the new year.
Visitors can also enjoy other attractions such as riding on the ferries rides and other rides in the theme park as well.
2. Sunway Velocity Mall
Sunway Velocity will celebrate the new years with the Velocity NYE 2020 countdown with a slew of activities that you can enjoy with your loved ones.
They will also have a food carnival starting at 5:30 PM, a concert that features local acts and a fireworks display to top it off when the clock hits 12.
For more information, you can visit here.
3. i-City
If you're around Shah Alam and don't want to drive all the way to Kuala Lumpur, why not visit i-City?
To cap off the year, their new year countdown features multi-cultural performances dance and musical performances, brass band parades, and many more.
Also, after 12 AM, the theme park offers a buy-one-free-one ticket offer for every ride and attraction.
4. Publika
This year is no different for Publika as they too will be holding a new year's celebration.
The evening will start with a line-up of exciting performances featuring local acts and visitors can enjoy local street food, play some carnival games, take pictures in photo booths, as well as enjoying the fireworks at the end of the night.
For more information, you can visit here.
5. Little Genting Ampang
Although the lookout point has been permanently shut down for years now, there are a bunch of roadside stalls that offer a variety of food and the area offers a killer view of the Kuala Lumpur skyline.
The roadside stalls started sprouting about the junction of Jalan Hulu Langat and Jalan Mulia 2/1 where you can enjoy a meal while watching the fireworks.
6. KLCC Park
If you want to experience the fireworks in the middle of the city but not really interested in spending a lot, then KLCC Park is for you.
Situated in the heart of the city, KLCC Park is a great spot to watch fireworks alighting the twin towers.
7. Merdeka Square
What if you want to be in Kuala Lumpur but you don't prefer KLCC? Maybe you can try to head to Merdeka Square instead.
Just like KLCC Park, you'll have the advantage of being in the city center where you can enjoy the fireworks that illuminate the Kuala Lumpur skyline.
Plus the Tourism Ministry is also organising their own new year's eve countdown at the Dataran with several interactive programmes such as exhibitions, cultural hunt games, heritage food demonstration as well as cultural and art performances.
8. Lampu Festival
What if you want to spend your new year's eve outside of the Klang Valley? You can also visit Putrajaya as there will be the annual Light and Motion Putrajaya (LAMPU) Festival.
The festival which is in its seventh-year features a spectacular projection mapping show that uses state-of-the-art technology to create a light show on the Palace of Justice building.
9. Helipad KL
Heli Lounge Bar KL is a bar that's also a helicopter pad in Bukit Bintang and it offers unique views to patrons.
It should be a place to consider as you can enjoy a 360-view of Kuala Lumpur with iconic buildings surrounding as you enjoy the fireworks that brighten the night sky during new year's.
10. Atmosphere 360
Sitting next to KL Tower is quite neat but how about being inside the building itself in a bar that wraps around the tower?
That's Atmosphere 360 and it offers unparalleled views of Kuala Lumpur as you'll be able to see fireworks from around Kuala Lumpur as you're in one of the tallest buildings in the country.
BONUS: Sunway City
We're adding another venue to the list of places where you can celebrate your new year as Sunway is also throwing their annual to welcome 2020 at Sunway City.
Happening front of Sunway Resort Hotel & Spa, there will be a slew of activities for visitors including the countdown concert which will culminate with the customary fireworks celebration at the end of the night.
In conjunction with the new year's eve celebration, Sunway's water theme park, Sunway Lagoon will also be holding their own celebrations – the Cloudora Festival happening at Surf Beach on December 31.
---
Where do you plan to celebrate the new year? Let us know on our Facebook, Twitter, Instagram!
Hakim Hassan
Unkempt in both stories and appearance, Hakim loves tech but tech left him on read, previously he used to write about tall buildings and unoccupied spaces that he can't afford, and legend has it that he still can't afford it to this day