10 delicious M'sian food deals to catch on 10.10
Malaysians never give up a chance to enjoy discounts and special deals. First there was 11/11, then there was 12/12, and now we can all enjoy even more TENtalizing deals on 10/10!
We've compiled 10 (hehe) of the best deals so you won't miss out!
1. McDonald's
The ever-popular burger chain is now offering a discount code of RM10 when you buy two meals! Valid only for McDelivery on the app until 16th October.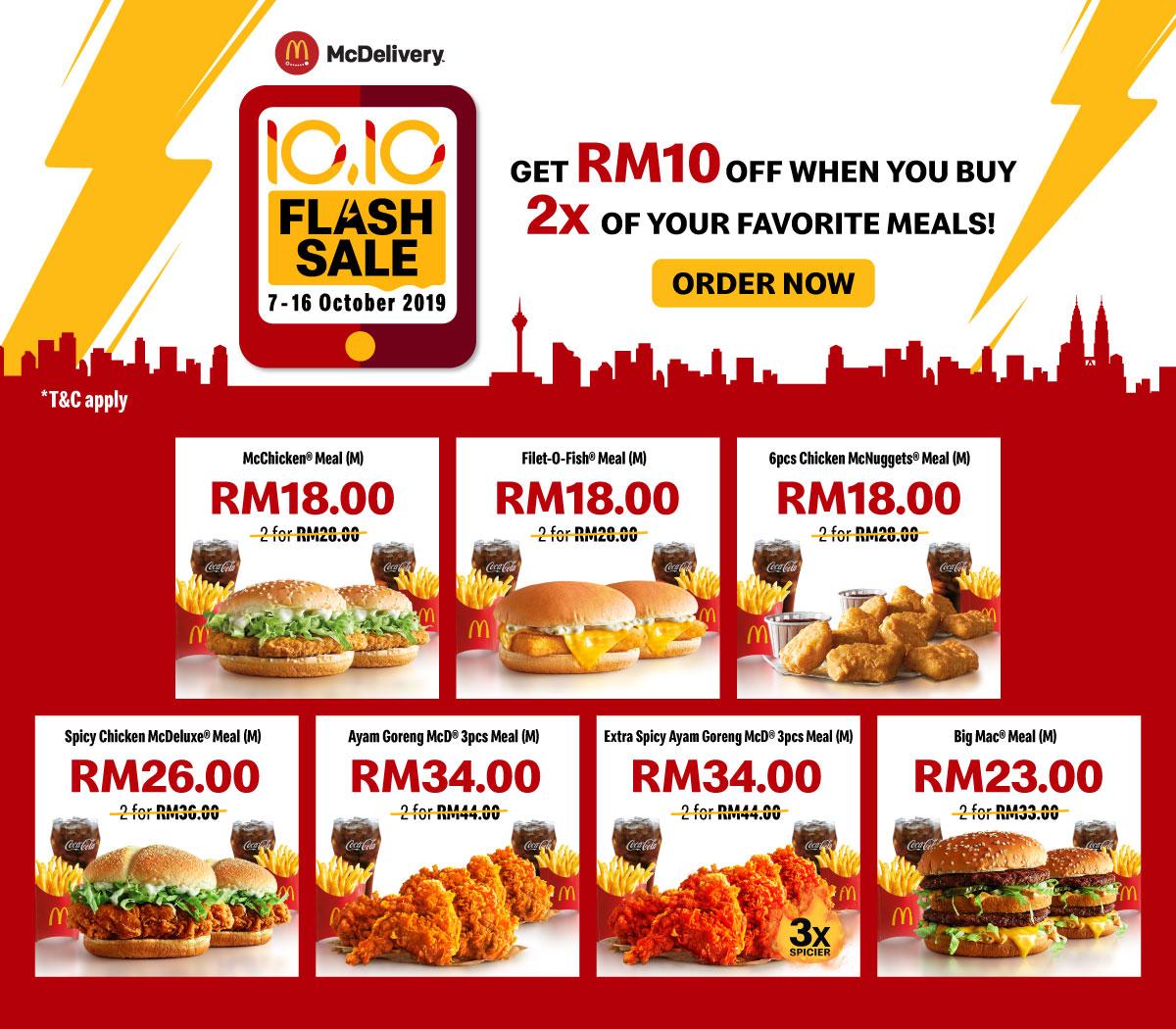 2. KFC
KFC isn't to be outdone, offering a full meal with 2 pieces of chicken at just RM10!
Use the promo code TENTASTIC on their KFC app and make use of their delivery service to get this deal.
3. Burger King
Burger King comes in hot with 2 for RM10 deals on their new pedas burger series. Valid only on 10/10 on the Shopee app.
4. Baskin-Robbins
Pick up creamy handpacked Baskin-Robbins ice cream at 31% off! (Even if it's not "technically" for 10.10, it still counts okay! Valid at all participating stores until 11th October.
5. Gong Cha
All Digi users rejoice! For just one day, you can buy a Gong Cha drink worth up to RM8.50, only at RM1.10 on the MyDigi app!
Even better, you can save the drink for next time, as the voucher is valid until 31st October. (But why would you even wait though?)
6. Signature Market
If you love snacks, then go ahead and eat to your heart's content with Signature Market's 10.10 sale where snacks start from just RM1.10! Visit their online store here.
7. IKEA
Anyone who has been to IKEA would know that the store's best-sellers are not, in fact, furniture. It's their yummy Swedish meatballs drenched in delicious brown sauce.
Well, prepare yourself for hot saucy balls because for one day only, IKEA FAMILY card holders can get 10 meatballs at just RM3!
8. Famous Amos
It's cookie crunch time with the best-smelling cookies! Get 200g cookies and two packs of 110g gummies for FREE with every purchase of 500g cookies in a bag!
Take note that this promotion is only valid online at their website and you can't redeem it at physical stores. The promotion is valid until 15th October.
9. Paperfish
Stay healthy with a poké feast from Paperfish! Order 2 or more Poké Bowls and get RM10 off instantly. The promotion is valid until 11th October.
10. Family Mart
Okay so technically this promotion isn't for 10.10, but we're not complaining about more discounts, are you? Get a brown sugar bubble milk from Family Mart at just RM4.90, valid until 15 October!
---
What are you waiting for? Chow down and let us know how you enjoyed your 10.10 on ourFacebook, Twitter and Instagram!
Anne Dorall
Anne is an advocate of sustainable living and the circular economy, and has managed to mum-nag the team into using reusable containers to tapau food. She is also a proud parent of 4 cats and 1 rabbit.